Texas Republicans Helped Chemical Plant That Exploded Lobby Against Safety Rules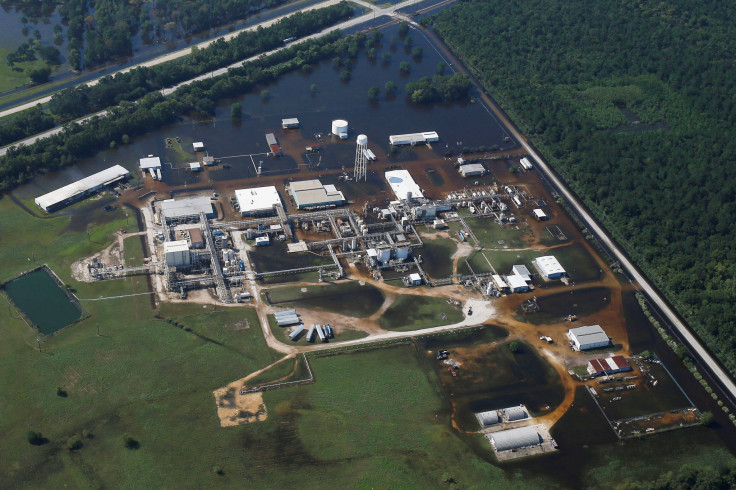 The French company that says its Houston-area chemical plant is spewing "noxious" smoke — and may explode — successfully pressed federal regulators to delay new regulations designed to improve safety procedures at chemical plants, according to federal records reviewed by International Business Times. The rules, which were set to go into effect this year, were halted by the Trump administration after a furious lobbying campaign by plant owner Arkema and its affiliated trade association, the American Chemistry Council, which represents a chemical industry that has poured tens of millions of dollars into federal elections.
The effort to stop the chemical plant safety rules was backed by top Texas Republican lawmakers, who have received big campaign donations from chemical industry donors.
Representatives from Arkema Americas and the American Chemistry Council did not immediately respond to requests for comment.
In 2013, a West, Texas, chemical plant explosion killed 15 people, prompting the Obama administration to try to raise chemical plant safety standards (investigators later found the explosion was caused deliberately). In an executive order that year, President Obama proposed an overhaul of the Environmental Protection Agency's Risk Management Program with the goal of increasing safety and transparency at chemical plants by strengthening existing regulations. The EPA said the enhanced rules would "seek to improve chemical process safety, assist local emergency authorities in planning for and responding to accidents, and improve public awareness of chemical hazards at regulated source."
Arkema has six production plants in Texas and has received more than $8.7 million worth of taxpayer subsidies from the state. Arkema's Crosby plant — which OSHA fined more than $90,000 for ten "serious" violations earlier this year and has spewed smoke in Crosby — appears to be covered under the existing EPA rules because of the kinds of chemicals it uses. While Texas Republican Gov. Greg Abbott has given chemical companies legal cover to hide the locations of their EPA-regulated chemicals, the Associated Press reports that the imperiled Arkema facility houses large amounts of toxic sulfur dioxide and flammable methylpropen, which required Arkema to submit a risk management plan to the agency — and which would have subjected the company to the strengthened safety rules.
However, those rules — which would have taken effect on March 14 — were blocked by EPA administrator Scott Pruitt, who as Oklahoma Attorney General demanded the rule be withdrawn. The move was a big win for the chemical industry that has spent more than $100 million supporting federal lawmakers since 2008. Among those who have received more than $100,000 from the industry are powerful Texas lawmakers including Sen. John Cornyn (R), Rep. Joe Barton (R), Rep. Pete Olson (R), Rep. Gene Green (D), Rep. Pete Sessions (R) and Rep. Kevin Brady (R).
"Will Likely Add Significant New Costs"
Documents reviewed by IBT show that Pruitt's announcement followed a lobbying campaign by Arkema and its colleagues in the chemical industry.
In May of 2016, Arkema sent a letter to the EPA criticizing the proposed rule. One part of the letter said the rule's requirement of independent risk management audits "will likely add significant new costs and burdens to the corporate audit process." The company also took issue with the rule's "Safer Technology and Alternatives Analysis" (STAA) requirements.
Those provisions would have required that companies consider using "inherently safer technology" that would encourage companies to "substitute less hazardous substances" and encourage firms to "simplify covered processes in order to make accidental releases less likely or the impacts of such releases less severe."
"The additional requirement for STAA would be burdensome because there is no consensus methodology, definitions or standards for STAA," the company told the agency. "Knowledge of 'inherently safer technologies' can vary greatly depending on the process being examined and the knowledge and expertise of the team performing the analysis. As a result, implementation of STAA would likely be inconsistent across companies."
Federal records reviewed by IBT show that Arkema specifically lobbied on the chemical safety rules. In the first quarter of 2017, as the Trump administration was reviewing the rule, federal records show the company was lobbying on "EPA chemical regulations, including Significant New Use Rules and the Significant New Alternatives Policy program and EPA Risk Management Program regulations." The records show the company directly lobbied the EPA and the White House on the issue. In the second quarter, federal records show Arkema lobbying the EPA and the National Economic Council on "EPA risk management program regulations."
Of Arkema's six production plants in Texas, five, including the Crosby plant, are near the coast and in the Houston area, raising the prospect of additional explosions due to flooding. The town of Beaumont, where there is a taxpayer-subsidized Arkema plant, has experienced severe flooding. Another plant is located in Houston, and two more, in nearby Pasadena, sit right on the Trinity Bay; one of these plants took in nearly $5 million in subsidies.
Arkema Push To Stop Rules Gets Boost From Its Lobbying Group & From Texas Republicans
In its letter to the EPA, Arkema noted that it is a member of the American Chemistry Council — a powerful lobbying group that has delivered $1.6 million of campaign donations to federal lawmakers since 2010. That Arkema-backed group helped spearhead the effort to block the EPA's chemical plant safety rule. In January, the council was one of 21 groups that sent a letter to congressional leaders asserting that the new rule's costs were not worth the alleged safety benefits.
"The lack of identifiable and quantifiable benefits stands in stark contrast to the clear costs associated with this rule," said the letter. "Whether it be the requirement of third-party auditor participation that will reduce the pool of qualified auditors, changing well-established audit procedures already designed to maximize safety effectiveness, or imposing ineffective requirements to consider 'inherently safer technology/design,' the final rule includes a litany of costly changes that have not been shown to increase safety."
The American Chemistry Council also lauded Texas Republican Attorney General Ken Paxton for co-authoring a letter slamming the chemical plant safety rule. The letter chastised the EPA for proposing to require chemical plants to more expansively disclose castatrophic releases of hazardous chemicals and berated regulators for requiring independent audits of facilities' safety procedures.
"To complicate matters further, EPA is demanding that the auditors have no relationship with the audited entity for three years prior to the audit and three years subsequent," wrote Paxton and Louisiana Republican Attorney General Jeff Landry. "EPA is demanding that a professional engineer be part of the auditing team, that attorney client privilege cannot apply to the audits, and finding and reports be released to the public. It is difficult to fathom how this collection of burdensome, costly, bureaucratic regulatory requirements does anything to enhance accidental chemical release prevention...This unauthorized expansion of the program does not make facilities safer, but it does subject facilities to even more burdensome, duplicative and needless regulation."
Paxton received $106,000 from chemical industry donors during his 2014 run for attorney general. His letter was backed by then-Oklahoma Attorney General Scott Pruitt and then-Alabama Attorney General Luther Strange (now a senator), who argued that disclosing details of chemical accidents would imperil national security. Pruitt's campaigns were supported by the Republican Attorneys General Association -- which he chaired and which received $50,000 from the American Chemistry Council during his tenure as a state official, according to data compiled by PoliticalMoneyLine.com.
The push to persuade the Trump administration to block the chemical plant safety rules was also bolstered by an American Chemistry Council-backed resolution introduced on February 1 by Republican Rep. Markwayne Mullin of Oklahoma.
Among the 65 co-sponsors of the measure to block the rules were 10 members of the Texas Congressional delegation, including five who represent Houston area districts: Brian Babin (TX-36), whose district encompasses Crosby, where the Arkema plant lies; Michael McCaul (R-10), chairman of the House Committee on Homeland Security, whose district sits northwest of Houston; John Culberson (R-7), whose district covers part of Houston; Randy Weber (R-14), who represents a coastal district just outside of Houston; Blake Farenthold (R-27), a representative whose coastal district lies southwest of Houston. Other co-sponsors include Louie Gohmert (R-1), vice chair of the House Committee on Natural Resources, and Lamar Smith (R-21), chair of the House Committee on Science, Space and Technology who has challenged climate science. Weber and Babin are also members of that committee.
The Texas lawmakers who sponsored Mullin's bill to block the chemical plant safety regulations have received more than $652,000 from the chemical industry, according to data from the Center for Responsive Politics. Federal contribution data show the American Chemistry Council specifically has delivered more than $160,000 to the entire Texas congressional delegation since 2008, with top recipients including Gene Green ($20,288), Olson ($18,999), McCaul, who co-sponsored the Mullin bill ($13,500), and Barton ($16,500). Babin and Weber, who also co-sponsored the bill, each received $3,000 from Arkema.
Also this year, Texas Senators Ted Cruz and John Cornyn were two of 16 co-sponsors of a companion resolution in the Senate. Cornyn has taken more than $408,000 from the chemical industry over the course of his career, according to the Center for Responsive Politics. Cruz has recieved $234,000 from the industry. The National Institute on Money In State Politics reports that the American Chemistry Council has given more to federal lawmakers in Texas than legislators in any other state.
ExxonMobil, Dow Chemical, Koch Industries and Saudi Basic Industries Corporation (SABIC), a Saudi government-owned firm with multiple locations in the Houston area, including its North American headquarters, all lobbied on the legislation, which set the stage for Trump's administration to block the rules.
In the lead up to that administration decision, the American Chemistry Council took its lobbying efforts directly to the EPA — along with the U.S. House and Senate, the Department of the Interior, the Office of Management and Budget and the Department of Agriculture — on both the legislation and the EPA rule on behalf of Arkema and its many other corporate sponsors. In a May 2017 letter to the EPA, the American Chemistry Council advocated that the implementation of the safety rule be delayed for "at least eighteen months" — until February 19, 2019, arguing that the current rule would be too expensive for its members such as Arkema to implement.
"The Final Rule raises significant security concerns and compliance issues that will harm ACC members and others in the regulated community," the trade association wrote to the EPA. "Certain provisions, such as the requirement to audit 'each covered process' in a facility's compliance audit, impose costly and burdensome obligations on facilities."
UPDATED, 4:13pm ET: Arkema originally reported that there were two explosions at its Crosby facility. Law enforcement authorities have since said there were no explosions. The company's CEO has said that there is "noxious" smoke coming from the facility. This story has been updated throughout.
© Copyright IBTimes 2023. All rights reserved.
FOLLOW MORE IBT NEWS ON THE BELOW CHANNELS