Top GOP Law Enforcement Chiefs Held Secret Weekend Event At Mar-a-Lago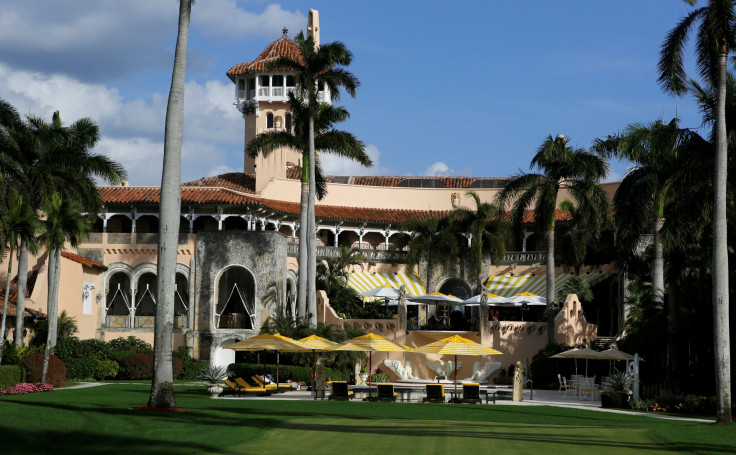 This story is being co-published with MapLight.
Republican state law enforcement chiefs dined with their top donors at President Donald Trump's Mar-a-Lago resort last weekend, according to an agenda obtained by MapLight through a public records request.
An agenda for the Republican Attorneys General Association's fall meeting in Palm Beach, Fla., lists a dinner on Friday at Mar-a-Lago's Teahouse restaurant for "Edmund Randolph Club" members. The club, named for the nation's first attorney general, includes donors who give RAGA at least $125,000 per year.
The reception at Mar-a-Lago was not publicized, and privacy was apparently a priority, despite the resort's blurring of lines between private events and White House business. "Cell phone use and picture taking is prohibited in all areas," the agenda said. "If guests need to take a phone call, they may do so in the guest reception area or outside."
Since Trump was elected, corporate lobbyists and foreign leaders have made frequent use of his family's hotels. While Trump has publicly handed off his private business enterprise to his adult sons, he hasn't divested from it. The assets are being held in trust for him, raising questions about whether the president is violating the emoluments clause of the U.S. Constitution, designed to prevent the nation's leaders from financial gains during their time in the White House.
Though Trump has spent at least 25 days at Mar-a-Lago since becoming president, he was traveling in Asia on a 12-day tour during the RAGA reception at the club. The agenda was obtained by MapLight through a public records request to Nebraska Attorney General Doug Peterson, one of 29 Republican attorneys general.
The White House and RAGA did not immediately respond to questions from MapLight.
The association, a 527 organization that can raise unlimited amounts from individuals and corporations, has enjoyed a surge in funding during the Obama administration, as attorneys general banded together to challenge new environmental, healthcare and immigration regulations. After he was elected, Trump chose a previous RAGA chairman, former Oklahoma Attorney General Scott Pruitt, to lead the Environmental Protection Agency.
RAGA donors have included the U.S. Chamber of Commerce, the nation's largest lobbying group; Koch Industries, the global conglomerate run by libertarian billionaire brothers Charles and David Koch; and the Judicial Crisis Network, a conservative "dark money" organization that is helping Trump remake the federal court system.
State officials attending the meeting were invited to participate in a wide range of excursions, from golf outings or trips to local museums, to catamaran tours on Florida's Intracoastal Waterway. The attorneys general were scheduled to hold 45-minute fundraisers together in groups of three or four officials. RAGA pulled in $7.3 million in donations during the first six months of 2017, after raising $19.3 million between 2015 and 2016.
The attorneys general were also treated to a high-profile slate of conservative speakers. A day after the Mar-a-Lago event, RAGA was scheduled to hold a dinner for top donors at The Breakers, a luxury Palm Beach hotel that's on the National Register of Historic Places, with U.S. Labor Secretary Alexander Acosta. Last year, Republican attorneys general sued the Labor Department over an Obama administration rule that would have made 4 million workers eligible for mandatory overtime pay. Acosta moved to undo the rule before it was struck down by a district court.
Top RAGA donors were invited on Sunday to a lunch event moderated by National Review editor Rich Lowry. Later that day, there was a reception featuring U.S. Sen. Marco Rubio, R-Fla. On Monday, recently retired Rep. Jason Chaffetz, R-Utah, now a Fox News contributor, moderated a panel on "rule of law restoration" under Trump.
View RAGA Fall Meeting on Scribd
© Copyright IBTimes 2023. All rights reserved.