Poor Wages Send A Third Of US Manufacturing Workers To Welfare Lines In Order To Pay For Food, Healthcare, Data Show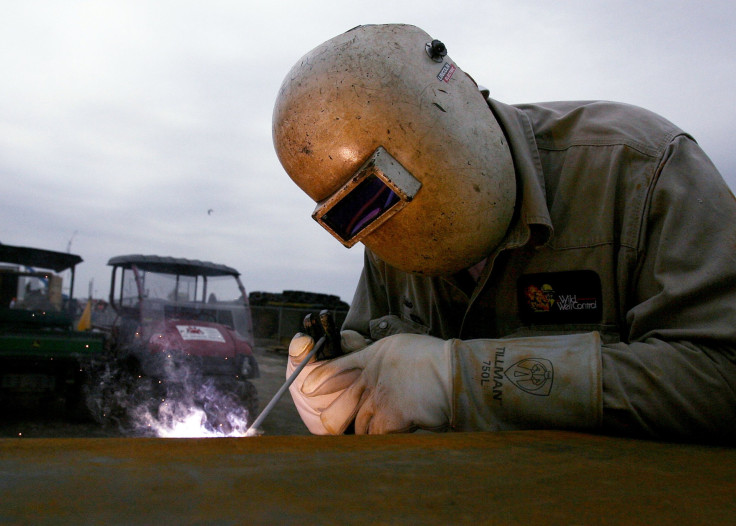 U.S. manufacturing jobs used to be a path to the middle class for Americans who couldn't or didn't dive into the comfort provided by higher education degrees. But now many skilled, working Americans need some form of public assistance because their wages don't pay for basic living expenses.
Just over 2 million supervised manufacturing workers, or about a third of the total, need food stamps, Medicaid, tax credits for the poor or other forms of publicly subsided assistance while they work on goods that can carry the tag "Made in the U.S.A.," according to research of official government wage and welfare data released Tuesday by the University of California, Berkeley.
The cost of these benefits to the U.S. taxpayer? From 2009 to 2013, federal and state governments subsidized the low manufacturing wages paid by the private sector to the tune of $10.2 million per year.
Oregon led the nation on the number of manufacturing workers – 1 in 4 – that needed food stamps during that period of time, while 1 in 5 factory workers in Mississippi and Illinois needed healthcare assistance for both adults (Medicaid) and children (CHIP). Taking into account all major social welfare, including the earned income tax credit and temporary assistance to needy families (TANF), Mississippi topped the list, followed by Georgia, California and Texas.
"In decades past, production workers employed in manufacturing earned wages significantly higher than the U.S. average, but by 2013 the typical manufacturing production worker made 7.7 percent below the median wage for all occupations," said the paper by a team headed by Ken Jacobs, chair of the UC Berkeley Center for Labor Research and Education.
The research aimed to extend an already well-established national debate on wages paid in the service industry, which are often juxtaposed to the factory work that lifted millions of Americans out of poverty for much of the 20th century. The research comes as U.S. workers overall are experiencing one of the lowest paces of wage growth on record. Seven years after the U.S. government declared an end to the longest period of economic contraction since the Great Depression, workers have yet to experience the kind of wage-growth recovery that would be considered normal for the country.
The research, conducted by the National Employment Law Project, a non-profit labor-advocacy group that regularly monitors official government data for trends, found that the median wage for non-supervisory manufacturing jobs was $15.66 an hour in 2013, with a fourth of them making $11.91 an hour thanks to the massive rise of dependence on temporary workers, who cost less because they tend to not to receive the same benefits as their full-time, directly employed co-workers.
These jobs including cabinetmaking, drilling, metalworking and dozens of other non-supervisory manufacturing jobs that once played a role in growing the number of middle class consumers who earned enough to buy the goods they were making, leading to a virtuous cycle of supply and demand for nationally produced goods.
The research has a fairly low bar for counting a manufacturing worker, largely because the U.S. manufacturing industry has incorporated so many temporary non-full-time workers that in order to count all manufacturing workers the research had to include those working at least 10 hours a week because of lack of demand for their labor.
However, nearly a third of permanent factory workers and almost half of temp factory workers in the study worked at least 35 hours a week and 45 weeks out of the year also needed one or more of the public safety net programs. So for hundreds of thousands of America's factory workers, even working at near full time isn't enough.
© Copyright IBTimes 2023. All rights reserved.