Pro-Bolsonaro Truckers Lift Brazil Highway Blockades
Brazilian truck drivers rallying in support of President Jair Bolsonaro ended three days of road blockades across the country Thursday after the far-right leader asked them to stand down to avoid hurting the economy.
The infrastructure ministry said big-rigs were still "concentrated" along roads in 13 of Brazil's 27 states, but that there were "no remaining blockages on the national road network."
The truckers launched their protest Tuesday on Brazilian Independence Day, as Bolsonaro held massive demonstrations to rally his base against what he calls a hostile political establishment determined to thwart his agenda.
But the blockades soon turned potentially damaging for the president, who asked the truckers to stop.
"Tell our allies the truckers that the blockades are hurting the economy. It causes shortages, inflation -- it harms everyone, especially the poor," he said in a message to supporters Wednesday night.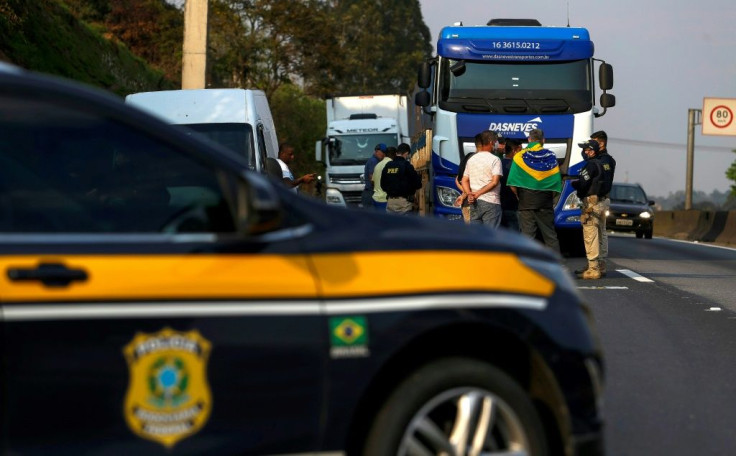 In 2018, Brazil was paralyzed for days by a massive truckers' strike against high fuel prices.
The latest blockades were not endorsed by truckers' unions. But they spanned much of the country, including Rio de Janeiro, Brasilia and, according to media reports, key industrial hub Sao Paulo.
In Brasilia, dozens of drivers parked their trucks in the middle of the Esplanade of Ministries, at the heart of the capital, and initially refused to leave even when the police tried to remove them Wednesday night.
They displayed protest signs calling for a "military intervention" to give Bolsonaro unfettered power and "prison for the corrupt justices of the Supreme Court."
Bolsonaro has repeatedly hit out at the high court, which has ordered investigations of him and his inner circle, notably over accusations of systematically spreading fake news from within the government.
© Copyright AFP 2022. All rights reserved.
FOLLOW MORE IBT NEWS ON THE BELOW CHANNELS