Sandy Aftermath Live Blog: Death Toll Climbs, NYC Power Slowly Being Restored, Damage Total Mounts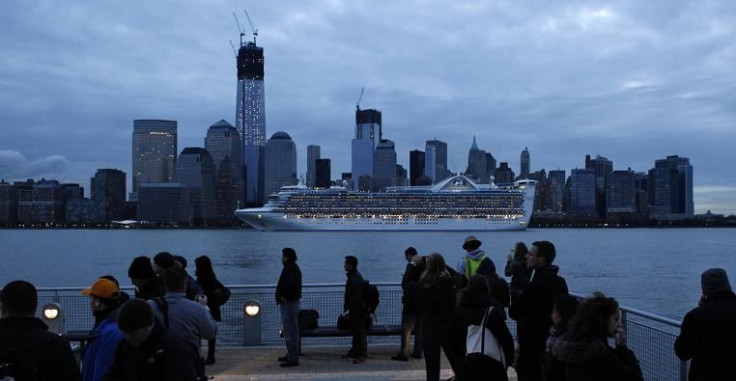 [Update 06:00 a.m. ET] Weather forecasters have predicted that a nor'easter was possible for mid-Atlantic and New England states by next Thursday. A nor'easter has characteristics similar to a hurricane. The National Weather Service's forecast center in College Park, Maryland, which put out the long-range notice, added that it was rather too early to get worried because the forecast could change before it hits late next week, the Associated Press reported.
[Update 05.30 a.m. ET] In 16 states and Washington, D.C., 52,000 homeowners have filed insurance claims, CBS News has reported. About 10,000 claims have been filed in New Jersey.
[Update 04:15 a.m. ET] Shortage of gas, which affected New York and New Jersey four days after Superstorm Sandy hit the East Coast, disrupted rescue operations in many places which were suffering from power outages.
On Thursday night, New York City officials reached an agreement with a major supplier to ensure emergency operations like fire, police and sanitation work would continue uninterrupted, the New York Times reported.
[Update 03:15 a.m. ET] Flight services at JFK, Newark and LaGuardia airports are expected to come to normal by Friday. The three major airports in the New York area resumed services Thursday after they were closed in the wake of Superstorm Sandy.
Delta Air Lines had announced they would operate about half of its roughly 260 flights at LaGuardia Thursday while its services at JFK were near the normal schedule, Reuters reported quoting the airline spokesman.
United Continental also returned to a "more-or-less normal schedule" of flights at Newark, New Jersey and JFK while New York-based JetBlue Airways said it planned to operate 80 percent of its total flights Thursday with a plan to restore full services by Saturday.
American Airlines has planned to gradually reach the full schedules at LaGuardia and Newark within the week.
[Update 02:20 a.m. ET] New York Mayor Michael Bloomberg's decision to proceed with the world's largest marathon Sunday has drawn criticism from several quarters.
Bloomberg justified his decision saying there were thousands of visitors from out of town who have come to participate in the New York City marathon and vowed that the race will not divert any resources from the superstorm Sandy victims. He said he expected power to be restored fully in downtown Manhattan by race day.
[Update 01:20 a.m. ET] The U.S. Coast Guard has suspended the search for Robin Walbridge, 63, the missing captain of the replica tall ship HMS Bounty which sank before dawn Monday in hurricane-stirred waters off the coast of North Carolina, Reuters has reported.
Fourteen crew members were rescued Monday, but Walbridge, who had sailed the Bounty for about 17 years, and another crew member Claudene Christian were washed overboard before the Coast Guard could rescue them. Christian, 42, was later found and was pronounced dead at a hospital.
[Update 01:00 a.m. ET] Rail carrier Amtrak has announced that it will operate limited Acela Express and Northeast Regional services between Washington and Boston Friday. Service between New York and Boston will be resumed Friday.
On Thursday evening, it operated eight trains between New York's Penn Station and Washington, Amtrak CEO Joseph Boardman was reported as saying by Bloomberg.
[Update 11:30 p.m. ET] The death toll from Superstorm Sandy rose to 95 and officials said that the number could rise, Reuters reported. Rescuers continued to search houses in the coastal towns.
A limited number of New York subway trains were operated and the trains were crowded.
[Update 10:10 p.m. ET] New York, often called "the city of nations, in the nation of nations," is as diverse and as welcoming as any city in the world. If you want to see an experiment concerning whether people of different faiths, races and cultures can live together, you need look no further than New York City. That was one reason the United Nations headquarters was placed in the city.
That said, the general sense in the city as it approached its fifth day of recovery from a horrific storm, was that certain outlooks, or points of view, probably would not be as welcomed by New Yorkers, as they had been in the past. These include: climate change deniers, those who believe that man-made barriers in New York Harbor would not help prevent such water-based catastrophies, and those who believe the city's electric grid and transportation system are not in need of upgrades, strengthening and repairs.
[Update 9:15 p.m. ET] Of all the areas in/near New York City, Hoboken, N.J., a trendy and popular suburb just across the Hudson River from Manhattan, may have been hit the hardest, along with Breezy Point, N.Y., which suffered an extensive fire that destroyed more than 100 homes.
Floodwaters finally receded Thursday from the streets of Hoboken leaving behind a stinky mess of submerged basements and cars littering the sidewalks.
"The water was rushing in. It was like a river coming," Benedicte Lenoble, a photo researcher from Hoboken, told Reuters. "Now it's a mess everywhere. There's no power. The stores aren't open. Recovery? I don't know."
New Jersey favorite sons Bruce Springsteen and Jon Bon Jovi, along with Christina Aguilera, Billy Joel and other stars, will headline a benefit concert for storm victims Friday on NBC television, the network announced.
The Federal Emergency Management Agency agreed to cover 100 percent of emergency power and public transportation costs through November 9 for affected areas of New York and New Jersey, up from the traditional share of 75 percent, Reuters reported.
More than 36,000 disaster survivors from New York, New Jersey and Connecticut have applied for federal disaster assistance and more than $3.4 million in direct assistance has already been approved, White House spokesman Jay Carney told Reuters.
The U.S. Department of Defense was airlifting power restoration experts and trucks from California to New York to assist millions of people still living in darkness.
[Update 8:35 p.m. ET] In New Jersey, Gov. Chris Christie said Thursday that power will likely be restored to the state sooner than eight to 10 days, the previous estimate from utility companies, The Wall Street Journal reported.
Christie said states around the country were sending thousands of utility workers to New Jersey – as they are to other deeply-affected Northeast states - to help repair the state's electrical grid, The Journal reported. The influx of workers is so large, Christie added, that the Federal Emergency Management Agency plans to build temporary housing facilities for them at Fort Monmouth.
[Update 7:35 p.m ET] In the nation's largest city, also the financial capital of the world, New York City subway trains crawled back to limited service Thursday after being shut down since Sunday but the lower half of Manhattan still lacked power and surrounding areas such as Staten Island, the New Jersey shore and the city of Hoboken remained crippled from a record storm surge and flooding, Reuters reported.

At least 93 people died in the "superstorm" that ravaged the northeastern United States on Monday. Officials said the number could climb as rescuers searched house-by-house through coastal towns, Reuters reported.

"I worked all my life, and everything I had is right there," said Bob Stewart, 59, told Reuters, while standing on the Jersey Shore beach in the town of Seaside Heights and looking at the pile of debris that was once his home. "I put my life right there."
[Update 6:50 p.m. ET] Power has been restored to many cities and states outside of Hurricane Sandy's hardest hit areas, and widespread power outages in New York, New Jersey and Pennsylvania are slowly being restored.
Power has been nearly completely restored in Washington, D.C., and North Carolina. Virginia, Rhode Island, New Hampshire, and Massachusetts each have less than 25,000 customers without power. New Jersey still has 1.76 customers without electricity, down from 2.7 million earlier this week. In New York City, there are 1.5 million without power, down from 2.2 million, and service in lower Manhattan, which suffered a near blackout, is expected to be restored by Saturday. The Associated Press published a complete list of power outages and fatalities in those states affected by Hurricane Sandy.
[Update 6:00 p.m. ET] In Washington Thursday, public policy officials and storm experts said the U.S. government has for years underestimated how vulnerable the nation is to flooding, and given climate change, the likelihood of extreme weather, including damage from higher sea levels, The Washington Post reported.
[Update 5:15 p.m. ET] Gas shortages have reached urgent levels in New York and New Jersey, and Thursday has seen social media-based witness reports of customer aggression and law enforcement intervention at the pumps.
Deputy Commissioner for Public Affairs at the Taxi and Limousine Commission Allan Fromberg told Business Insider that emergency vehicles would be given priority for quickly dwindling supplies of gas.
[Update 4:15 p.m. ET] Hurricane Sandy's death toll in the U.S. has risen to 88, according to a recent CNN report. The total includes 44 deaths in New York, and 2 in Canada. There were an additional 67 deaths in the Carribean Islands before the storm made its way up the U.S. east coast.
Among the recently reported deaths are two young children in Staten Island, N.Y. Rescuers had been searching midweek for two brothers, ages 2 and 4, who were swept away from their mother by a storm surge as the family was attempting to escape rising waters. Both bodies were found Thursday not far from where the boys were last seen.
[Update 3:25 p.m. ET] Hurricane Sandy has officially entered the presidential election dialogue, with New York City mayor Michael Bloomberg saying the storm had influenced his decision to endorse President Obama for reelection Thursday.
"Our climate is changing," the mayor wrote in an op-ed on Bloomberg.com. "And while the increase in extreme weather we have experienced in New York City and around the world may or may not be the result of it, the risk that it might be -- given this week's devastation -- should compel all elected leaders to take immediate action.
"I want our president to be on the right side of history," he continued, after admitting that he has been disappointed with aspects of Obama's first term.
At a Mitt Romney campaign event in Virginia Beach, Va., Thursday afternoon, one attendee heckled the GOP candidate during six speech, interrupting it to shout, "climate change caused Sandy!" The heckler was holding a sign that read, "End Climate Silence." He was reportedly escorted from the event as the crowd chanted, "U-S-A!"
[Update 2:33 p.m. ET] The dollar cost of Hurricane Sandy is more than double what was previously estimated, the Associated Press reported Thursday. Eqecat, a forecasting firm, has estimated that the economic toll of the devastating storm could reach $50 billion on the high end, with a cost of between $10 and $20 billion for insurance companies. The firm had previously projected the damage to be up to $20 billion total.
[Update 1:45 p.m. ET] Con Edison has confirmed that customers in lower Manhattan will have power restored by Saturday after erroneous reports circulated that the restoration could be delayed for another week. It appears that the source of the confusion was a statement by Con Ed announcing that power would be restored to most affected by NYC outages by Nov. 10 or 11. That statement was likely in reference to all affected customers, including those outside of Manhattan who are supplied electricity through overhead power lines, which Con Ed had previously stated would take longer to restore.
[Update 12:10 p.m. ET] Power outages due to Hurricane Sandy have surpassed the previous record set after Hurricane Irene in 2011. Electricity outage levels hit 8.5 million after this year's storm, breaking last year's record of 8.4 million, according to a Reuters report. With intense recovery efforts underway on the east coast, close to half of those affected by power outages have had service restored, with 4.7 million residential and business customers in 15 states currently without power.
New York City Mayor Michael Bloomberg praised the MTA in a Thursday afternoon news briefing for restoring partial subway service in time for the morning commute, and said that despite waving subway fares to encourage the use of public transportation, there was still high traffic congestion in the city. The mayor added that he hoped to lift by the weekend the current restriction on passenger traffic on bridges into Manhattan, which requires a minimum of three passengers in private vehicles -- excluding taxis, handicapped vehicles, and commercial vehicles -- in order to cross into Manhattan.
[Update 11:15 a.m. ET] NBC will broadcast a telethon Friday night to raise funds for Hurricane Sandy relief efforts, NBC Universal announced on Thursday. Matt Lauer of "Today" will host the telethon, which will air on NBC, Bravo, CNBC, E!, G4, MSNBC, Style, Syfy and USA from 8 to 9 p.m. ET. A spokesperson for NBC Universal told the New York Times that stations not owned by the company will also be permitted to air the telethon and benefit concert. In 2005, NBC's concert and telethon to benefit victims of Hurricane Katrina raised $50 million for the Red Cross.
[Update 10:00 a.m. ET] All Manhattan customers of underground electrical power will have service restored by Saturday, Con Edison has promised. The exceptions will be residences or business with excessive water damage that could interfere with electrical operations.
Con Ed has restored electrical power to 225, 000 of the customers who were left in the dark when Hurricane Sandy made landfall on the Jersey Shore Monday evening. Most recently, service has been restored in the southwest corner of Manhattan.
There are an estimated 676,000 New York City customers still without power early Thursday morning, and another 166,000 without power in Westchester County.
Approximately 2 million customers remain without power in New Jersey.
[Update 8:53 a.m. ET] BREAKING: Con Ed has assured New York City customers that all power will be restored by the weekend, according to BloombergNews. Power is expected to return on Friday and Saturday. Details will be provided as they become available.
[Update 7:35 a.m. ET] The death toll from Hurricane Sandy has risen to 74, according to an overnight report by the Associated Press. The highest number is currently in New York state, with 30 deaths; 14 have died in New Jersey and 11 in Pennsylvania.
New York City has reopened limited sections of the subway Thursday, but downtown Manhattan subway stations remains out of service due to flooding and continued power outages, and there is no subway service between the outer boroughs and Manhattan. In Brooklyn, lines for shuttle buses stretched for several blocks as commuters faced significant delays in their daily commute.
Over 5 million customers remain without power throughout the U.S. Thursday, though the total number of power outages has gone down significantly from 8.5 million in the immediate aftermath of the hurricane. New Jersey remains the hardest hit state in terms of outages, with 2 million customers still without power -- down from 2.7 million Wednesday.
FOR FREE to continue reading
✔️ Unlock the full content of International Business Times UK for free
offer available for a limited time only
✔️ Easily manage your Newsletters subscriptions and save your favourite articles
✔️ No payment method required
Already have an account?
Log in
© Copyright IBTimes 2023. All rights reserved.