Scott Walker Recall: Governor Outlines 'Divide And Conquer' Union Strategy In Video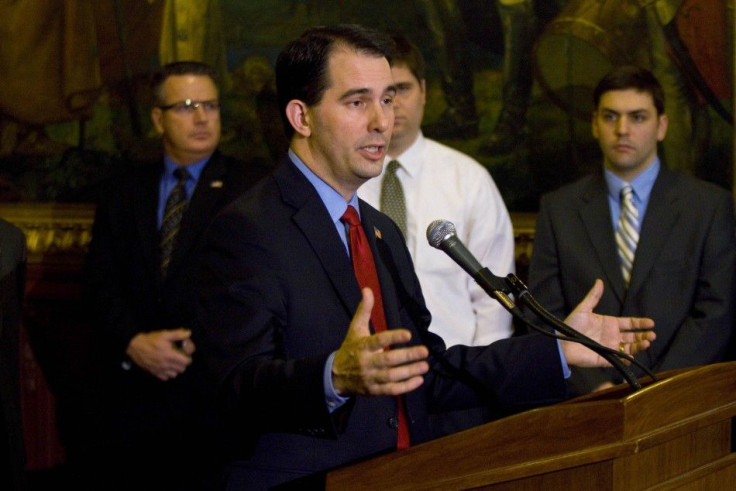 A new documentary features embattled Wisconsin governor Scott Walker reassuring a wealthy donor that he would pursue a divide and conquer tactic to undercut public sector unions.
Walker is facing a recall election in large part because of his aggressive efforts to curtail union clout. A bill that effectively eliminated collective bargaining rights for most public employees faced a furious backlash, leading protesters to flood the statehouse in Madison and prompting Democratic state senators to flee Wisconsin in an effort to forestall a vote.
Throughout the contentious debate over rolling back union rights, Walker has maintained that his focus is on balancing the budget and doing away with costly collective bargaining agreements. A clip from the film -- a documentary entitled As Goes Janesville that follows Janesville, Wisc.'s struggles after its General Motors plant shuts down -- captures Walker emphasizing the same point to a supporter.
Budgetarily we can't afford not to, Walker tells Diane Hendricks, a billionaire who has since donated a record $510,000 to his campaign. If we have collective bargaining agreements in place, there's no way not only the state but local governments can balance things out.
In January 2011, after a 2010 election that gave Wisconsin Republicans both houses of the state's legislature and propelled Walker into the governor's office, As Goes Janesville director Brad Lichtenstein captured Hendricks pressing Walker on how to make Wisconsin a completely red state, and work on these unions.
What can we do to help you? Hendricks asks Walker.
Well, we're going to start in a couple weeks with our budget adjustment bill, Walker tells Hendricks. The first step is we're going to deal with collective bargaining for all public employee unions, because you use divide and conquer.
Hendricks also asks Walker about making a Wisconsin a right-to-work state, referring to a type of law that prevents unions from requiring non-union members to pay dues, even if those non-members receive the benefits that flow from collective bargaining. Proponents of right-to-work contend that it attracts jobs to a state by lowering the cost of doing business, although experts are divided. Indiana recently passed a right-to-work law.
On Tuesday, Wisconsin voters selected Milwaukee Mayor and Democrat Tom Barrett to face Walker in the recall election, setting up a rematch of the 2010 contest that Barrett lost to Walker by 5 percentage points. Walker's opponents forced the recall by collecting over 900,000 signatures, nearly twice the amount required.
The Walker recall is not the first time Wisconsin voters have initiated an election that is effectively a referendum on the union law. An effort last summer to recall Republican state senators who had supported the law unseated two of those senators, narrowing the Republican majority.
© Copyright IBTimes 2023. All rights reserved.