Sexual Harassment At Work: Congress Could End Loophole That Leaves Unpaid Interns Without Legal Protections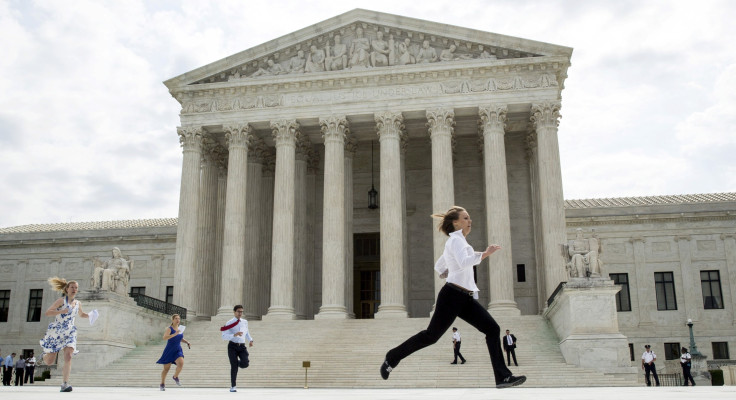 When Lihuan Wang was a graduate student at Syracuse University, she served as an unpaid intern in the New York City bureau of the Hong Kong-based TV broadcaster Phoenix Satellite Television. One month into the internship, in January 2010, Wang said the company's Washington bureau chief invited her into his hotel room under the pretext of talking about her job performance.
Things went differently than she expected. Soon after Wang arrived, he allegedly threw his arms around her, tried to kiss her and "squeezed her buttocks with his left hand." Wang left the room, and neither of them discussed the incident. Once the internship ended, Wang never received a full-time employment offer.
Eventually, Wang filed a lawsuit in federal court alleging sexual harassment. In October 2013, a federal judge shot down her claim. The reason: Wang was an intern — not an employee — and therefore outside the scope of federal anti-discrimination laws.
It's a stunning loophole: Of the hundreds of thousands of unpaid interns nationwide, the vast majority have no legal protections against sexual harassment at the workplace. The work-related provisions of the Civil Rights Act, the nation's foundational anti-discrimination law that protects against sexual and racially motivated harassment, only applies to employees. So do laws that outlaw discrimination against workers on the basis of age or disability.
Now, for the first time, Congress is considering plugging the gap. A bill sponsored by Rep. Elijah Cummings, D-Md., would extend anti-harassment and discrimination protections to unpaid interns across the private sector. Last week, the House passed a scaled-back version of the bill that applies to interns in the federal government. A third bill would apply to Capitol Hill interns.
"Regardless of whether the internship is at a federal agency or at a Fortune 500 company, unpaid interns should not be left without a remedy if their civil rights are violated," one of the bill's co-sponsors, Rep. Bobby Scott, D-Va., told International Business Times.
A group that has advocated for the bills applauded the attention they've received in Congress, casting it as a victory for younger workers who use internships as steppingstones to the labor market. "It's important for young people to have recourse if they're harassed or discriminated against in the workplace," said Reid Setzer, policy analyst for Young Invincibles.
It appears unlikely that Congress in its current form would pass a law extending intern protections across the private sector as a whole. Republicans generally oppose new workforce regulations and retain comfortable majorities in the House of Representatives and the Senate. The U.S. Chamber of Commerce, which frequently lobbies against new regulations in the workplace, did not respond to requests for comment about the legislation. An official with the Society for Human Resource Management said the organization does "not have a formal position on the bill" and is reviewing the text.
Still, Ross Perlin, author of the critically acclaimed book "Intern Nation," said the introduction of the bills marks a positive development for a growing slice of the labor force.
"This is not an abstract argument," Perlin said. "There have been numerous cases of interns trying to sue their supervisors, largely over sexual harassment. And in those cases, courts have told interns they lack standing because they're not employees."
Most interns are women — according to a 2010 study from consulting firm Intern Bridge, 77 percent of unpaid internships are filled by women. Moreover, Perlin noted, the power dynamics of unpaid internships can draw workers into potentially uncomfortable and exploitative situations with their bosses.
He pointed to the several jurisdictions in the United States that have addressed the harassment loophole with legislation of their own. So far, California, New York, Oregon, Connecticut, Maryland, Illinois, Washington, D.C., and New York City have all passed laws extending anti-harassment protections to interns. "There's building momentum around this totally clear and shocking issue," Perlin said.
Not everyone is as pleased with the proposed legislation.
Eric Glatt is a lawyer and a former unpaid intern on the set of the film "Black Swan" who helped bring a landmark class-action lawsuit against Fox Searchlight, accusing the film company of widespread wage theft. He said the slew of congressional legislation is well-intentioned, but may not go far enough.
The way the bill that covers the private sector defines intern — "an individual who performs uncompensated voluntary service for an employer, to earn credit awarded by an educational institution or to learn a trade or occupation" — could have the unintended consequence of excluding certain people from protections.
"I think the definition of intern doesn't reflect the reality of the current intern labor marketplace," Glatt said. "A lot of interns aren't there to learn, they're there to work and get their foot in the door."
Companies sometimes misclassify workers as interns in order to save on labor costs. Under the current text of the legislation, Glatt worried, someone who's classified as an intern by their boss but doesn't meet the bill's definition could be excluded from coverage. The U.S. Department of Labor has a six-point test to determine when unpaid internships are allowed, but employers often violate it, Glatt noted.
Ross Perlin also bemoaned the lack of adequate wage protections for interns, but called the bill an "important first step" for securing "intern rights."
Congressman Bobby Scott, who also serves as the ranking member on the House Committee on Education and the Workforce, applauded House Speaker Paul Ryan for allowing a vote on the federal intern bill last week. "Given the unanimous adoption of the Federal Intern Protection Act, perhaps it will persuade our committee leadership to take up H.R. 3232, the Unpaid Intern Protection Act," he said.
© Copyright IBTimes 2023. All rights reserved.