Soma Mine Disaster: Workers Say Turkish Officials Knew Of Safety Problem Before Explosion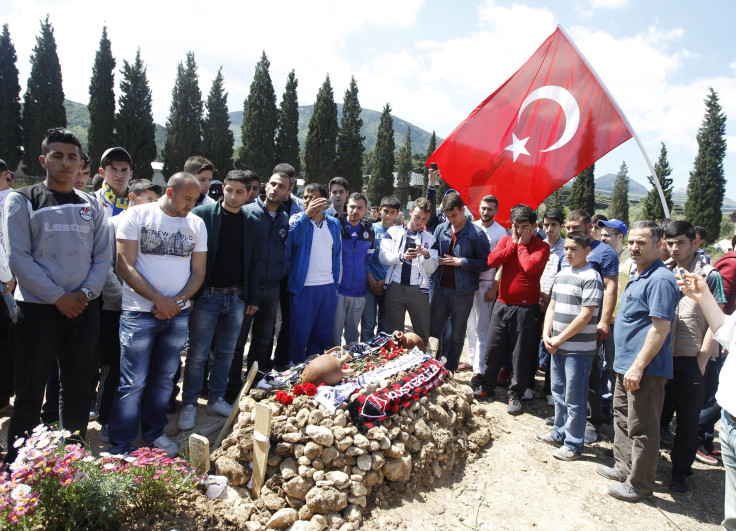 SOMA, Turkey – Ibrahim Kursun was working in a cramped corridor at the Soma coal mine when the air turned suddenly acrid and the lights flickered and went out. He quickly strapped on an emergency oxygen mask and felt his way toward the nearest exit, which was nearly a kilometer away. By then, smoke filled the corridor where Kursun had been working.
The Soma fire ultimately took 301 lives, making it the deadliest mining disaster in Turkish history. Kursun is haunted by one casualty in particular -- his childhood friend and co-worker Ramazan Kokcu.
"He was next to me, and I ran without thinking of him," he said. "How can I face his wife?"
Kokcu's widow, Ipek Kokcu, said that for years her husband had complained about the dangers in the mine, where methane leaking from coal deposits frequently caused fires. Only days before the accident, she recalled, Ramazan spoke of an intense heat where his shift was working, which was often a prelude to a major fire.
"We knew what it meant," she said. "I should have told him to stay home."
Kokcu now effectively speaks for a nation immersed in angry recriminations over the mining disaster, a tragedy that has reinvigorated public fury toward the government of Prime Minister Recep Tayyip Erdoğan.
Just as Kokcu grapples to understand how her husband left for work but never returned, vocal protesters are demanding an explanation for how a push to privatize Turkey's formerly state-dominated mining sector, combined with allegedly cushy relationships between mine owners and government regulators, has made the industry lethal for growing numbers of miners. The deaths of miners like Kokcu's husband personifies a fatal flaw in which the well-connected cut deals for their own benefit, using power to shield themselves from scrutiny, while ordinary people suffer the consequences of declining safety standards.
As Kursun observed, "We had no escape plan." Instead, he said, workers were left to survive on their own. "I felt my way along a passageway until I saw light."
An official investigation began on Sunday that so far has resulted in the detention of 25 employees of Soma Holding, the mine's parent company. Turkish media reported that Ramazan Dogru, the general manager of the mine, and operating manager Akin Celik were among those detained, while five Soma employees were formally charged with "negligence and causing multiple deaths."
The arrests suggest an about-face for Turkey's ruling Justice and Development Party (AKP), which has been accused of being too cozy with Soma Holding. Melike Dogru, wife of the mine's general manager, is a local councilor for the AKP and chairwoman of the provincial parliament. Turkish media reported last week that mine owner Alp Gurkan was awarded $33 billion in government contracts over the last seven years.
"It's impossible that Soma Holding's success in winning contracts wasn't due to special ties with Ankara," said Aykut Erdogdu, a parliamentary deputy of the opposition Republican People's Party (CHP). Gurkan has denied any informal ties between Soma Holding and the government. "Now Soma is a scapegoat, useful for the government to argue it's not responsible for what happened," Erdogdu said.
In the aftermath of the disaster, Turkey's government has denied that a lapse in oversight led to the fire. "This incident involved no acts of negligence," AKP Cabinet minister Huseyin Celik said Friday. The mine had been "inspected thoroughly, 11 times, since 2009."
But as Kursun and other survivors and victims' family members attest, problems at the mine were well known by those who worked there, regardless of what the official inspections say.
Since last week's disaster, Soma miners have publicly aired a long list of grievances concerning safety at the mine. "Regulations at Soma were designed to be mocked," said Sefa Koken, a 30-year-old safety inspector at the mine. Koken alleged that an uptick in the frequency of mine fires last month was ignored by his superiors, and safety detectors recorded dangerous gas buildups in the mine just days before the fire. "Who was allowing our superiors to ignore such things?" he asked.
On Monday, three major Turkish newspapers reported that government investigators had obtained data from the Soma mine indicating high levels of gas two days before the disaster.
Some miners claim that the safety breaches were a direct result of the absence of government supervision. "We never saw inspectors anywhere but in the main sections of the mine, where there isn't a risk of fire," said Emre Alaca, a 29-year-old miner who was rescued from the mine on Wednesday. "The oxygen masks many needed to survive were faulty," he added. "Checking masks should have been an easy thing for inspectors to do."
In a visit to Soma last week, Erdoğan called mine accidents in Turkey "commonplace," and compared them to similar accidents in 19th century Europe. Public anger in Soma exploded over those comments, and last week, the premier was heckled and booed by a mob in Soma after delivering his speech. The anger grew after Erdoğan adviser Yusuf Yerkel was photographed kicking a protester in Soma, and miners took to Soma's streets over the weekend.
The investigation that began on Sunday seemed to further stoke the miners' anger. Some said the government was merely looking for a scapegoat.
"It is transparent how the government is trying to wash their hands of this," said a miner who gave his name as Mustafa. He pointed to a set of four pro-government newspapers that bore the identical headline, "The day of reckoning!" on newsstands that day. "This is shameless scapegoating. Not a single minister has resigned."
Energy Minister Taner Yildiz had touted Soma as a model of good labor practices and complimented the mine's managers for "keeping work safety and priority" following a visit in July 2013. But a Labor Ministry review of the Soma mine that year cited a range of safety concerns, including the lack of fire drills or other emergency response training. In 2010, a report by the Union of Chambers of Turkish Engineers and Architects blasted the mine's safety and ventilation systems, concluding that workers "could not be evacuated from the mine urgently and safely" in the event of a fire.
This weekend, Yildiz pledged that the government would investigate "any negligent party, public or private."
Koken, Soma's safety manager, said he was doubtful that government reforms would improve national safety standards. "There is a culture of fear at the root of all this," he said. Because workers can be fired without any legal recourse, most are wary of speaking out about poor safety conditions.
In 2011, Koken was fired from a nearby mine shortly after testifying about the death of a fellow worker. Koken -- who provided IBTimes with a lengthy docket of legal papers covering the subsequent lawsuit – said he was fired for stating in court that the mine neglected key safety standards.
Unable to find a job above ground, Koken sought a job at Soma a year later. In fear of being fired again, Koken "got comfortable" about safety at the mine. "Now, the mine will certainly fire me for saying these things," he said. "Let them come after me, I hope the whole nation comes after them."
FOR FREE to continue reading
✔️ Unlock the full content of International Business Times UK for free
offer available for a limited time only
✔️ Easily manage your Newsletters subscriptions and save your favourite articles
✔️ No payment method required
Already have an account?
Log in
© Copyright IBTimes 2023. All rights reserved.