South Korean Scientists Warn North Korea's Nuclear Tests Could Trigger Radioactive Leak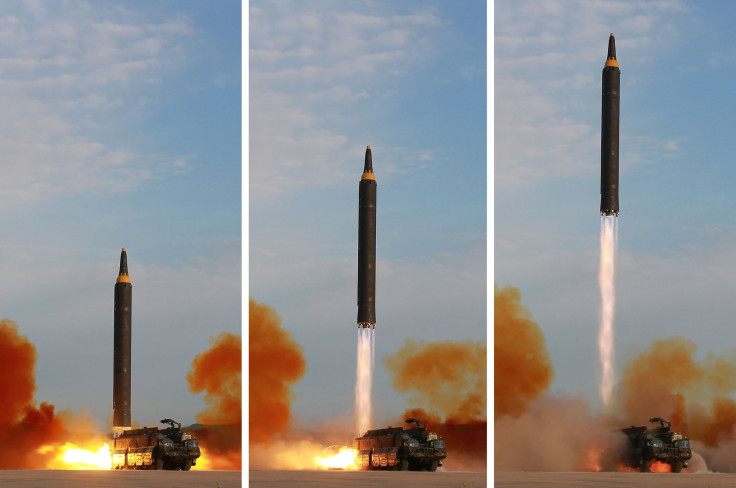 Continued nuclear testing by North Korean could trigger a radioactive leak, South Korea's chief meteorologist warned this week. Nam Jae-Cheol, the head of the Korea Meteorological Administration, said the hollow space in the bottom of the mountain where the tests are conducted could implode, leading to radioactive material seeping through.
"There is a hollow space, which measures about 60 to 100 meters in length, at the bottom of Mount Mantap in the Punggye-ri site," Nam said, according to Yonhap news agency. "Should another nuke test occur, there is the possibility of collapse."
Satellite photos showed the hollow space inside the mountain, according to Korea Meteorological Administration researcher Lee Won-Jin.
North Korea has conducted all of its nuclear tests since 2006 at the Punggye-ri site and the regime's ever more powerful nuclear tests appeared to already be affecting the terrain. The latest test, conducted in early September, led to massive landslides and multiple earthquakes near Punggye-ri. Successive tests have so far not caused any radiation leaks in nearby regions, analysts said.
South Korea's lead meteorologists are not the first official to warn of an impending catastrophe at the nuclear testing site. Scientists from the Chinese Academy of Sciences' Institute of Geology and Geophysics last month also warned about the possibility of a catastrophic implosion in the mountains. Chinese scientists were especially concerned considering the close proximity of the testing site to the Chinese border.
"China cannot sit and wait until the site implodes," said a researcher studying radioactive risk from the North Korean nuclear program at Peking University, according to the South China Morning Post. "Our instruments can detect nuclear fallout when it arrives, but it will be too late by then. There will be public panic and anger at the government for not taking action. Maybe the North Koreans themselves have realized the site cannot take another blow. If they still want to do it, they have to do it somewhere else."
North Korea has thus far shown no signs of stopping or moving its nuclear testing. The nation was reportedly conducting mass evacuation drills and blackout exercises in recent days amid increased threats of nuclear war. It remained unclear, however, whether those exercises were actually preparation for war or whether they were designed to create a particular perception.
© Copyright IBTimes 2023. All rights reserved.