ST-Ericsson Readies Revamp, soon a Takeover Target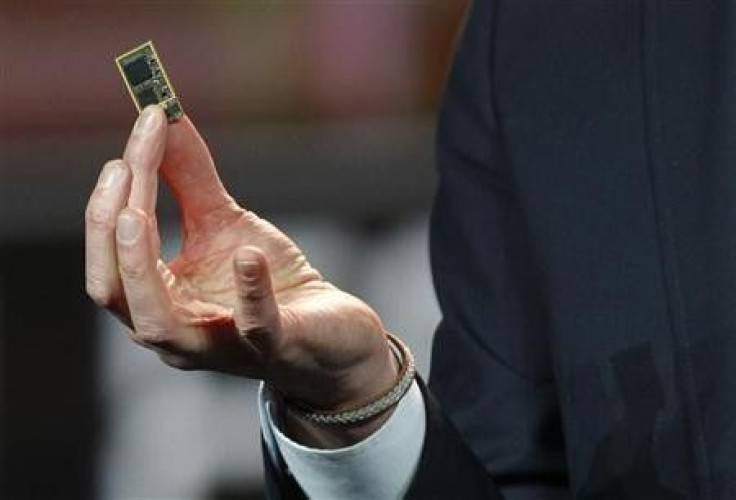 (Reuters) - ST-Ericsson is preparing to unveil a major operations revamp within two weeks, placing the troubled mobile chip venture on track for a takeover by a peer or competitor that would create a formidable rival to Qualcomm Inc.
ST-Ericsson, a 50-50 joint venture of Sweden's Ericsson and France's STMicroelectronics, is seen as a strategic asset for potential buyers. Those could include Advanced Micro Devices Inc, Nvidia Corp, Intel Corp and Texas Instruments Inc, three sources familiar with the situation told Reuters.
It is the only answer to Qualcomm, one of the sources said. On the patent side, they are the one company that you go, 'That makes sense.'
Potential suitors will likely drag out their courtship over a year or two, waiting for ST-Ericsson to first show signs of a turnaround under new Chief Executive Didier Lamouche, a restructuring expert hired late last year.
Lamouche is due to unveil by the end of March a restructuring plan that is set to include site closures around the world and major layoffs to lower costs. The new strategy could also include seeking a partner for application processors.
In addition to modems -- ST-Ericsson's strength -- today's smartphones use application processors that function in the same manner as a CPU on a computer, running software and graphics. These processors are increasingly incorporating dedicated graphics processors, or GPUs, as more video and graphically intensive applications make their way onto smartphones.
Qualcomm topped the smartphone applications processor market in 2011, capturing about a 50 percent revenue share and taking the long-held crown from Texas Instruments, according to research from Strategy Analytics.
ST-Ericsson NovaThor chipsets offer one of the few integrated alternatives to Qualcomm's market-leading Snapdragon.
The holy grail is to sell an integrated modem with an application processor into mainstream smartphones, said analyst John Jackson from research firm CCS Insight.
Meanwhile, consolidation has run rampant in the semiconductor sector, with Intel, Nvidia and Qualcomm among the major chip makers seeking to fill holes in their offering.
Intel acquired Infineon Technologies AG's wireless solutions business to make inroads into smartphones and mobile devices. Nvidia bought UK semiconductor company Icera, whose chips are used in datacards and USB sticks embedded directly in smartphones, tablets, and netbooks.
It's only a question of time -- either STMicro will buy out Ericsson from the venture or it will be sold to a third party, said Sami Sarkamies, an analyst at Nordea.
STMicro and Ericsson declined to comment, but both parents have said the venture is strategically important to them. ST-Ericsson declined to comment.
CHALLENGES
The current structure of ST-Ericsson would pose several challenges for a potential buyer, the sources said. For example, the business is tightly linked to STMicro's products, particularly for its upcoming FD-SOI technology, which analysts expect to be a game-changer at the market's top end.
The technology, which brings significant power savings, has been seen as too expensive for phones, but last month ST-Ericsson promised to deliver FD-SOI chipsets -- using STMicro technology in partnership with Soitec SA -- for manufacturing clients to try out in smartphones this year.
And Ericsson holds most of the venture's telecom patents and would be a tough deal negotiator, one of the sources said.
When Ericsson exited from a similar 50-50 cellphone venture, Sony Ericsson, the deal gave Sony Corp access to Ericsson patents; but only a few patents were sold to Sony as part of the deal. Also, loss-making Sony Ericsson was valued at roughly $3 billion in the deal. It had 2011 sales of $5.2 billion.
ST-Ericsson has lost a total of $2 billion in its three years of operation as revenues from key clients Nokia and Sony Ericsson shrank over 70 percent during the same period.
Clearly they've been struggling and looking at options. There is a lot of baggage that comes with the company, said Jon Erensen, an analyst at research firm Gartner.
Revenues in 2011 dropped to just $1.65 billion from pro forma level of $3.6 billion in 2008. ST-Ericsson has also not been able to retain top talent, becoming a sort of revolving door among executives in past years.
Meanwhile, the venture has not been able to win enough new deals to compensate for the business lost from Nokia.
ST-Ericsson was hit hard by the demise of Nokia's Symbian smartphone platform, whose market share has shrunk from 50 percent to just 10 percent in a couple of years as Apple Inc and Google Inc stormed the market.
In February 2011, Nokia also decided to switch its software in favor of Microsoft Corp's Windows Phone.
So far, Qualcomm has been the sole supplier of chipsets for Windows Phone, whose market share is only around 2 percent; but ST-Ericsson has unveiled a design win for Nokia's upcoming Windows 8 phones.
Although both STMicro and Ericsson have said they are committed to their venture, the sources said the companies cannot ignore the industry's inflection point, which has pushed rivals to look at alternatives for their ventures and assets.
Last year, Nokia and Siemens AG attempted to find a buyer for a stake in their ailing telecom equipment joint venture, Nokia Siemens Networks. The deal fell apart after a year of negotiations with private equity firms.
A lot of these joint ventures have been in play. The problem with them is they can't last forever, one of the sources said.
© Copyright Thomson Reuters 2023. All rights reserved.
FOLLOW MORE IBT NEWS ON THE BELOW CHANNELS