Students May Not Be The COVID Superspreaders In Schools After All
As many schools across the U.S. moved to virtual learning to reduce the spread of the coronavirus, a new study from the Centers for Disease Control and Prevention suggests that students may not be the superspreaders to be most concerned about.
According to the study, teachers are more likely to spread COVID than students as they were shown to be the source of outbreaks in several cases identified by the research.
"These findings suggest that educators can play an important role in in-school transmission and that in-school transmission can occur when physical distancing and mask compliance are not optimal," the CDC said in its report.
The CDC looked at nine COVID outbreaks that occurred in elementary schools in Marietta, Georgia, throughout December and January. The agency found that a teacher was the source of four of the outbreaks while a student was only the source of one.
While the contact tracing in the other four outbreaks was unclear, teachers were suspected to be the sources in those cases, according to the study.
The CDC did say that the Marietta schools were not optimally set up for the pandemic and had "inadequate mask use" by students, which may have contributed to at least five of the virus outbreaks. The agency also cited "less than ideal physical distancing" at the schools as desks were spaced less than three feet apart due to the size of the classes despite the use of plastic barriers.
"To ensure safer in-person learning during the COVID-19 pandemic, schools should implement multicomponent mitigation strategies, including efforts to prevent infection among educators, and promoting consistent, correct mask use and physical distancing wherever possible, especially during mealtime when masks are not being worn," the study found.
President Joe Biden's administration is pushing for more schools to reopen amid the pandemic as teachers become inoculated in near-term phases of the COVID vaccine rollout while following the CDC's school reopening guidelines, which were released earlier this month.
CDC Director Rochelle Walensky, said about the reopening guidelines, "The decision to go back to in-person instruction is not one that any of us take lightly. Believe me, I know. At CDC, we have thoroughly reviewed the science, and engaged with stakeholders as we worked to produce an operational strategy, to support safe, in-person instruction and protect teachers, students, and other school staff."
To date, the CDC has administered over 64 million doses of the COVID vaccine to over 44 million people. In most regions of the U.S., the vaccine has mostly been given to those that are 65 and older, healthcare workers, long-term care residents, and in some cases, those with underlying health conditions.
Teachers are part of the CDC's priority group Phase 1b, which also includes firefighters, police officers, corrections officers, food and agricultural workers, postal employees, manufacturing workers, and public transit workers.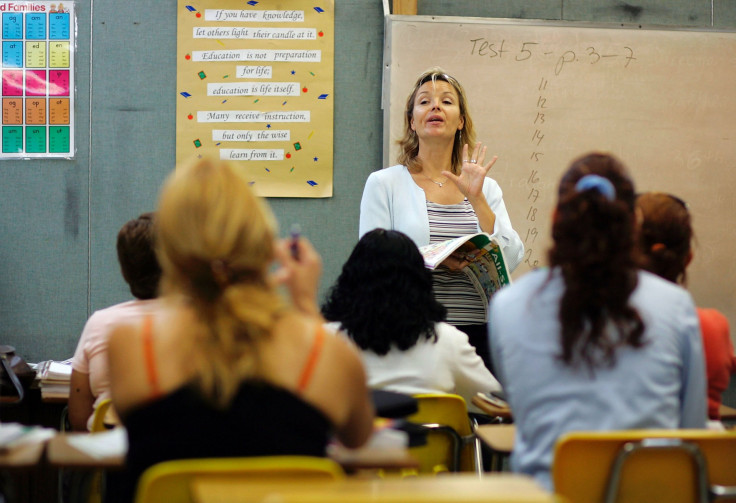 © Copyright IBTimes 2023. All rights reserved.