Super Bowl 2016 Ratings: How Many People Will Watch The Denver Broncos vs. Carolina Panthers?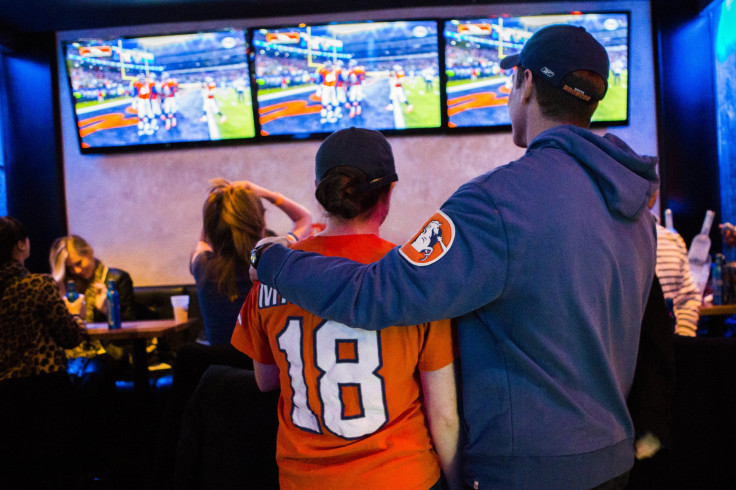 Year after year, the Super Bowl sets a new ratings record for overall viewers, and that trend is likely to continue in 2016. Super Bowl 50, featuring a matchup between the Carolina Panthers and Denver Broncos, is expected to set a new record in terms of average viewership.
Oddsmakers at Bovada have set the over/under for average viewership at 117 million. Even if Sunday's game falls short of that number, it's likely to surpass the record 114.4 million Americans that watched the 2015 Super Bowl on TV.
Last year's big game set a new record when the New England Patriots defeated the Seattle Seahawks in one of the most compelling Super Bowls of all time, and viewership peaked at 120.8 million between 9:45 and 10 p.m. ET. But recent history has shown that the contest doesn't have to be close in order for fans to tune in. In 2014, a record was set when an average of 112.2 million people watched the Seahawks beat the Denver Broncos by 35 points in Super Bowl XLVIII.
Sunday's game is highly anticipated because it features some of the NFL's most popular players. Panthers quarterback Cam Newton has the league's second-best selling jersey since April 2015, and Panthers linebacker Luke Kuechly comes in at No. 8 on the list. Broncos quarterback Peyton Manning has been among the league's most popular players for over a decade, and has the NFL's fifth-best selling jersey.
The Super Bowl has set a record for average viewership each year since 2010, except for one. The 2013 Super Bowl was seen by an average of 108.7 million viewers, ranking third at the time behind the previous two Super Bowls. That game, played between the San Francisco 49ers and Baltimore Ravens, went down to the wire, but it was disrupted by a 34-minute power outage in the third quarter.
While the last six Super Bowls are the most-watched programs in American TV history, they aren't the highest-rated. That honor still belongs to the finale episode of "M.A.S.H." in February 1983, which was seen by an average of 106 million Americans and drew a 60.2 rating.
Super Bowl XVI remains the highest-rated Super Bowl of all time with a 49.1 rating. Last year's Super Bowl drew a 47.5 rating, putting it fourth on the all-time list.
© Copyright IBTimes 2023. All rights reserved.
FOLLOW MORE IBT NEWS ON THE BELOW CHANNELS