Survival Of The Sickest: Health Insurer Assurant Settles Discriminatory Pricing Complaint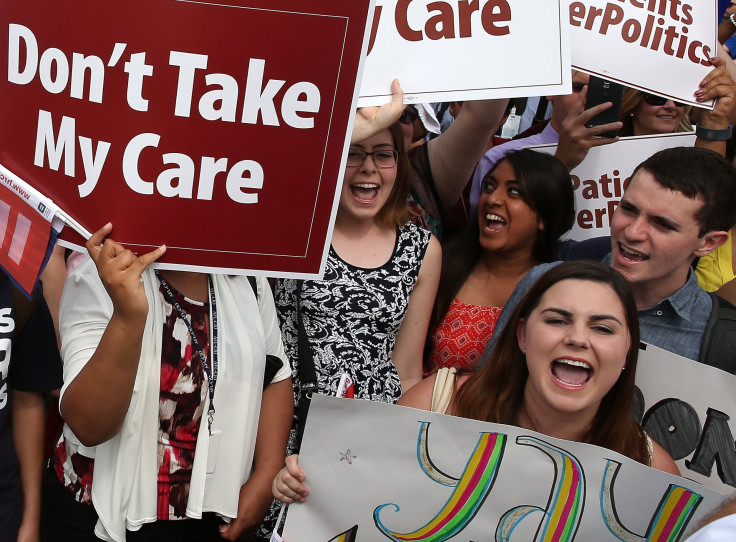 When executives at Assurant Health announced last month that the company would be going out of business, they blamed Obamacare. And they had a point. The sweeping healthcare revision outlawed one of Assurant's most profitable practices: charging its sickest customers higher prices or pulling their coverage entirely.
A complaint the company settled with Montana's commissioner of securities and insurance, made public Thursday, offers a glimpse into how Assurant Health does business even as it winds down operations. The complaint alleged that the insurer discriminated against less-healthy customers and manipulated prices. In settling the allegations made by the state's insurance commissioner, Assurant did not admit to any wrongdoing, but it agreed to pay $1.7 million in refunds to Montana customers and a $25,000 fine to the state. The settlement was signed July 1.
Assurant Health's accusation that the Affordable Care Act (ACA) killed its earnings turns out to be true. Assurant's decline illustrates the law's effectiveness as a tool for preventing discriminatory practices in health coverage. Assurant Health, which once provided more than 1 million Americans with health insurance, generated $1.9 billion in revenue in 2014 but posted a loss of $64 million. In the first quarter of 2015 alone, it lost $84 million. The company's profits sank at least in part because it could no longer engage in what federal and state regulators say were unethical practices to rid its rolls of the sickest patients. The ACA made many such practices illegal.
Since Assurant Health's parent company, Assurant Inc., announced on April 28 that it would either sell the health-insurance division or exit the business entirely, its stock price has jumped 12 percent. The company announced its final decision to shut down Assurant Health on June 10.
Assurant Inc. (AIZ) - Stock Price | FindTheCompany
But allegations in the Montana insurance commissioner's complaint illustrate that Assurant Health -- even as it's shutting down -- has continued to engage in practices that are no longer legal.
Discounts For Healthier Customers
Commissioner Monica J. Lindeen's complaint alleged Assurant charged two prices for the same health-insurance policies: a lower price for healthier customers and a higher price for sicker Montanans. Lindeen said Assurant Health offered what it called "discounts" to customers who had very few health-insurance claims.
"Charging higher prices to sick people for the same health-insurance policy is discrimination," Lindeen said in the statement. "It's not uncommon for people with greater healthcare needs to spend more overall on their medical costs. But the law requires that companies charge the same for their policies. The law is intended to eliminate discrimination against consumers."
In Montana and other states, Assurant Inc. conducts business under the names of the Time Health Insurance Company and John Alden Life Insurance, both of which are wholly owned subsidiaries.

 Federal and state regulators say that in Montana -- and other states -- Assurant offered customers discounts on their premiums if they sought less than $500 in reimbursements for medical expenses per year. By offering the discounts, the company was not only discriminating against less well customers but also offering low rates to healthier patients, a practice forbidden by the federal ACA and by some state laws and regulations.
"Assurant Health has cooperated fully with the Montana Department of Insurance and will comply with all terms of the agreement," a company representative said Thursday. "The company is pleased that this matter is resolved."
The settlement of the civil charges by Montana's insurance commissioner is only the latest development in a number of cases in which a congressional investigating committee, federal and state regulators, and lawsuits by customers have alleged serious wrongdoing by Assurant Health.
Assurant Inc. (AIZ) Quarterly Net Income | FindTheCompany
The most serious allegations in the past centered on claims that Assurant engaged in a practice known as "rescission" or "post-claims underwriting" in which the company conducted aggressive investigations of customers diagnosed with life-threatening and expensive illnesses -- such as cancer, HIV or lymphoma -- to find some pretext to cancel their policies. Investigations between 2005 and 2010 by state and federal regulators, as well as a U.S. House of Representatives committee concluded that very rarely was a customer's health insurance canceled for a legitimate reason.
Assurant Health was hardly the only major health insurance company to engage in the practice. Many of the nation's largest and most respected health insurers, including WellPoint (which in 2014 changed its name to Anthem Inc.) and United Healthcare, did the same thing. But Assurant was the company that engaged in the practice most aggressively and reaped the greatest gain. A 2009 investigation by two U.S. House of Representatives committees demonstrated that Assurant made tremendous profits from the practice of wrongfully canceling patients when they were most in need. The two congressional committees concluded that between 2003 and 2007, Assurant made $151.6 million in illicit profits by allegedly canceling customers' insurance after they were diagnosed with expensive medical conditions.
Now that the ACA has prohibited insurance companies from the highly controversial practice, it's cutting into Assurant's potential profits.
Even before the ACA became law, Assurant and other companies had to pay large verdicts to patients who sued for being canceled. A national outrage against another company, WellPoint, singling out breast cancer patients for cancellation, caused WellPoint, Assurant and other companies to say they were willing to end the practice--even before the ACA came into effect.
In 2004, a jury in Florence County, South Carolina, ordered Assurant Health, then known as Fortis, to pay $15 million for wrongfully revoking the health insurance policy of a teenager, Jerome Mitchell, shortly after he was diagnosed with HIV. In affirming the jury's verdict, the South Carolina Supreme Court, in a unanimous opinion, concluded "that Fortis' conduct was reprehensible" and that the company "demonstrated an indifference to Mitchell's life and a reckless disregard to his health and his safety."
Any Excuse To Revoke HIV Patients' Policies
Assurant's behavior toward Mitchell was hardly an aberration. In 2010, Reuters disclosed that Fortis had a company policy of targeting policyholders with HIV for cancellation of their policies. A computer program and algorithm targeted every policyholder recently diagnosed with HIV for an automatic fraud investigation, as the company searched for any excuse to revoke their policy. As was the case with Mitchell, their insurance policies often were canceled on erroneous information, the flimsiest of evidence, or for no good reason at all.
The disclosures about Assurant's cancellation of HIV patients and alleged wrongdoing by the company toward other customers were cited by President Obama and by supporters of the health reform as they argued for the passage of the ACA.
In Connecticut, state regulators reprimanded Assurant in 2005 for having canceled the health insurance of Maria Locker, a schoolteacher and mother of three, who had been recently diagnosed with lymphoma. Prior to her diagnosis, and prior to her buying her insurance, Locker had complained to her doctor of feeling tired. Her physician performed a number of tests but found nothing. Assurant argued that Locker and her doctor, if they had been more aggressive, might have uncovered she had lymphoma, in which case they would have never allowed her to sign up as a patient.
In February 2010, a Boulder, Colorado, jury awarded an Assurant Health customer, Jennifer Latham, and her family $37.3 million for canceling Latham's health insurance policy in 2005 after she was in a horrific accident when her car was side-swiped by a methamphetamine dealer trying to outrun pursuing police. Assurant, going under Time Insurance in Colorado, had said the cancellation was justified because she had allegedly misled the company by not disclosing that she had a panic attack and a second minor health condition when she signed up for her policy.
The practice of rescission largely ended as a result of a national outcry following reports that WellPoint, then the nation's largest health insurer, had specifically targeted women with breast cancer for investigation and cancellation. President Obama and his administration condemned the conduct and pressed WellPoint to stop. WellPoint announced it would end the practice and soon the entire health insurance industry agreed to do the same, ending decades-long practices by WellPoint, Assurant and other companies.
"Assurant Health complies with all Affordable Care Act regulations," a company representative said.
ACA Dents Assurant's Profits
Assurant Health's ability to earn big profits was harmed in other ways by Obamacare. Before adoption of the ACA, companies engaged in underwriting -- in which they were allowed to pick which prospective customers on private plans they wanted to cover and which they did not. Assurant was known to be more aggressive than most other companies in picking healthy customers, cutting the amount they ultimately had to pay out.
The aggressive underwriting worked in tandem with the company's aggressive rescission practices, where they allegedly wrongfully canceled customers just after they became seriously ill. Assurant was the most aggressive company in canceling people who fell ill with life-threatening and expensive illnesses, according to industry insiders, analysts, and regulators.
The complaint by Montana's insurance commissioner alleges that Assurant Health -- even after the passage of the ACA, the outlawing of rescission -- has continued to game the system.
The ACA also makes it more difficult for smaller companies like Assurant Health to compete against the largest companies, according to Stuart Gunn, a health care managing director at the investment bank Houlihan Lokey. The larger companies have more "leverage" to cut deals with hospitals and providers to get lower prices on services.
"A smaller player just can't cut as good a deal," Gunn says, "You have your United HealthCares, Aetnas, Cignas. They just have more to bring to the table in terms of leverage to be able to get their lowest price for services."
On its website Thursday, Assurant Health had no statement regarding the legal settlement with Montana's Insurance Commissioner. It did, however, have some other "important news" for its customers:
"On June 10, 2015, Assurant Health's parent company, Assurant, Inc., announced an exit from the health insurance marketplace to focus on housing and lifestyle specialty protection products and services… Assurant is committed to providing a smooth process for our customers and will meet all claims and benefit commitments."
The Montana Insurance Commission's allegations raise questions as to whether Assurant customers will be treated fairly as the company closes down. And a 2013 settlement with Missouri's insurance commissioner raised concerns about whether customers will be reimbursed even for basic services.
In August 2013, the Missouri Department of Insurance announced a settlement with Time Insurance Company, Union Security Insurance Co. and John Alden Life Insurance Co -- three companies that issue policies for Assurant Health. The insurers allegedly had been refusing to reimburse customers for money owed them.
Missouri officials alleged that a "market conduct examination" of the companies uncovered numerous instances in which the companies had "violated Missouri law in how claims were being handled."
A routine review found numerous instances in which the three companies denied claims for "childhood immunizations, colon cancer screenings, mammograms, Pap smears and prostate screenings."
FOR FREE to continue reading
✔️ Unlock the full content of International Business Times UK for free
offer available for a limited time only
✔️ Easily manage your Newsletters subscriptions and save your favourite articles
✔️ No payment method required
Already have an account? Log in
© Copyright IBTimes 2023. All rights reserved.