Sustaining The System: Cuba's New VP Diaz-Canel Marks Ascent Of Younger Generation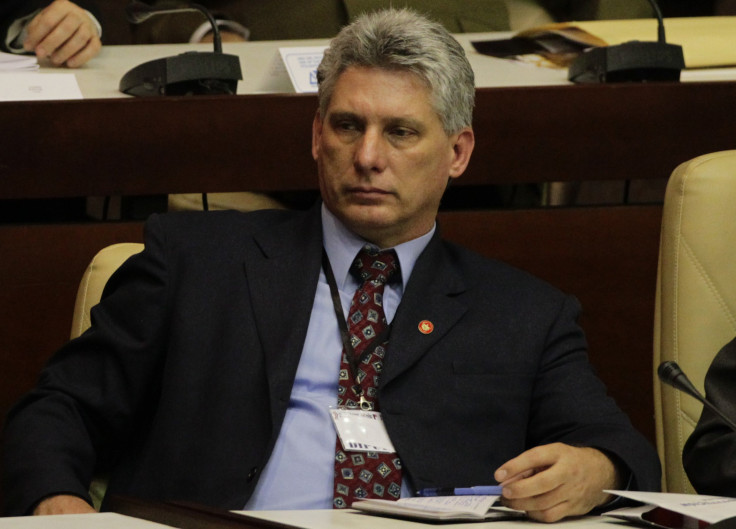 The silver-haired and stoic fifty-something tapped to become Cuba's next-in-line for the presidency marks a historical pivot in the leadership of the communist island nation, particularly due to the fact that he is not related to the Castros.
Miguel Diaz-Canel, 52, is the fresh new face of the Cuban government, which has been led by only two men -- brothers Fidel and Raul Castro -- since the end of the Cuban Revolution in 1959.
Unlike the Castros and the many aging olive-clad revolutionaries that dominate the Politburo, Diaz-Canel comes from a younger generation that did not participate in the Cuban Revolution and lacks a strong military background.
An electrical engineer by training, he has quietly worked his way up the party ladder over the course of 30 years and proven himself a loyal ideologue.
"He is not an upstart or improvised," President Raul Castro said Sunday at the announcement of Diaz-Canel's appointment as vice president, praising his successor's "solid ideological firmness."
Diaz-Canel lacks a high public profile, having mostly served in provincial government posts before joining the Politburo in 2003. In 2009, he was elevated to the post of minister of higher education and last year was appointed vice president of the Council of Ministers.
"[Diaz-Canel] got [the vice presidency] by following orders and by doing it very effectively," said Peter Hakim, president emeritus of the Inter-American Dialogue, a U.S.-based organization that analyzes policies and political developments throughout the Western Hemisphere.
"He's a well-placed party loyalist," he added. "Technocratic, bureaucratic and managerial. He's demonstrated a commitment to sustaining the [communist] system and the ability to do it."
With Raul Castro in his eighties and announcing his intention to step down in 2018 at the end of his five-year term, Hakim said that the Cuban government is finally making preparations for a transition in power that will take the country into a post-Castro era.
"They're clearly seeing that they have to prepare for a succession to prevent a battle for power," Hakim said. "There still might be a battle anyway."
The support of the military will be crucial for Diaz-Canel if he is to eventually lead Cuba, but, unlike the Castros, he lacks the stature of a revolutionary and has yet to demonstrate the sort of charismatic and authoritarian leadership that defined Fidel for over three decades until the recent decline in health that forced him to step down in 2011 and retreat into seclusion.
The blessings of the Castros will no doubt lend credibility to Diaz-Canel, and the next five years will be a test of his popularity and support.
"Right now, the best thing for him to do is to not show his originality but to show commitment to the cause that has long motivated the Castro brothers" Hakim said.
The next test will be to see what he does if and when Diaz-Canel takes power.
"There are not going to be any big changes right now," Hakim said. "But people, once in power, can change a lot."
It has been said that Diaz-Canel only appears serious in public, and in private he is very personable and given to making jokes. In his youth, he wore his hair long and listened to the Beatles -- a band he is still said to admire -- despite the strong atmosphere of anti-Western sentiment at the time.
This is no doubt just a glimmer of personality behind his mask of stoicism, and only the future can tell what else will be revealed.
© Copyright IBTimes 2023. All rights reserved.