Taiwan Water Park Explodes, Injuring At Least 229 People Attending A 'Color Play' Party; Dust Explosion Was Likely Cause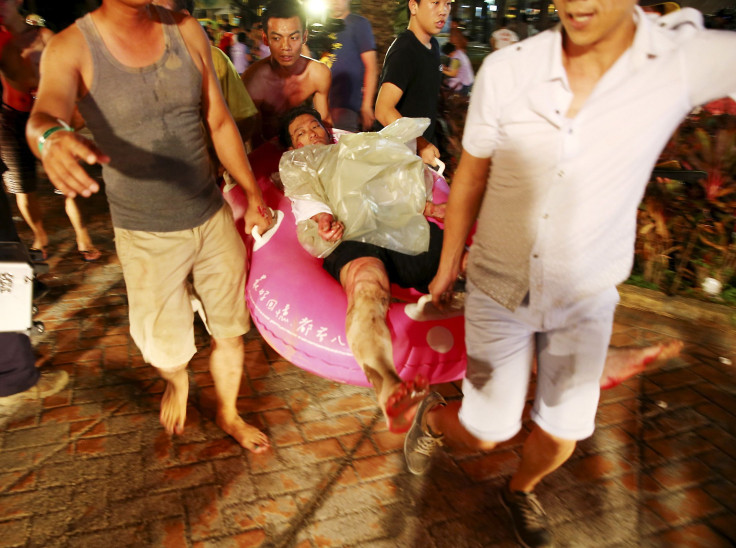 UPDATE 10:15 p.m. EDT: By early Sunday, authorities raised the number of injured to 509, Agence France-Presse tweeted.
Original post:
A colorful powder deployed to enthrall partiers is believed to have been the cause of an explosion at a Taiwanese water park that injured at least 229 people, authorities said Saturday. About 100 suffered serious burns during the fire, CNN reported, citing the country's official Central News Agency. Some of the injured were seen being hauled to ambulances on inflatable inner tubes used as impromptu stretchers.
"We have demanded the park shut down immediately for inspection," Reuters quoted New Taipei City Mayor Eric Chu at saying at a press conference shortly after the incident. About 1,000 people were at the Formosa Fun Coast water park when the explosion occurred.
The Central News Agency reported the fire at the water park began about 8:30 p.m. local time (8:30 a.m. EDT) and was quickly brought under control. Video of the event shows the stage erupting into a massive fireball that led people to quickly scatter.
The cause of the accident is being investigated, but it is thought to be connected with the powder used by Color Play Asia, a group that hosts ravelike events in which revelers are covered with different-colored dusts. The organization reportedly rented the water park for this event.
"We are very regretful [over] this accident that caused injuries to many victims," Formosa Fun Coast said in a statement on its Facebook page. "The most urgent matter currently for us is to handle and assist with ... victims on the scene and work comprehensively with the New Taipei Fire Department."

The powder is believed to have caused a dust explosion in which small particles of customarily nonflammable material ignites when the dust is in high-enough concentrations in the air and encounters a source of ignition. Dust explosions are typically associated with certain factories focused on metalworking and flour mills. Those accidents happen in enclosed environments, but video footage of the incident Saturday shows an extremely dense dust cloud over the stage and its immedate vicinity:
© Copyright IBTimes 2023. All rights reserved.