Taliban Fires Rockets At Kabul Airport Burning Down Afghan President Hamid Karzai's Chopper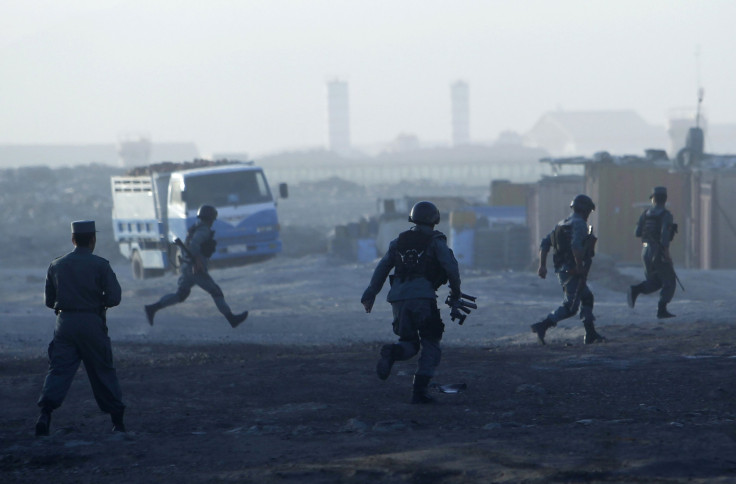 The Taliban on Thursday fired two rockets at Kabul airport burning down Afghan President Hamid Karzai's helicopter along with three other parked helicopters.
The attack on the airport, which serves as a base for NATO forces and as a terminal for commercial flights, did not cause any deaths, reports said, citing government officials. However, the Taliban reportedly claimed that its attack had inflicted heavy casualties and financial damage. Karzai was not hurt in the attack on the airport.
"There is loss of life and financial losses, and several planes were torched," the Taliban said, according to Agence France-Presse.
However, a spokesperson for the U.S. coalition with the Afghan forces, said, according to the Wall Street Journal: "There was no major damage to infrastructure, and our air operations capability has not been impacted."
Each chopper owned by the Afghan military, which are paid for by the U.S., was worth at least $18 million, the Journal reported.
An Afghan government official also told the Journal that two of the burnt choppers were a part of the interior ministry's fleet of 30 Russian-made Mi-17 helicopters. Afghanistan's military reportedly uses about 58 Mi-17 choppers, five Mi-35 choppers and some MD-530 training helicopters.
Taliban's latest offensive follows a suicide bombing outside an air force bus near Kabul University on Wednesday, which killed eight people. Last month, the group fired eight rockets into a NATO air base in Jalalabad, in eastern Afghanistan, without causing any serious casualties.
The attacks from the Taliban have increased in the last few days despite the election commission having delayed the announcement of the presidential election's results, suspecting it to be the reason for the heightened violence.
The elections held last month had seen two major contenders -- Ashraf Ghani Ahmadzai, the former finance minister for the country, and Abdullah Abdullah, who reportedly received 45 percent of the votes and has claimed that the election process was rigged.
"An additional in-depth audit of the votes is necessary, given these highly worrying indications of potentially widespread fraud," Thijs Berman, head of the EU observer mission in Afghanistan, reportedly said in a statement, according to the Journal.
© Copyright IBTimes 2022. All rights reserved.
FOLLOW MORE IBT NEWS ON THE BELOW CHANNELS