International Business Times offers links to items to help our readers find interesting products. When you buy through links on our site, we may earn an affiliate commission. Here are our
T&C
. For licensing please
click here
.
Who Is The TCL 20 Pro Smartphone For?
The TCL 20 Pro is compatible with a number of cellular service providers like Verizon, T-Mobile and AT&T, and can even use 5G with many providers
The camera on the 20 Pro is competitive with many other big-name phones
The 20 Pro has a lot to offer for its low price tag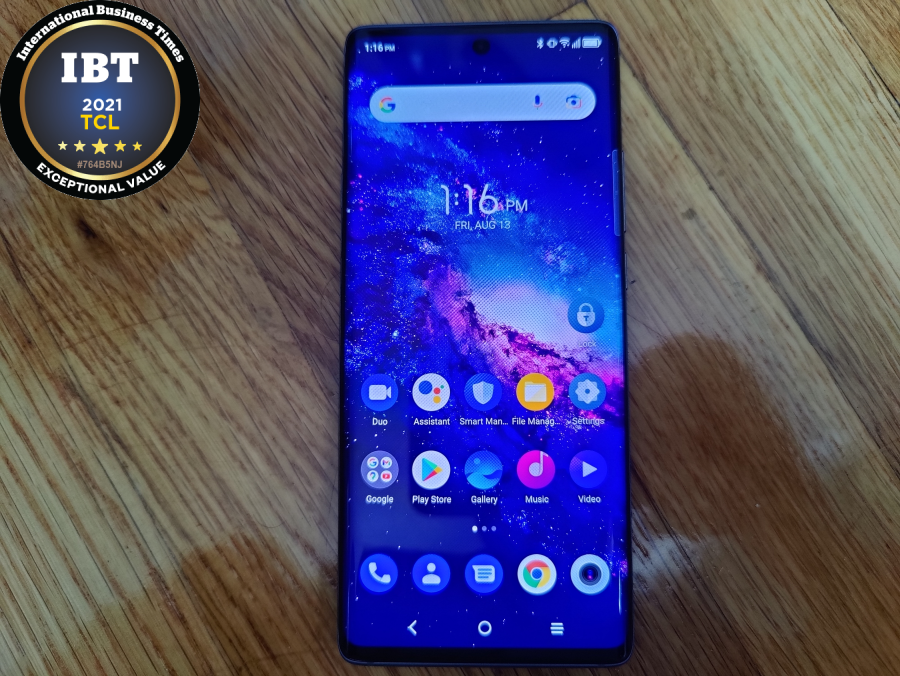 Cell phones are expensive, especially when looking at the big names like Samsung, Google and Apple. What do you do if you are looking for a phone that works perfectly fine, but isn't going to break the bank? The answer is to check out the TCL 20 Pro. This phone is half the price of the big names and holds up just fine under moderate to heavy use.
Phone Feels
The TCL 20 Pro is a fairly standard phone from a physical standpoint. Its' screen isn't that much smaller or larger than other phones I have used recently. That said, the 20 Pro is a little thicker and heavier than other new phones, especially when in a case. When I say "a little" I mean it. The 20 Pro is probably only a few grams and maybe a quarter of an inch thicker than the OnePlus 9 Pro. It's to the point where it is noticeable, but doesn't really make any impact.
One great physical feature of the TCL 20 Pro is that the camera is flush on the back of the device instead of protruding out like on many other phones. It's a nice touch, and really does help when pulling the 20 Pro out and putting it back into a pocket or bag. Nothing gets caught on it.
A Sharp Screen With Rounded Sides
Probably the area the TCL 20 Pro stands out the most in is its screen. The 6.67-inch screen on the 20 Pro uses what TCL calls NXTVISION 2.0. This is just a fancy way of saying the screen can monitor what is being watched and can adjust brightness, color and contrast levels to maximize visual quality. While I can't say I noticed the 20 Pro's screen making these adjustments, I can say that watching things on the 20 Pro is a delight.
The screen on the 20 Pro has a few other sensors built into it to make other adjustments on the fly as well. One sensor can pick up on the ambient light in a room and adjust the screen to make it easier to see. The 20 Pro's screen can range from a brightness of two nits all the way up to 700 nits. Another sensor can convert standard definition video to HDR on the fly. There really is a lot of effort that has been put into the 20 Pro's screen. Additionally, the TCL 20 Pro's screen has blue light reducing capabilities and an e-reader mode to help reduce eye strain.
However, things aren't perfect with the TCL 20 Pro's screen. The most annoying part of the screen is that it seems to never want to turn off. I pick up the phone, and the screen turns on automatically. I press the button to shut it off and put the phone down, and the screen pops back on again. It seems like even just looking at the screen will make it come blaring back on.
For a more minor complaint, the screen on the 20 Pro has a bezel that seems more pronounced than other phones, and I don't care for it. I generally prefer bezel-less phone screens to begin with, which makes the large bezel even more of a negative for me. I do know that many people do like screens with a bezel, so if you are one of them, you'll find plenty of rounded corners to love here.
Phone Performance
The TCL 20 Pro is fairly snappy and responsive when performing most tasks. It better be, as it is powered by the Snapdragon 750G platform with an octa-core CPU. That should be enough computing power to run just about any app or game. The only real hiccup I regularly encountered with the 20 Pro was using Facebook Messenger in the Bubble mode. When I got new messages, they wouldn't immediately show up in the bubble. I had to close and reopen the conversation to see what was just sent.
There are plenty of security options on the TCL 20 Pro. There's the standard PIN entry, the ability to draw a pattern to unlock the device, a face recognition unlock and an embedded fingerprint scanner right on the screen. The phone was unlocked by the time I got it into a usable position half the time, and the other half I just needed to do a quick swipe or press of my thumb.
The TCL 20 Pro uses on-screen buttons for navigation. There's a back button, home button, and a button that shows recently used apps. This is fairly standard for most phones, but I was coming from the OnePlus 9 Pro, which uses OxygenOS. This operating system has a much more swipe-based navigation system that I have come to love, and going to the 20 Pro felt like a step backwards. This isn't so much a negative point for the 20 Pro as it is a desire to see more control styles like OxygenOS on more devices.
Some Unique Features
While the TCL 20 Pro is a fairly standard smartphone, it does have a few unique features. The most notable is the extra button on the left side of the phone. This is a programmable button that can be used to quick start apps, pull up the camera or a variety of other uses. The button can actually be used in three ways, a single click, a double click, and a long press. Each input can be used for its own separate purpose.
There's also a little multi-purpose tool built into the bezel on the right side of the 20 Pro's screen. This can be popped out by swiping at it, and can serve as a quick launch tray. Users can store their favorite apps on one panel, their favorite contacts on a second panel, and so on. Perhaps the most unique tool on this little control panel is a four and a half-inch ruler. I know I have found myself quickly needing to measure small things from time to time, and having a ruler on hand is pretty cool.
As far as weird features go, the TCL 20 Pro also has one of those. The phone has a built-in infrared light on the top of the device. This means the phone can be programmed to serve as a remote control for televisions and other appliances. I tried it out, and it does work, but it's still super goofy to be pointing a phone at a TV like that.
It seems a little sad to say that this is a unique feature, but the TCL 20 Pro does have an SD card slot for expanded memory. The slot reader can work with cards up to 1TB in size, making the TCL 20 Pro a great option for those who like to hold onto photos or load their phone up with music. Weirdly enough, almost every other device out there has given the boot to SD card slots along with 3.5mm headphone jacks, so it's cool to see the 20 Pro still offering external storage.
Good Battery Life With Quick Recharging
The TCL 20 Pro has a 4500 mAh battery, which is a pretty decent size. I found myself rarely needing to charge my phone throughout the day, even with heavy use. Often I found myself able to go into a second day without having to charge as well, though I don't think I ever made it to 36 hours, and definitely not two full days. Still, it's comforting to know I'm safe for a day if I had charged my phone that morning.
When the TCL 20 Pro does need to charge, it recharges fairly quickly. The phone can tap into fast charging, but can't quite match the blazing recharge speeds on the latest OnePlus phones. Still, it's easy to get the TCL 20 Pro from dead to 50 percent in around a half hour and a full charge in about 75 minutes.
The TCL 20 Pro also supports wireless charging. This obviously charges the phone slower than when it is plugged into a charger, but it's still a great feature to see included. Wireless charging is very convenient, and I'm liking the trend of more and more devices including it.
Camera Fun
There is a four-camera array on the back of the TCL 20 Pro, as is fairly common with cell phone cameras these days. The main camera is 48MP, and is joined by a 2MP depth camera, a 5MP macro camera, a 16MP wide-angle camera and a 32MP camera can be found on the front of the phone.
The camera on the 20 Pro has all sorts of settings and features included, like a pro mode that allows users to manually adjust ISO, white balance and more. For those of us who don't really know what they're doing when it comes to picture taking, the automatic Optical Image Stabilization, Super Night Mode 2.0 and HDR features do the hard work in the background to make pictures look better.
The camera on the TCL 20 Pro is very solid. Will it be able to top the cameras found on phones like the iPhone 12 or Google Pixel 5? Probably not, but it's still easy for beginners to use, has tools for experts to tap into if wanted, and can take perfectly fine pictures.
Small Price
Alright, so we've talked about how the TCL 20 Pro works, but I mentioned at the top that this phone isn't going to set anyone back too much. It's no lie that cell phones are expensive. Looking at big name devices like the latest iPhone or Samsung Galaxy device, it's more common than not to spend over $1,000 on a new phone. However, the TCL 20 Pro stands out for it's much lower than normal price.
Right now, a TCL 20 Pro can be bought for $500. That's the price for a new device. Looking on Amazon, even a refurbished Galaxy S21 and iPhone 12 cost upwards of hundreds of dollars more than that. For those that don't want or need the latest in bleeding edge mobile technology, and instead are just looking for a solid phone that will work great, it's impossible to beat the TCL 20 Pro's price.
Final Thoughts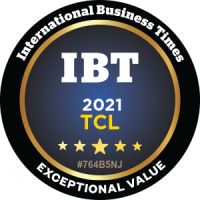 The TCL 20 Pro is the perfect cell phone for someone who doesn't care if they have the best device with the best tech specs. It doesn't really stand out in any one area, but it can do everything well enough. Its' camera is fine, the battery life is fine, the screen is a little better than fine, and there are a few goofy features that are pretty cool, if a little unnecessary. This is made all the more attractive thanks to the low price tag on the 20 Pro, coming in at less than half the price of more mainstream phones.