Tesla Motors (TSLA) Sales 2015: Did Investors Misread The Q1 Numbers? 2015 Model S Deliveries Include Cars Sold In 2014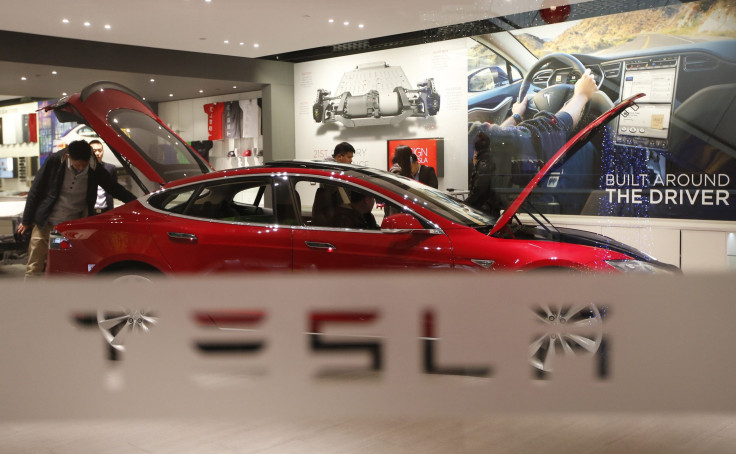 In the few days since Tesla Motors Inc. (TSLA) said it delivered a record number of Model S luxury electric cars in the first three months of the year, investors have added 6.41 percent to the company's share price. But the record first quarter deliveries includes 1,400 cars that were delayed in December due to unforeseen circumstances.
On Friday, Tesla said it delivered 10,030 cars to its customers in the first three months of the year, a 55 percent increase from the same period last year. But 1,400 of those deliveries could have taken place in December, according to a Feb. 11 letter to shareholders.
"Delivering those cars was physically impossible due to a combination of customers being on vacation, severe winter weather and shipping problems (with actual ships)," the letter signed by CEO Elon Musk and Chief Financial Officer Deepak Ahuja said.
This means Tesla delivered Model S cars in the first quarter of the year that could have taken place in the last three months of 2014 were it not for the unforeseen circumstances that prevented the shipments.
Auto delivery numbers are important to automakers and their shareholders because demand for a company's cars is key to deciding whether to buy or sell a stock in the manufacturer. Falling sales typically mean demand for a car is waning, but deliveries can also decline over a given month when a manufacturer is struggling to make enough cars and deliver them to customers or dealerships. Musk and other company leaders have said numerous times they're struggling with production limitations rather than falling demand for their critically acclaimed electric car.
The auto industry has long played with monthly delivery numbers, especially toward the end of the year as companies race to hit new highs. Because Tesla was hit with those unforeseen delivery problems at the end of 2014, it was able to report quarter-to-quarter growth, giving it a good launch into 2015. The company wants to deliver at least 55,000 cars in 2015, up from 31,655 last year. It now has 10,030 on the books for 2015.
"There is a lot of playing with numbers in the industry, especially at the end of the year," said Jessica Caldwell, senior automotive analyst for Edmunds.com. "Automakers typically make deliveries to dealerships, and the sales are to the dealers not to the customers. But in Tesla's case it owns all of its stores."
Tesla doesn't have a network of franchised dealers it can convince to buy more of its cars in a given month, so it can't engage in channel stuffing — a tactic automakers employ when they want to inflate their numbers by enticing dealers to overstock. This is typically done by offering vendors special financing discounts for larger orders, or access to limited supplies of more popular models in return for larger orders of over-produced cars.
Tesla only reports auto sales four times a year, compared to monthly delivery numbers released by other automakers, which makes Tesla's critical month-to-month performance difficult to gauge and leaves investors and the media to speculate on how many cars the company actually sells within each quarter.
But Caldwell says Tesla isn't the only company that's fine with the common misunderstanding of the relationship between delivering a car and selling one.
"In fact, it seems like they're being more upfront about it by explaining what happened," she said.
Tesla did not return a request for comment. The Fremont, California, automaker has not yet announced a date for the release of its first-quarter earnings results, but the report is expected to be released on or near May 7 after markets close.
NOTE: The original version of the story said 1,400 Model S cars were "booked" as sales in December and that the media widely reported incorrectly that sales hit a record in the first quarter. In fact, the delivery of the cars were delayed into the first quarter of 2015 "due to a combination of customers being on vacation, severe winter weather and shipping problems (with actual ships)." The sales were booked in the first quarter, not December, making the first quarter a record for sales because Tesla counts a sale at the time a customer receives the car.
© Copyright IBTimes 2023. All rights reserved.