Top 10 Worst Kids Cereals: Honey Smacks, Froot Loops, Cap'n Crunch High on Report's List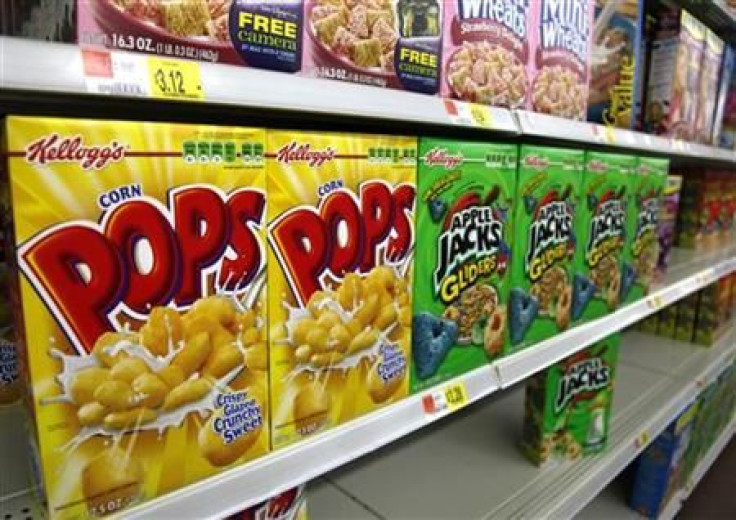 One of the common rituals to any morning starts with a clang. The cereal hits your bowl, your spoon, with a thump, and you think about the sweet taste of goodness in your Honey Nut Cheerios, Honey Smacks, Apple Jacks or Cap'n Crunch.
What you probably don't think about, though, is the fact that you might as well be eating a Twinkie, or three Chips Ahoy! cookies, or -- to put it simply -- a helluva lot of sugar.
That comes from a report by the Environmental Working Group (EWG) released Wednesday. The report found that, for example, a serving of Honey Smacks contains more grams of sugar (20) than a Twinkie (18). Honey Nut Cheerios (12) contains more grams of sugar than three Chips Ahoy! cookies (11).
I wasn't surprised by the fact that cereals are sugary, Paul Pestano, one of the report's researchers, said in a phone interview with the International Business Times on Wednesday. I was surprised by how sugary they are. These are the cereals most parent feed their children for breakfast, thinking it's a healthy option.
In all, only about one in four cereals studied met the federal government's proposed voluntary guidelines for foods nutritious enough to be marketed to children. These guidelines cap the amount of sugar by weight in cereals around 26 percent.
Sugar was the main culprit, but many cereals also failed to meet sodium guidelines and did not contain enough whole grains, provisions also included in the voluntary guidelines.
Three companies' cereals served as the major offenders: Kellogg's, Post and Quaker Oats. Included in the EWG's list of 10 Worst Children's Cereals are such popular brands as Honey Smacks, Golden Crisp and Froot Loops.
Kellogg alone accounted for half the Top 10 list. In a statement emailed to the IBTimes, Lisa Sutherland, the company's vice president of nutrition, said the report was inaccurate, among other things. She said a recommended three-quarter cup serving of Honey Smacks -- which, she noted, is not marketed to children -- has 15 grams of sugar instead of the 20 indicated in the EWG's report.
Kellogg has reduced the sugar across our U.S. kids' cereals by approximately 16 percent, Sutherland said. Today, our most popular kids' cereals have one to 12 grams of sugar - and many are also a good source of fiber and have eight grams or more of whole grains - so parents can choose the cereal that best meets their families' needs.
Quaker Foods made up four of the other five cereals on the list. In an emailed statement, the company said it did not gear marketing of the specified cereals to children. It did admit, however, that the cereals are not marketed in general as health products.
We encourage all consumers to use the ingredient information listed clearly on all of our products to make choices that are best for them and their families, and we try to offer something for everyone, the statement read.
Pestano said the EWG wants to see the federal guidelines enforced and even strengthened. The government is considering implementing the guidelines for foods marketed to children aged 2 to 17.
The guidelines would take effect in 2016 if adopted, but the food industry has lobbied against their introduction.
The cereal and food ad industry have been pushing to make them more lenient, Pestano said of the guidelines. We urge the government not to bow down to this pressure. ... It's just empty calories. For them to push back, it sounds a little ridiculous.
Here's a list of the Top 10 worst cereals, according to the report.
1. Kellogg's Honey Smacks (55.6 percent sugar by weight)
2. Post Golden Crisp (51.9 percent)
3. Kellogg's Froot Loops Marshmallow (48.3 percent)
4. Quaker Oats Cap'n Crunch's OOPS! All Berries (46.9 percent)
5. Quaker Oats Cap'n Crunch Original (44.4 percent)
6. Quaker Oats Oh!s (44.4 percent)
7. Kellogg's Smorz (43.3 percent)
8. Kellogg's Apple Jacks (42.9 percent)
9. Quaker Oats Cap'n Crunch's Crunch Berries (42.3 percent)
10. Kellogg's Froot Loops Original (41.4 percent)
© Copyright IBTimes 2023. All rights reserved.