Ukraine Crisis: Cease-Fire Talks Begin Between Rebels And Government In Minsk, Belarus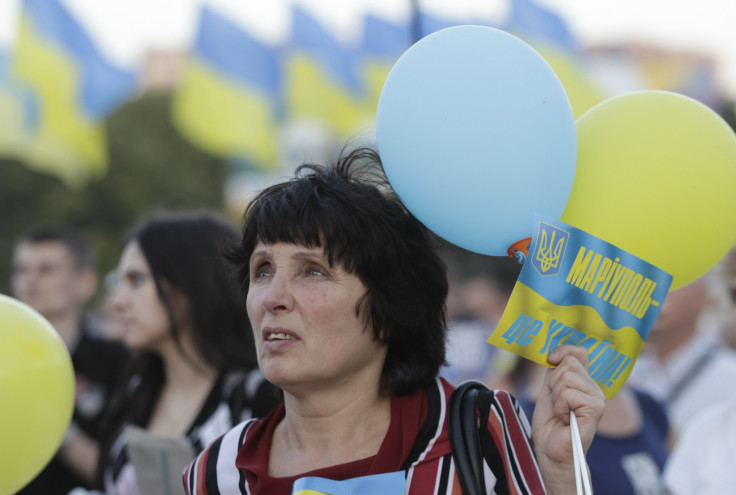 Long-anticipated cease-fire talks began between Ukrainian government negotiators and rebel leaders in Minsk, Belarus Friday, offering hope that the five-month long, escalating conflict could come to an end. The details of the agreement are not clear, but the cease-fire is considered the first step in a longer, more permanent peace plan.
UPDATE 10:15 a.m. EDT: Ukrainian President Petro Poroshenko had this to say about the cease-fire coming into effect at 11:00 a.m. EDT (6:00 p.m. Kiev time):
"My international negotiations in Brussels and Minsk demonstrated a powerful request for peaceful political-diplomatic settlement of the conflict in the Donbas. The same mood dominated during my meetings with global leaders at the NATO Summit in Wales."
"The entire world strives for peace, the entire Ukraine strives for peace, including millions of Donbas residents."
"The highest value is human life. We must do everything possible and impossible to terminate bloodshed and put an end to people's suffering."
"Taking into account the call for ceasefire of President of Russia Vladimir Putin addressed to the heads of illegal armed groups of the Donbas and the signature of the protocol at the meeting of Trilateral contact group on the implementation of the Peace plan of the President of Ukraine, I order the Chief of the General Staff of the Armed Forces of Ukraine to cease fire starting from 18:00, September 5."
"I also instruct the Minister of Foreign Affairs of Ukraine to ensure jointly with the OSCE an efficient international control over the compliance with the ceasefire regime which must be exclusively bilateral."
"I hope that these agreements, including ceasefire and liberation of hostages, will be strictly observed."
UPDATE 9:20 a.m. EDT: Separatist Twitter account says it has signed a cease-fire agreement in Minsk due to come into effect at 6:00 p.m. Friday local time.
ORIGINAL STORY CONTINUED:
Ukrainian President Petro Poroshenko expressed "cautious optimism" that the cease-fire deal would hold. Poroshenko and Russian President Vladimir Putin reportedly agreed to the peace plan over the phone earlier this week, but the final details are to be worked out by negotiators in Minsk. Putin said he "sketched out" the seven-point cease-fire by hand, and it is supposed to freeze government and rebel forces in their current positions and move artillery out of striking range. Read it here.
On the ground, however, shelling continues between government and pro-Russian forces in eastern Ukraine. A late-stage rebel offensive, which Western leaders decry as a direct attack by Russian regular troops, started last week along the Sea of Azov coast. Rebel forces captured a border town there and are now outside the government-held port city Mariupol.
Kiev claimed Friday that over 2,000 Russian "soldiers" have died in the conflict, which has yet to be independently verified. The previous death toll was around 2,600, but Ukrainian officials did not make it clear whether the Russian soldiers were included in that number.
Ukrainian government officials have accused Russia of sending troops to fight in the east since the beginning of the armed conflict in March. Russia has not hid the fact that Russian volunteers have joined rebel ranks, but staunchly denies that it has sent its regular army to fight on behalf of the rebels.
Western leaders continued Friday to debate increasing sanctions on Russia over its alleged involvement in eastern Ukraine during the second day of the NATO summit in Wales, UK. NATO Secretary-General Anders Fogh Rasmussen accused Russia Thursday of "attacking Ukraine," while French President Francois Hollande said further sanctions will depend on immediate developments in Ukraine.
Meanwhile, NATO leaders came to an agreement Friday on a new "rapid response force" aimed at immediate readiness to counter potential Russian aggression in eastern Europe, where NATO states worry Russia could intervene next. Russian officials have repeatedly expressed their disapproval of any increase in NATO activity around Russian borders.
© Copyright IBTimes 2023. All rights reserved.
FOLLOW MORE IBT NEWS ON THE BELOW CHANNELS