Under Fire From Donald Trump, Jeb Bush Focuses On 9/11 Even Though Hijackers Got Florida Licenses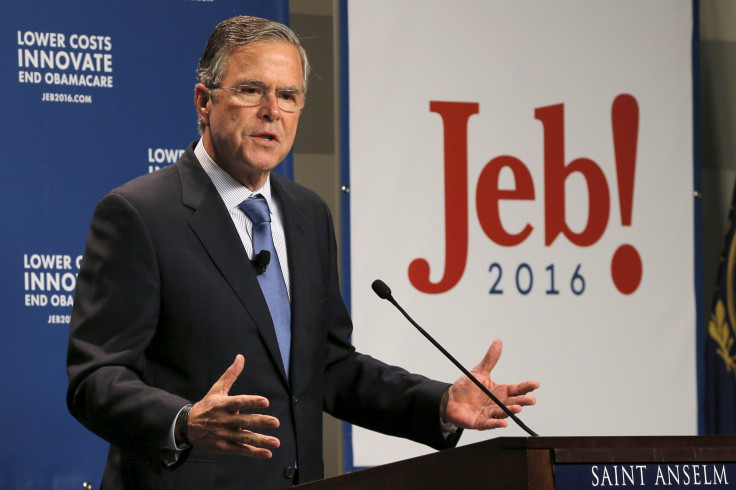 Defending his brother's presidency, Jeb Bush has repeatedly declared that George W. Bush "kept us safe." Focusing on the 9/11 attacks carries unique risks for Jeb Bush as he navigates the politics of national security and immigration -- and not simply because, as Donald Trump pointed out, the attacks occurred on President Bush's watch. Many of the 9/11 hijackers were able to obtain Florida driver's licenses or identification cards -- and train freely in the state -- while Jeb Bush was governor.
Spotlighting the need to protect the United States from terrorism after the deadly attacks on September 11, 2001, is a standard move for GOP politicians, and Bush's "kept us safe" line drew raucous applause at last month's Republican presidential debate. Despite evidence that his brother's White House was warned of imminent al Qaeda terrorist plots before 9/11, the candidate doubled down, tweeting a photo of his brother at Ground Zero at the World Trade Center in New York with the caption: "He kept us safe." The move drew criticism from families of some of the victims of the attacks.
On Friday, Trump weighed in. "When you talk about George Bush -- I mean, say what you want, the World Trade Center came down during his time," Trump said. The real estate mogul said he wasn't blaming the attacks on Bush but again noted "He was president." Trump reiterated his criticism Sunday, and went on to assert that his own proposals to "be extremely, extremely tough on illegal immigration" meant that if he had been "running things" in 2001, "I doubt that those people would've been in the country."
While Jeb Bush has called Trump's criticism "pathetic," the immigration policies of Bush's gubernatorial administration were under the microscope in 2001 when law enforcement officials acknowledged that Florida had issued driver's licenses or state identification cards to 12 of the hijackers, all of whom had come to the United States on visas. The St. Petersburg Times reported that at the time of the attack there was a warrant in Florida to apprehend one of the lead hijackers, Mohammed Atta, but "the warrant for Atta's arrest was ignored." A national conservative organization pushing tougher immigration laws soon criticized Bush for his unwillingness to support what the group said was legislation necessary to stop terrorism.
Bush's campaign did not respond to International Business Times' questions about the Florida licenses issued to the hijackers while he was governor.
In the political arena, the 9/11 attacks have typically been cited by Republicans to promote their party and -- at times -- to accuse Democrats of being insufficiently committed to national security. Bush said Sunday that those who ascribe any blame for 9/11 to his brother are "totally marginalized in our society." His communications director tweeted that Trump's criticism was fodder only for "liberal bloggers." So far on the campaign trail, the debate over the responsibility for the attacks has revolved around George W. Bush. But in the aftermath of 9/11, Jeb Bush himself was also under fire.
'Alarm Bells Should Have Gone Off But Never Did'
In the days after the 2001 attacks, news broke that most of the 9/11 hijackers carried driver's licenses or identification cards issued by Florida's department of motor vehicles -- an agency controlled by Bush and the other statewide elected officials who comprise the Florida Cabinet. Some of the licenses and ID cards were issued by the state while Bush was governor. Some of the hijackers trained for the attacks at Flight Safety International in Vero Beach, Florida. Local newspapers said the Florida licenses played a pivotal role in helping the hijackers conduct business in the United States.
"Terrorists known to have Florida licenses or identification cards made more than a dozen trips total to driver's license offices in the state," the St. Petersburg Times reported. "That's how often the terrorists willingly called themselves to the attention of the state, either to acquire a license or to update their address, both of which might have helped them rent cars or board planes without arousing suspicion."
Mohammed Atta lived in Delray Beach and rented an airplane. He had been stopped a few months before 9/11 by Florida law enforcement officials, and was told to appear in court the next month. However, he was not arrested and, the Times wrote, "deputies never learned that Atta reportedly was on a U.S. government 'watch list' of people tied to terrorist activity." The newspaper also noted that while Atta tried and failed to get a driver's license at one Florida facility, he was able to get one later at another facility.
Another hijacker, one of several aboard the American Airlines flight that crashed into the Pentagon, was stopped for a traffic violation in Arlington, Virginia, days before the attack and had a Florida driver's license, according to CNN.
Others bided their time in Florida; the Palm Beach Post reported that "at least seven and possibly nine of the hijackers lived in Delray Beach in the months leading up to the attack" and "three others lived in Boynton Beach." Several also looked into renting crop duster planes -- officials believed they may have been aiming to use them to drop chemicals, according to news station WPBF.
"Gov. Jeb Bush has ordered a 'top-to-bottom' review of all state security measures, including Florida's licensing laws," the St. Petersburg Times wrote in an editorial just after the attacks. "That so many of the terrorists obtained IDs and flight instruction here was not a coincidence." Noting that the majority of hijackers "were able to obtain state driver's licenses and identification that enabled them to nestle within the fabric of society," the newspaper declared: "Alarm bells should have gone off but never did. We can no longer afford these kind of security lapses."
Bush signed an executive order in October 2001 for foreigners to receive only 30-day temporary driving permits while police investigate their identification, and he called for the regulation of flight schools to be reviewed.
"The world has changed and we're going to respond to that change," Bush told the Tampa Bay Times that month, as he accepted a report on the state's readiness to prevent terrorism.
'What The Emailer Said Could Be True?'
Emails reviewed by IBT show that Jeb Bush in December 2001 seemed unaware that his administration had still been allowing those with expired visas to obtain driver's licenses. That month, he received an email from a Coral Springs resident who expressed concern that she had "observed many people with visas that expire this month" during a recent visit to a driver's license office.
"We have changed the procedure to make the visa expiration date be the same as the driver's license date," Bush wrote back. "I will check to see why the motor vehicle offices are not complying with the change. Thank you for bringing this to my attention."
Bush appears to have passed along the email to his staff. After he was sent a memo, Bush asked: "So what the emailer said could be true?"
The governor was told that the new rules had just recently gone into effect, and driver's license offices still had a few weeks to move into compliance.
"When will people seeking licenses whose visas expires earlier than the standard time get a license that runs concurrently with their visa?" Bush responded.
Despite his personal attention to resolving the visa issue, Bush in 2004 endorsed a Florida bill to allow undocumented immigrants to apply for the very same identification cards carried by many of the September 11 hijackers.
"Bush's support is a turnaround from a couple of years ago in the wake of 9/11," National Public Radio reported at the time. "Back then, state officials were shocked to learn that 12 of the 19 hijackers held Florida licenses or IDs. The state government scrambled to make it more difficult for foreigners to get the permits. Three years later, the governor says security concerns are addressed in the current proposal."
Critics slammed Bush's assertion that the bill had enough safeguards to prevent terrorists from slipping through.
"The bill's security measures are entirely bogus. Virtually all of the 9/11 hijackers would have been eligible for a Florida driver's license under the proposed new rules," Jim Staudenraus, eastern regional field director of the Federation for American Immigration Reform, said in a statement previewing a planned press conference at the state capitol in Tallahassee. The group said that the Bush-backed legislation "lets illegal aliens use third-party affidavits to prove presence in Florida" and obtain state licenses, even though such "affidavits, in light of September 11, were banned by other states after it was discovered that they were sold to several 9/11 terrorists to help them get driver's licenses."
In recent years, other conservative voices have argued that policies like Florida's make the nation vulnerable to terrorism. The Center for Immigration Studies -- which pushes for tougher immigration laws -- cited the 9/11 hijackers' ability to get Florida licenses in its 2012 report: "One of the key rules in terrorist travel is to get a government-issued ID. Why? IDs are essential for appearing assimilated, which is important for mission success."
Breitbart, the conservative news site, noted that Jeb Bush himself suggested that immigration policies played a role in 9/11.
"Several of the 9/11 terrorists entered the country lawfully under a leaky immigration system," Bush wrote in his 2013 book, "Immigration Wars."
On Sunday, Bush's campaign sent out a new fundraising appeal arguing again that his brother had succeeded in protecting the nation from terrorism.
"If you believe as I do that my brother kept this country safe and strong after those horrific attacks, then I need you to donate $5 and fight back against Donald Trump," he wrote in a mass email to supporters.
FOR FREE to continue reading
✔️ Unlock the full content of International Business Times UK for free
offer available for a limited time only
✔️ Easily manage your Newsletters subscriptions and save your favourite articles
✔️ No payment method required
Already have an account?
Log in
© Copyright IBTimes 2023. All rights reserved.