U.S. Jobs Picture May Be Clouded By Seasonal Temp Positions, Fed Drawdown Activity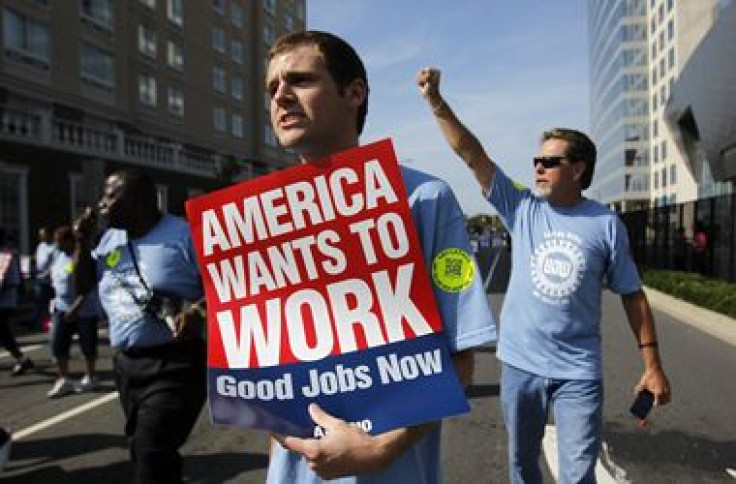 Will the good news in November's jobs report be short-lived? It's a real possibility given the coming double-whammy of holiday workers losing their jobs in January and the Federal Reserve's apparently pending decision to draw-down its bond-buying program.
First the good news: The economy created 203,000 jobs in November, ahead of expectations and drove down the unemployment rate to a five-year low of 7 percent. What's more, overall hiring reached a five-year high this fall, and seasonal job openings were plentiful. According to the National Retail Federation, retailers were expected to hire between 720,000 and 780,000 seasonal workers this year. Payroll processor Automatic Data Processing (NASDAQ:ADP) reported that 215,000 new positions were added in November, a substantial increase on the 173,000 initially predicted. And this was despite the government shutdown and debt ceiling controversy, both of which didn't help the economy.
Now the bad news: Strong job numbers signal to the Fed that the economy is improving - and in fact, it is improving much quicker than expected. The Fed is keeping everyone in suspense about plans to draw down its $85-billion-a-month bond-buying program, but it's really only a question of when, not if, they start weaning. The Fed prioritized improving the labor market along with its regular inflation mandate. Its program was designed to drive down the cost of borrowing, thereby encouraging more investment and stimulating spending and hiring. Ending it will in turn likely lead to higher long-term interest rates and a lessening of available credit in the market -- and one of the major repercussions is likely to be a reduction in hiring.
Stock market analysts have been watching the Fed for the slightest move in this direction, poised to change course on investment forecasts. Positive economic news have on previous occasions prompted a negative reaction in the markets for this very reason, and it did so again last Wednesday when ADP initially reported payroll gains. However, the response to the Friday jobs report was quite positive - the Dow hit a seven-year high – signaling perhaps that investors may be ready to bet on the economy standing up on its own two feet.
So what to make of all this? The reality is that those of us who watch the retail space know that the holidays always give job numbers a boost – and that many of these seasonal workers are laid off before they even hang a calendar for the New Year. This time last year, for example, the Labor Department reported 200,000 new jobs for December 2012, but about 40,000 of them were couriers and messengers whose jobs were largely gone by the time the report was published on January 4th.
That notwithstanding, as recruiters will report, seasonal work can pay long-term dividends for both the workers and the companies that hire them - and that's a positive not to be ignored. That's because one of the biggest challenges for the unemployed is getting that first step into the business world. Every employer is looking for skills and experience. Part-time and seasonal work enables people to establish a track record to show future employers. Workers gain experience -- along with references and contacts -- making themselves more hirable in the future. So when seasonal workers try to make the next move in a fiercely competitive January job market, the gains they've made during the holidays counts.
And for their part, companies that hired seasonal workers see abilities and who stands out - which comes in handy when full-time positions open. Since one of the biggest challenges for companies, especially in the retail and services space, is the high turnover rate (60 percent and above is not uncommon), anything that gives a greater indication of how a worker will perform, fit in, and stay committed, is a huge advantage. Seasonal workers who shine are likely to be snapped up by companies when positions open up.
The Fed's bond-buying program was always meant to be a temporary boost to get the economy back on a solid footing. The more forward-looking companies are using it to get onto a solid footing, introducing efficiencies and utilizing new technologies to lower their costs and improve their performance. Smart workers in turn are taking advantage of the boost in employment to get a foot onto the job ladder.
If enough companies and workers have seized these opportunities, then when the Fed does start drawing down, the proof will be in the subsequent monthly jobs numbers -- and the year ahead will be a good one.
Adam Lewis is a tech entrepreneur and CEO of Apploi, a mobile recruiting application.
© Copyright IBTimes 2023. All rights reserved.