Venezuela Inflation Crisis 2016: Larger Banknotes Issued Amid Currency's Sky-Rocketing Inflation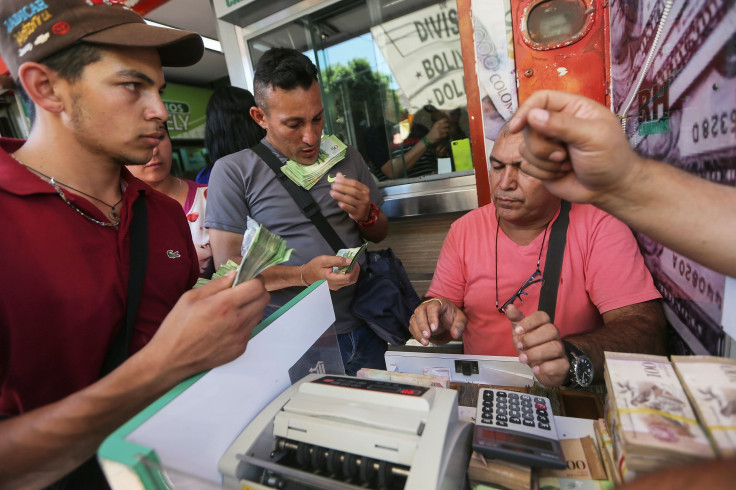 As inflation continues to skyrocket amid a growing economic crisis, Venezuela's central bank announced Sunday it would issue new higher-value banknotes later this month. New coins will also be issued, going up to 100 bolivars in value.
The largest banknote currently in circulation is 100 bolivars and worth just two cents. It has left Venezuelans casting their wallets and purses aside and instead filling backpacks full of cash for routine activities such as grocery shopping or heading out for a meal at a restaurant.
Having long resisted calls to issue larger denominations, bills ranging from 500 to 20,000 bolivars will now come into circulation beginning Dec. 15. "The expansion will make the payments system more efficient, facilitate commercial transactions and minimize the costs of production, replacement and transfer, which will translate into benefits for banking, trade and the general population," the central bank said in a statement.
The last government figures released in December 2015 put inflation in Venezuela at 180 percent, however, the International Monetary Fund (IMF) has predicted that number will rise next year to 1,600 percent. Foreign Trade and Investment Minister Jesus Faria has insisted that further measures will be taken in the coming days that will provide significant benefits and allow the economy to stabilize and grow from 1.5 to 2 percent next year.
"There's an action being planned that is going to have a very important impact," Faria said Sunday in an interview on Venezuela's Televen television network. "In the middle of this turbulence, there have to be continuous revisions, and that's what we're adopting, adjusting to the new challenges and conditions. The changes will be adopted Tuesday."
Venezuela's economy has been hit hard since the rapid decline in global oil prices in 2014, with citizens struggling to purchase basic supplies. As a result, President Nicolás Maduro, who replaced charismatic socialist leader Hugo Chavez after his death in 2013, has faced mounting criticism and a now-suspended campaign to oust him from office by a recall referendum launched by the opposition.
Maduro has suggested the economic crisis is being aided by the United States and blamed a failure of Venezuela's electronic banking system Friday on an internationally coordinated cyber-attack.
The Venezuela currency lost 67 percent of its value against the dollar on the black market in November, the biggest ever monthly decline, according to data by DolarToday, which tracks the black-market rate. Maduro, though, has hit out against the monitoring system and remained in bullish mood about the economy's prospects.
"In this country, no one can set prices based on DolarToday. I'm not going to permit it," Maduro said. "Looking for resources, you don't know all that we're doing. In December, I'm going to take a trip, up to two trips, to finalize the resources the country needs for 2017 and 2018."
© Copyright IBTimes 2023. All rights reserved.