Venezuelan President Nicolas Maduro's Approval Rating Gets A Tiny Bump Amid Tensions With US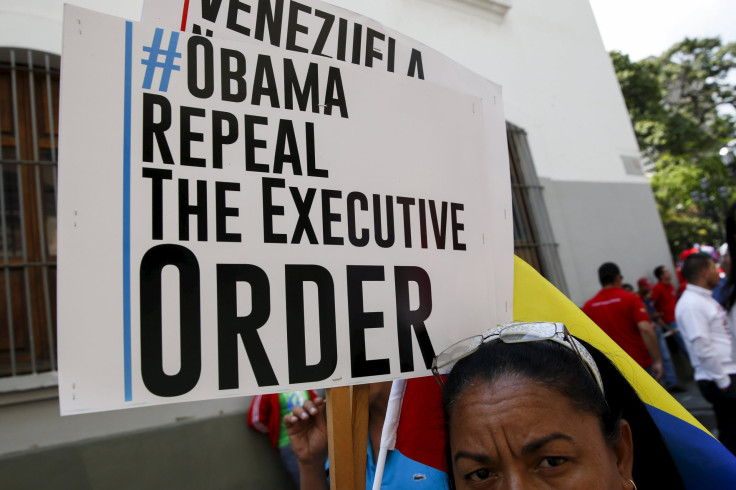 Venezuelan President Nicolás Maduro has seen an uptick in his popularity in the weeks since he began lobbing fierce rhetoric against the United States over sanctions and accusations of a Washington, D.C.-backed coup. But his latest approval ratings, at just 25 percent, still aren't very favorable.
Independent Venezuelan polling firm Datanalisis released the results of its latest survey Tuesday, showing that the president's approval rating inched up by a few percentage points in March, up from 23 percent recorded in January.
Analysts had speculated that Maduro could benefit from President Obama's executive order earlier this month that issued sanctions on seven Venezuelan officials. Maduro's approval ratings had been in the lower-20-percentage range for months in the wake of Venezuela's slumping economy, manifested in the form of soaring inflation and goods shortages that have exacerbated congestion in grocery store lines. Since he assumed the presidency in 2013, his overall approval rating has plummeted by 32 percentage points, according to Datanalisis figures.
Although Washington's sanctions only targeted seven individuals, they offered Maduro an opportunity to steer the conversation away from the sputtering economy to rally his support base against fears of U.S. aggression. "The recent measures by the United States give the Venezuelan government the chance to reorient the internal debate," Datanalisis director Luis Vicente Leon wrote in Venezuela's El Universal newspaper last week. But while Maduro's tactics might have bumped up his popularity a little, they don't seem to be changing the game for the embattled leader.
Venezuela's government is continuing to protest loudly against the sanctions, which described Venezuela as a threat to U.S. national security. U.S. officials maintain that the language was required by law to issue the order, but Caracas has taken it as a sign of looming U.S. aggression, and launched 10 days of military exercises in return. Last week Maduro also launched a signature collection campaign to pressure President Obama to revoke the order. So far, it's collected 3 million signatures out of the government's goal of 10 million.
© Copyright IBTimes 2023. All rights reserved.
FOLLOW MORE IBT NEWS ON THE BELOW CHANNELS