'We Are Worried About The Books': Kremlin Targets Moscow's Ukrainian Library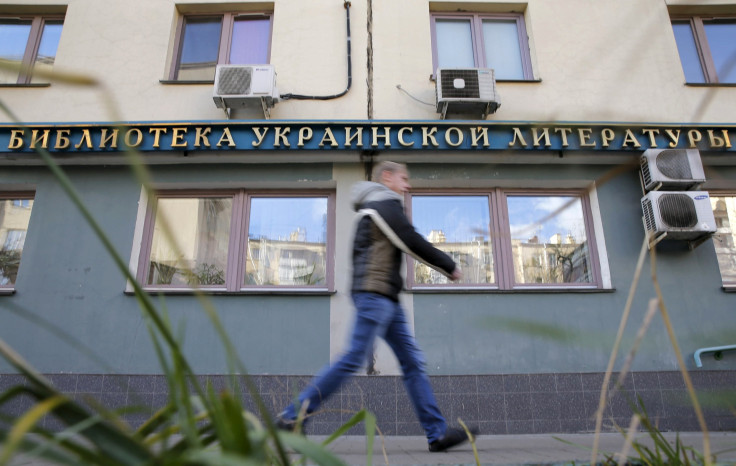 MOSCOW — Staff at Moscow's Library of Ukrainian Literature joke they get more visits from officers of Russia's internal security service, the FSB, than people wanting to take out books or use the reading room.
The library's director, Natalya Sharina, has been under house arrest since October, accused of distributing extremist literature. Additionally, about half the librarians who work there have been summoned for questioning and at least two employees have had their apartments searched by law enforcement officers in early morning raids.
"People are frightened," said Anna Pavlenko, the daughter of Sharina, and a library employee since 2008.
The pressure on the library — which stocks some 60,000 books mainly in the Ukrainian language — comes amid fierce anti-Kiev rhetoric in Moscow that shows little sign of abating. Relations between the two former Soviet nations nosedived after the 2014 revolution in Ukraine toppled a pro-Russia government and triggered a bloody struggle in the country's east between the Ukrainian army and Russian-backed rebels.
The conflict has divided families that straddle the Russian-Ukrainian borders and seen the countries increasingly isolated from each other by economic sanctions and reduced transport links. Ukrainian citizens have been at the center of high profile war crimes, espionage and terrorism trials in Russia since 2014.
"This case's special character is revealed in the word "Ukraine" — everything associated with Ukraine is special and politically motivated," Sharina's lawyer Ivan Pavlov told International Business Times at a Jan. 27 court hearing when Sharina's house arrest was extended for three months.
Russian investigators armed with machine guns raided the library, a modest building in central Moscow, in October, and confiscated what they said was "anti-Russian propaganda," accusing Sharina of distributing books by Dmitry Korchinsky, a one-time supporter of President Vladimir Putin who fought against Russian-backed forces in eastern Ukraine. The charges of incitement to ethnic hatred against Sharina carry a maximum prison term of three years.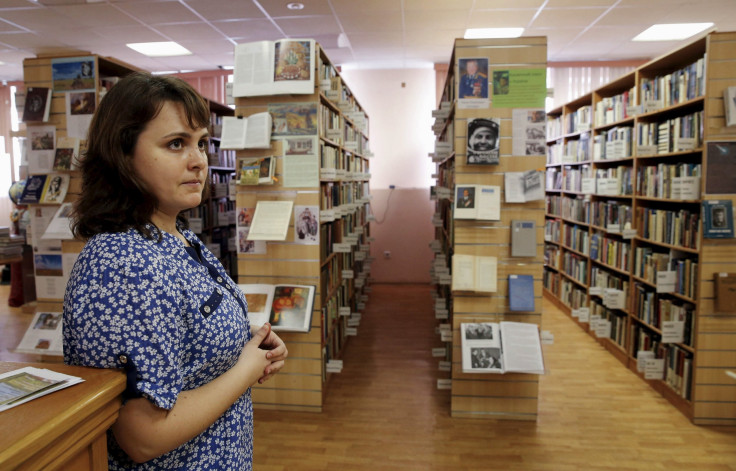 The case has been widely covered in Russian state-owned media. Kremlin-friendly NTV television channel ran a short documentary in December alleging the library carried out the orders of the Ukrainian security services at the behest of the CIA — a reading that dovetails with common Russian depictions of the Ukraine regime as a fascist "junta" controlled from Washington.
"I received information that they were spreading Nazi propaganda in the library... These books create hatred between Ukrainians and Russians and they shouldn't exist," said Dmitry Zakharov, a municipal deputy for a Moscow district, who lodged the complaint with Russian police that triggered the investigation. He declined to say from where he got this information.
Sharina, 58, designated a political prisoner by Moscow-based human rights organization Memorial, has strongly denied the accusations against her and told Moscow's Presensky District Court in January that her ongoing house arrest was an attempt to "break her emotionally or physically."
Confinement has caused a sharp deterioration in Sharina's health, according to her daughter and lawyer. "She has terrible pain in her back and is visiting hospital," said daughter Pavlenko.
Staff at the library, which is owned and run by Moscow city government, said that standard procedures meant it was impossible for banned books to find their way to the library's shelves — and suggested the absence of proper library stamps on confiscated books means they could have been planted.
Similar charges against Sharina made in 2010 turned out to be baseless, and were dropped by the authorities after an investigation.
The pressure on the Ukrainian library has highlighted the almost-complete collapse of once extensive cultural ties between Russia and Ukraine.
Ukrainian film director Oleg Sentsov was sentenced to 20 years in prison last year on terrorism charges, in a case that provoked an international outcry. Many Ukrainians are fearful of traveling to Russia because of perceived hostility and reports of Ukrainian citizens being arrested on trumped-up charges. Kiev has also banned groups and individuals who have traveled to the Crimean region annexed by Russia in 2014 and now under the control of the Kremlin.
"Cultural exchange between the two countries basically does not exist," said Valery Semenenko, the head of Ukrainians in Moscow, an organization running Ukrainian cultural events for Russia's Ukrainian diaspora of over 2 million people. Investigators raided Semenenko's apartment and questioned him in November in connection with the case against Sharina.
Staff at the library fear the ongoing investigation will lead to the library's closure.
The number of people visiting the library is dramatically down, and on a recent visit, there were just two people in the almost-deserted reading room. Six staff members have left — or been fired — from a team of about 12 in the last three months. The remaining librarians said they had not been paid since December.
"We are witnessing the creeping liquidation of the library," said Semenenko, whose organization helped the library arrange the delivery of Ukrainian newspapers.
The library will see it transformed into an "Eastern Slavic media center," according to members of staff. Moscow city's department for Multicultural Policy, Inter-Regional Cooperation and Tourism, which is responsible for the running of the library, did not respond to telephone calls and written requests for comment.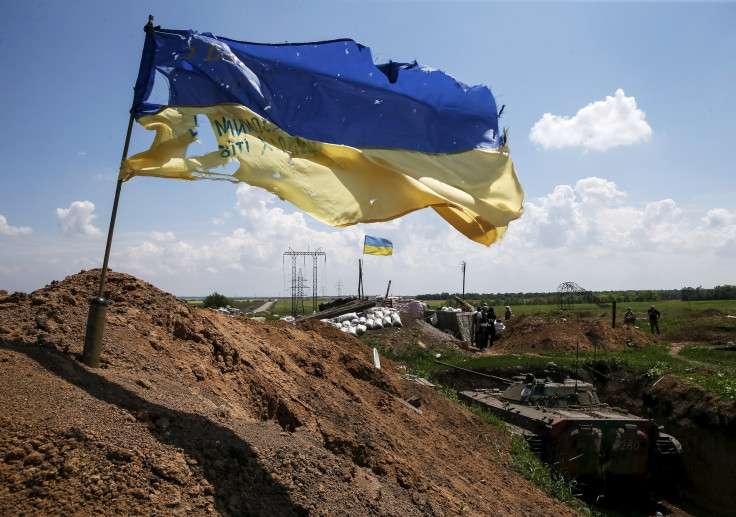 Putin said in December than the library should "not be lost" when asked about Sharina's case during a meeting with prominent cultural figures.
While many events have been canceled, and the website cannot be updated because the staff member responsible resigned, the Ukrainian library in Moscow — the only one of its kind in the country — traditionally runs events, language classes and even commissions translations and publishes books.
Founded in its current form in 1989, a similar library existed in the Soviet Union until 1938 when Stalin shut it down amid a campaign of political terror. Many of the library's employees were subsequently imprisoned.
Vladimir Krikunenko, the library's deputy director, said the institution was a unique cultural link between Ukraine and Russia. "We are worried about the books," he said, gesturing at the library's overflowing bookshelves.
© Copyright IBTimes 2023. All rights reserved.