What Will Happen In 'The Blacklist' Season 4? 7 Questions That Need To Be Answered After The Season 3 Finale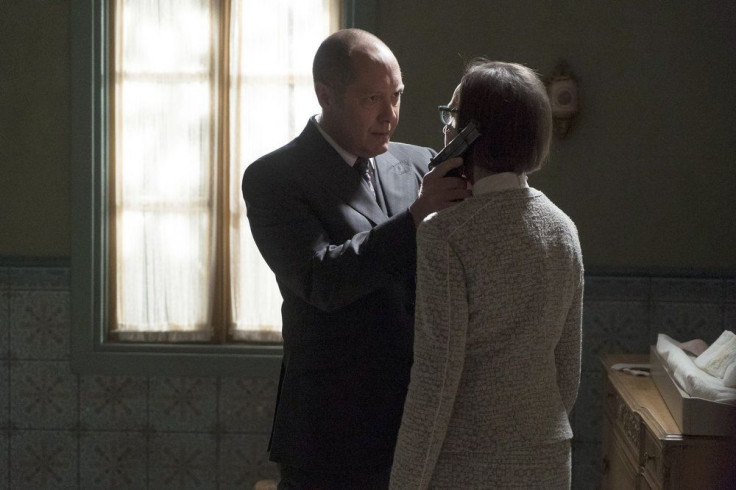 NBC's "The Blacklist" Season 3 came to a close with two major twists in the finale. After it appeared she died shortly after the birth of her daughter, Liz returned to the show and it was revealed that she had faked her death to leave her past life behind. However, Alexander Kirk was able to track Liz down and kidnap her. He then broke the news to her that he's her father.
When the Season 3 finale ended, viewers had to catch their breath and try to digest what they just watched. What's in store for Season 4 when the show returns in the fall? Here are seven questions that need to be answered on the series.
1. Is Alexander Kirk really Liz's father? Season 3 came to shocking close when Alexander Kirk (Ulrich Thomsen) revealed that his real name is Constantine Rostova and he's Liz's (Megan Boone) father. Up until that moment, the belief on the show was that Liz had shot and killed her father. Was Kirk the man that Liz shot? If not, who was the man she did shoot and kill? Red (James Spader) and Kirk know each other from the past, which means Red might have known that Kirk was Liz's father.
2. What are Kirk's intentions with Liz? Kirk revealed to Liz that he's really her father, but it's unclear what he intends to do after reuniting with his daughter. He went through a lot of trouble to get her to him and he's holding her like she's a prisoner. Does he plan on reconnecting with her after looking for her or does he have an evil plan up his sleeve for Liz?
3. What will Red do when he finds Liz? Liz is going to have some explaining to do the next time she sees Red. Red had always done all he could to protect Liz and she decided she wanted him out of her life. Red will be on the hunt for Liz after Kirk got to her before he could. Red has a knack for finding people, so it's likely only a matter of time before he's reunited with Liz. Will the two start to work together once again or could they be nearing the end of their working relationship?
4. Will the task force forgive Liz for faking her death? Red wasn't the only one stunned to learn that Liz is alive. Ressler (Diego Klattenhoff) was upset when he told Cooper (Harry Lennix) that Liz was alive, and Cooper looked both sad and surprised. Aram (Amir Arison) and Samar (Mozhan Marnò) both struggled with the loss, so it's unclear how they will react when they learn the news. In an interview with Entertainment Weekly, executive producer John Eisendrath said a big part of Season 4 will address how Liz let the task force believe she was dead, and many will look at it as a "huge betrayal."
5. What is Red's relationship to Liz? This question has been ongoing since "The Blacklist" first premiered. Some fans speculated that Red was actually Liz's father, but Kirk's revelation could have put an end to that theory. Episode 19 revealed there was some sort of relationship between Red and Liz's mother, but it's unclear what exactly that was. Why does Red want to be part of Liz's life so bad and why does he love her as much as he does? Maybe Season 4 will finally reveal what his relationship really is to Liz.
6. What's going to happen to Mr. Kaplan? Mr. Kaplan (Susan Blommaert) made a bold move and betrayed Red in Season 3. Mr. Kaplan was the one who helped fake Liz's death in order to get her away from the dangerous life of Red. Red was shocked the person he trusted the most was working behind his back the entire time. When they arrived in Cuba in the finale, Liz, Tom and the baby were nowhere to be found. Red then grabbed Mr. Kaplan's head while holding his gun and asked her, "What am I going to do with you?" Will Red let her live? If he does what will he do with her after the betrayal?
7. How will the spinoff work? On May 14, NBC officially ordered "The Blacklist" spinoff series "The Blacklist: Redemption." The show is set to focus on Tom (Ryan Eggold), who will likely join the mercenary team run by his mother Susan "Scottie" Hargrave (Famke Janssen). However, it's unclear how exactly that show can get started based on where Tom left off in the Season 3 finale. Tom was knocked out by Kirk's hit man and it looked like he was kidnapped as well. The spinoff won't be able to start until Season 4 answers what happened to Tom.
What questions do you want answered in "The Blacklist" Season 4? Sound off in the comments section below!
© Copyright IBTimes 2023. All rights reserved.