Who Are The Cossack Fighters Who Spearheaded Rebels' Capture Of Debaltseve In Eastern Ukraine?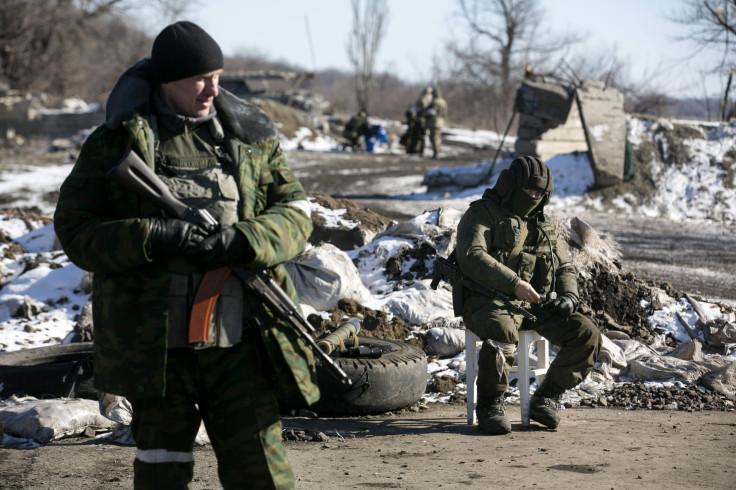 Pro-Russian separatist leader Nikolai Kozitsyn and his Cossack fighters played a prominent role in the rebels' capture of the town of Debaltseve in Eastern Ukraine from government forces Thursday, according to a report. The rebel faction, which draws upon historical roots and a lengthy military tradition, is considered a powerful force among those who seek autonomy from Ukraine.
Led by Russian Cossack Nikolai Kozitsyn, the Cossacks celebrated their victory in Debaltseve and maintained a military presence in the majority of the town's neighborhoods, according to the Associated Press. The key town links the contested eastern Ukrainian cities of Donetsk and Luhansk by railway, each of which are controlled by rebel forces. Kozitsyn traveled through the town's street in a captured Ukrainian military vehicle in celebration Thursday.
The Cossacks' legacy extends back to Czarist Russia, when the group's frontiersmen used their prowess as horsemen and soldiers to patrol the Russian empire's borders. Kozitsyn, who maintains a base of power in the city of Perevalsk southwest of Luhansk, said in November that his Cossacks fight to restore that tradition.
Kozitsyn's militia is "reviving the city's Cossack heritage and protecting traditional Cossack lands," he said, according to Al Jazeera America. "This will again be the land of the Cossacks." Kozitsyn's militia was suspected of firing the missile that downed Malaysia Airlines Flight 17 last July and killed 298 people, according to the Guardian.
Kozitsyn allies with other pro-Russian separatists and shares the belief that Eastern Ukraine is Russian territory. But he also acts autonomously. "The Luhansk People's Republic is just a territory with no judicial state. I talk to the guys in [Donetsk and Luhansk], but they know that we are Cossacks in Cossack lands … I've always said that we belong to Russia and should return these lands to Russia," he has said.
Across the region, tens of thousands of individuals claim to be ethnic Cossacks, and many are loyal to Russian President Vladimir Putin. Cossack warriors supported Russia's military during the nation's brief war against neighboring Georgia in 2008, according to Time.com. Cossacks also aided in Russia's annexation of Crimea last March.
Pro-government forces began to withdraw from Debaltseve Wednesday to escape a rebel onslaught, according to Reuters. Separatist rebels marched on the key town despite a ceasefire agreement, which German and French leaders brokered in Minsk, Belarus last week.
German Chancellor Angela Merkel and French President Francois Hollande called on top Ukrainian and Russian leaders this week to discuss the ceasefire violations. The two mediators are reportedly adamant that peace talks continue despite repeated violations and the rebel capture of Debaltseve. A representative of Germany's government said leaders from all four nations agreed "to stick to the Minsk agreements despite the serious breach of the cease-fire in Debaltseve."
© Copyright IBTimes 2023. All rights reserved.