Who Are The Knights Of Malta? Condom Scandal Leads To Resignation Of Head Of Ancient Catholic Order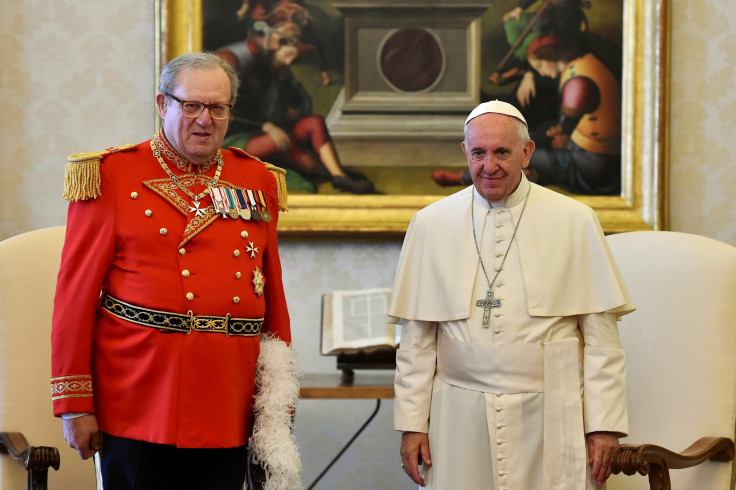 The head of the ancient catholic order the Knights of Malta has resigned in the latest twist over a condom distribution program. The lay religious order confirmed Wednesday that Grand Master Matthew Festing, 67, had given his resignation following a request from Pope Francis to step down the previous day. Grand Masters usually hold the position for life.
"The Pope asked him to resign and he agreed," a Knights of Malta spokesman said.
Festing had refused to cooperate with a Vatican inquiry into his decision to sack the order's grand chancellor, Albert von Boeselager, last month over revelations that the charity had distributed condoms to thousands of poor people in Myanmar.
The Catholic Church forbids the use of artificial contraception, however Pope Francis has taken a more nuanced stance on the issue. On a return trip from Africa in November 2015, he said the use of condoms was a "morally complicated" issue for the church.
Francis appointed a commission to investigate Von Boeselager's decision in what was seen as the latest battle between the pope and the more conservative elements of the Catholic Church. Von Boeselager has said that his dismissal was used by Festing and the papal envoy to the order, American arch-conservative Cardinal Richard Burke, to assert their power.
The Pope's request for Festing, who was elected in 2008, to step down marks the intervention of one sovereign state into the affairs of the other.
The Sovereign Order of Malta dates back to the 11th century when it was founded as the Knights Hospitaller to tend to sick and wounded pilgrims in Jerusalem at the height of the Crusades. It now counts 13,500 members and 100,000 staff and volunteers among its ranks, providing health care in hospitals and clinics in 120 countries across the globe.
The knights were expelled from the island of Malta by Napoleon's French fleet in the 16th century before later settling in Rome. It has sovereignty under international law, holding diplomatic relations with 106 states and issuing its own passports, license plates and stamps.
© Copyright IBTimes 2023. All rights reserved.
FOLLOW MORE IBT NEWS ON THE BELOW CHANNELS