Who Is David Brat? A Look At The Economics Professor Who Toppled Eric Cantor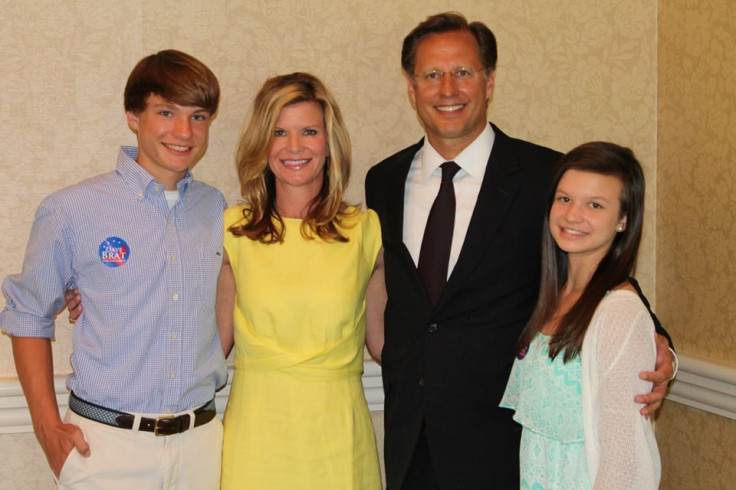 The Republican Party is reeling Wednesday after David Brat, a little-known economics professor at Randolph-Macon College and devout Roman Catholic, dealt House Majority Leader Eric Cantor, R-Va., a stunning loss in Tuesday's congressional primary.
At the moment, political pundits on both sides of the aisle are fixated on Brat, but the 52-year-old academic remains something of an enigma. Through support from some elements within the Tea Party and a grassroots campaign that espoused greater fiscal responsibility, a crackdown on illegal immigration and the repeal of Obamacare, Brat managed to overcome Cantor's vast advantages in campaign funding and name recognition.
To describe Brat's victory as a surprise would be an understatement. Cantor reportedly spent more than $5 million during his bid to stave off his opponent. Conversely, Brat spent just $122,000 to run a campaign that consisted of two paid staffers who used a flip phone to coordinate his efforts, the Chicago Tribune reports.
For the GOP, the idea that Cantor, a rising star in the party seen by many (most of all himself) as a future speaker of the House, would lose to an unknown seemed like a virtual impossibility; Brat himself attributed his victory to divine providence.
"God acted through people on my behalf," he told Fox News on Tuesday night. "It's an unbelievable miracle."
Brat's faith played a role in shaping his career as a scholar; he earned a master's degree from Princeton Theological Seminary. It also informs his political beliefs — a deep conviction that the GOP, and Cantor in particular, has gone astray, and must return to its original mandate: "Free markets, equal protection under the law, fiscal responsibility, constitutional restraint, strong military and belief in God," he said, according to NPR.
In addition, the self-described "free-market, Milton Friedman economist" has served as the chairman of the department of economics and business at Randolph-Macon College -- a small liberal arts school in Ashland, Virginia -- since 2005. Indeed, Brat's dedication to his career as an educator often surpassed that of his dedication to his campaign; he missed meetings with key conservative activists because he had final exams to grade, the Wall Street Journal reports.
Students at Randolph-Macon seem to have responded well to Brat's methods. He holds an average rating of "A" on RateMyProfessor.com, a forum that allows students to grade and discuss their teachers. Some pupils even had a more superficial reason to enjoy Brat's classes; one poster described him as "total eye candy."

Brat has explored the connection between Christian ethics and economics at length in his scholarly work. He once took a sabbatical to work on a book project titled "Ethics as Leading Economic Indicator? What went Wrong? Notes on the Judeo-Christian Tradition and Human Reason."
Though not an avowed libertarian, Brat has ties to the Cato Institute, the leading libertarian think tank in Washington. He heads BB&T Moral Foundations of Capitalism program at Randolph-Macon, which is funded by John Allison, president of Cato. He's also studied Ayn Rand at length; in 2010, he co-authored a paper titled "An Analysis of the Moral Foundations of Ayn Rand."
With a victory in the Republican primary in hand, Brat now moves on to challenge Democratic hopeful Jack Trammell. Ironically, the two are already colleagues; Trammell is also a faculty member at Randolph-Macon College. He currently serves as an associate professor of sociology.
Once a political nonentity, Brat now has the support of the Tea Party as well as that of noted conservatives such as Laura Ingraham, Ann Coulter and Erick Erickson. Meanwhile, Eric Cantor and his compatriots within the GOP are left to wonder what went wrong.
© Copyright IBTimes 2023. All rights reserved.