Winter Olympics 2014: Speed Skating Continues To Be Dominated By The Netherlands, But Why?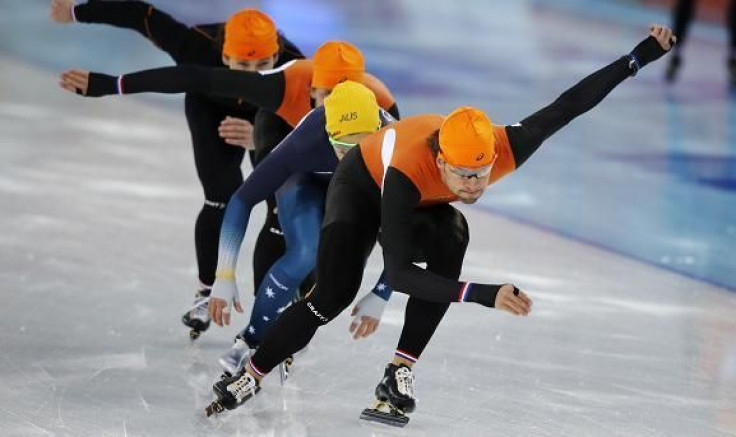 SOCHI, Russia -- To most of the world, speed skating is a sport that only draws interest every four years, when the Winter Olympics dominate the television airwaves for about 18 days.
An extremely basic sport, speed skating isn't defined by the many intricacies that other sports require, and therefore it is viewed in many parts of the world as boring or monotonous. Speed skaters travel in circles at about 35 miles per hour in a 400-meter oval, and much like distance runners or distance swimmers, the focus revolves around conditioning and technique rather than strategy.
One country, and one country only, exudes unbridled enthusiasm for speed skating: the Netherlands. Ask a Dutchman if the Netherlands has a strong group of speed skaters this year, and he will look at you in shock. Dutch speed skaters consistently have an elite squad, and they have been dominant in the sport for quite some time.
While many North Americans may think speed skating is boring, the Dutch will say football and baseball are boring. They are clearly the most passionate and engaged supporters of the sport, and they treat it as part of their national identity. Even the King and Queen of the Netherlands are in Sochi, and they were spotted at Adler Arena cheering on the Dutch. (The King even famously proposed to the Queen on ice skates.)
Only soccer can rival speed skating as the most popular sport in Holland, and if you ask a Dutchman why he loves speed skating, he answers with emotions rather than specifics.
"It's in our heart. It's in our blood. We love it," said Lars Hajima, a 19-year-old from Britsum, a village in the small county of Leeuwarderadeel.
Decked out in orange garb, Hajima made the trek from his small town to the Black Sea resort town with his brother and father. They were ecstatic with their decision to visit Russia after seeing the results of Monday night's 500-meter competition at Adler.
The Netherlands achieved yet another milestone in speed skating, and they did so in memorable fashion.
Michel Mulder, 27, won the gold medal (69.31), while his identical twin brother, Ronald, took the bronze (69.46). Michel Mulder edged silver medalist Jan Smeekens (69.32) by 12-thousandths of a second in a result that Smeekens said felt like a "kick in the gut."
While Holland's sweep in speed skating is nothing new, it was the first time that the Dutch took the gold in the 500, and the remarkably close finish will remain fresh in Dutch fans' minds for quite some time.
The last time the Netherlands earned a medal in the 500 was when Jan Ykema took the silver in Calgary 1988. Holland's previous success in speed skating was confined to longer distances, but now they are dominating the short ones as well.
The Dutch have won seven of the nine speed skating medals in Sochi. Such success should have prompted shouts of "overheersing," the Dutch word for "dominance." It would be the only way to describe how one nation is so overwhelmingly strong in one sport.
Monday's results prove that the Netherlands are now conquering shorter distances -- a development that should spark fear in the hearts of opposing speed skating nations' federations. Holland owns speed skating now, and there are no signs they will give up the reins anytime soon.
How has one country dominated what amounts to as a niche sport? The answer is quite clear if you consider the culture of the nation of 16 million.
In the Netherlands, skating long distances on ice is a common practice for many, making it only natural they would have interest in distance speed skating in the Olympics. In winter months, skating is a sensible form of transportation, as commuters skate along frozen canals to visit family or friends who live many villages away. Much of the country sits below sea level, so it's frequently not a particularly arduous journey to travel by skates.
The Dutch begin wearing skates as toddlers, so for some, skating is as common as walking. Some travel for hours and hours on their skates and see nothing strange about it.
Hajima's father, Hotze, said he once skated 230 kilometers (142 miles) at the age of 29. He didn't seem to be boasting about it, just making the case that there was an occasion when it was necessary.
But consider the oddity of living in a skating culture where just speed skating is practiced. The Dutch are the world's best speed skaters, and they are also among the world's best at field hockey, yet they are basically irrelevant in ice hockey.
Confusing, right?
Such a mentality would likely cause a great deal of head-scratching from NHL fans. Sidney Crosby, Alexander Ovechkin and Phil Kessel all grew up in cold-weather regions, but none chose to speed skate.
Holland also has had limited success in figure skating. The Dutch have only won three figure skating medals in their history, equal to what the Mulder Twins, and Smeekens did in one race on Monday night.
If you're from anywhere other than the Netherlands you probably can't understand why the Dutch are so enamored with men's competitive skating as opposed to other sports involving skates. The sport's culture runs deeper than the opportunity to skate outdoors when the weather permits.
Irene Postma is a Holland native and a former publisher and editor of Speed Skating World magazine. She has attended every Winter Olympics since Lillehammer in 1994, and she is a ubiquitous figure at Adler Arena at speed skating events. Tall and with a studious appearance, Postma is immediately recognized by top speed skaters at press conferences, and speed skating fans are quick to find a seat near her during competitions to gain more knowledge of the race.
She explains that the Dutch love affair with competitive speed skating dates back to a pair of male skaters in the 1960s who were quickly embraced by the country.
Ard Schenk, tall and introverted, and Kees Verkerk, short and outgoing, were warmly known as "Ard and Keessie." When sports television broadcasting expanded, it sparked an even stronger interest in the sport in the Netherlands. The duo became the first televised image of skating, and their sportsmanship toward each other and toward their fans, as well as toward the sport, inspired the Dutch to make their habit of skating long distances become competitive.
Verkerk and Schenk experienced Olympic glory in L'Anneau de Vitesse, which hosted the speed skating events of the 1968 Winter Olympics in Grenoble, France, with Verkerk winning gold in the 1,500 meters and Schenk taking the silver. Verkerk would also take the silver in the 5,000.
Before 1968, Norway was taking home most of the medals, challenged by the U.S. and at times by Sweden and the Soviet Union. By the 1972 Winter Olympics in Sapporo, Japan, Holland was an elite power, with Schenk taking home three gold medals, and Verkerk winning a silver.
Verkerk and Schenk helped get the Dutch believing they could win medals, and the country hasn't looked back since. Postma notes that before Schenk and Verkerk, the Netherlands had limited success in sports. Winning speed skating medals prompted the country to take more of an interest in the Winter Olympics, because the Dutch were finally good at a sport, Postma said. They became more than just icons for their contributions to speed skating.
"Before 'Ard and Keessie,' people listened to the radio and took notes," said Postma. "Because of them, distance skating became more than just a way to visit your aunt."
Television helped grow the popularity of speed skating, but in one famous instance, it also confused people. At the 1966 European Championships in Deventer, Verkerk fell during the race, and the network then showed a replay of it. According to Postma, people thought Verkerk fell twice because they had never seen a television replay before.
The U.S. and Norway continue to have great success in speed skating. But for Americans, it's very low on the list of popular sports. In the Netherlands, even a great foreign speed skater is treated with the utmost respect.
American Shani Davis, who can walk down the streets of his hometown of Chicago in anonymity, is showered with praise when he visits the Netherlands, where speed skating fans often hound him for autographs and pictures, according to Postma.
The two-time gold medalist in the 1,000 meters embraces the Dutch spirit for speed skating, perhaps because his success doesn't translate back home as it does for stars of the NFL, NBA, and Major League Baseball.
Davis is skating toward history in Sochi as he attempts to become the first speed skater to win the event in three consecutive Olympics. He is favored in the event on Wednesday, but most Americans have little knowledge of his success.
"When Shani shows up at an American airport, his mom is there to greet him," Postma said. "In the Netherlands a gold medalist speed skater receives a hero's welcome at the airport."
Davis will likely get the royal treatment should he win gold in Sochi, even from Americans. But with the U.S. exceling at so many sports, it's hard for Americans to keep their attention focused on just one Olympic athlete.
That seemed to be the case with gold medalists Bonnie Blair and Dan Jansen in the 1990s. Apolo Ohno is still in the public eye with his broadcasting career and as a spokesman for Subway, but it took being the most successful American Winter Olympic athlete of all time for him to reach that status.
Meanwhile, the Dutch still honor "Ard and Keessie," who haven't skated since the mid-1970s. They remain indelible figures in Dutch culture, and the national pride and unity derived from speed skating continues to this day.
"Speed skating is not like any other sport in the Netherlands," said Lars Hajima, who could hardly contain his excitement after watching the 500 meters.
"It brings our country together."
© Copyright IBTimes 2022. All rights reserved.
FOLLOW MORE IBT NEWS ON THE BELOW CHANNELS