Yemen Crisis: Saudi Arabia Forces, Houthi Rebels Clash On Border As Yemen Calls For Ground Troops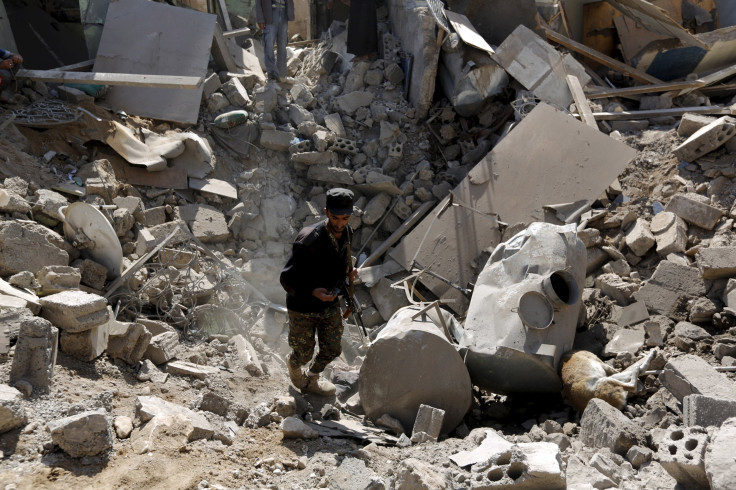 Saudi Arabian forces and Yemeni Houthi rebels engaged in a heavy cross-border fire on Tuesday, while Yemen's foreign minister pleaded for an immediate Arab intervention on the ground. This marks further escalation of the crisis, which has intensified since the launch of a Saudi-led coalition airstrike in Yemen last week.
In northern Yemen, heavy exchange of artillery and rockets was witnessed along the Saudi-Yemeni border. While explosions and gunfire were heard in several areas in the region, Saudi helicopters were also spotted flying overhead, Reuters reported, citing residents and tribal sources.
The latest clashes came after a Saudi-led airstrike, which apparently targeted nearby Houthi fighters, killed at least 40 people at a camp for displaced people in north Yemen on Monday.
While local media claimed that the victims included women and children, Saudi Arabia said that the fighter jet was likely replying to fire, and that it could not confirm whether it was a refugee camp, Reuters reported.
Meanwhile, Yemen's Foreign Minister Riad Yassin told al-Arabiya Hadath, a pan-Arab television channel, that the government has called for Saudi Arabia to escalate the war against Houthis into a ground intervention.
"Yes, we are asking for that, and as soon as possible, in order to save our infrastructure and save Yemenis under siege in many cities," Reuters quoted Yassin as saying.
Saudi Arabia said that its troops have gathered along the border in preparation for a possible ground offensive. However, the Saudi authorities did not provide a specific timeline.
"There could be a limited ground operation, in specific areas, at specific times. But don't expect there to be an automatic resort to a ground operation," Ahmed Asseri, a spokesman for the Saudi-led coalition, told Reuters. "I don't want us to concentrate on the land operation as if it is a 'must' ... if it is possible to achieve the goals through other means."
© Copyright IBTimes 2023. All rights reserved.