Yemen Update: Former President Calls For Stepped-Up Attacks Against Saudi Arabia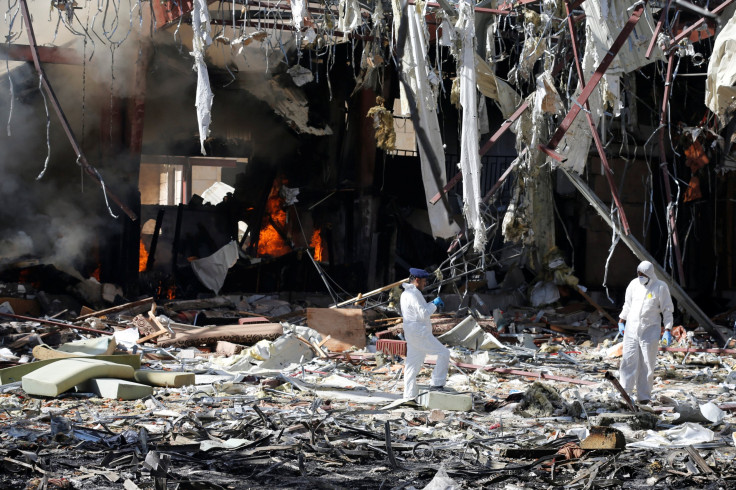 Former Yemen President Ali-Abdullah Saleh called for stepped-up attacks against Saudi Arabia in retaliation for an airstrike on a meeting hall in Sanaa that killed at least 140 people, many of them Houthi rebel leaders.
"I call upon all the sons of this nation ... to face this aggression with all their strength and you must proceed to the battlefronts," Saleh , who was pushed from power in 2012 by massive protests, is aligned with Houthi rebels and still holds sway with the military, said in a televised speech.
Thousands of Yemeni protesters gathered at U.N. headquarters in Sanaa Sunday to demand an international investigation into Saturday's bombing that hit a hall where a wake was being held for the interior minister's father, Jalal al-Roweishan.
Saudi Arabia has been conducting airstrikes against the Shiite Houthis, who are seen as Iranian proxies. The Saudi-led coalition denied any role in Saturday's attack, the deadliest in the 18-month-old war, Reuters reported.
The attack led the White House to announce a review of support for the 18-month-old military push, which has been roundly criticized for some 3,800 civilian deaths, more than a third of the estimated death toll.
"It's shocking to see that a target like this was hit," a senior official in the Saudi-backed government of President Abd-Rabbu Mansour Hadi said. "It's the latest in a series of attacks by all sides on civilian targets like homes and public gatherings that are turning this into a dirty war.
Riyadh has promised an investigation into the incident, which it labeled "regrettable and painful."
"But we cannot stand by while insurgents overthrow a legitimate government in a neighboring state by force, while Yemen becomes a lawless state and terrorist haven, and while we are attacked across our border," a Saudi official told Reuters.
The Lebanese group Hezbollah expressed solidarity with the Houthis and condemned Saudi Arabia.
"I say to [Yemen's] people: you will ultimately triumph," Hezbollah leader Hassan Nasralla said.
The once-ornate hall was reduced to rubble by the bombing. A high school student living near the site said body parts were propelled into her house.
"What happened was an unprecedented crime. ... The sight of it was terrifying and will never leave my mind," the girl, identified only as Nada, told Reuters.
© Copyright IBTimes 2023. All rights reserved.
FOLLOW MORE IBT NEWS ON THE BELOW CHANNELS