15 Best Yogi Berra Quotes, 'Yogisms' In Honor Of Yankees Legend's Death At 90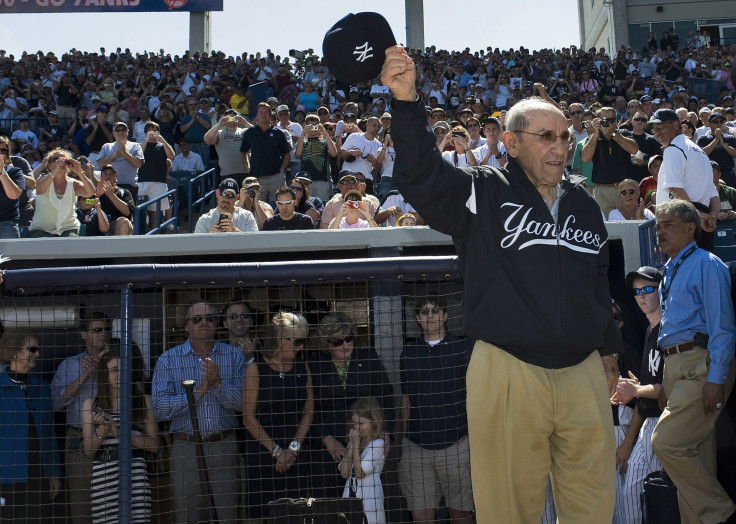 Hall of Fame New York Yankees catcher Yogi Berra will likely be remembered as much for his witticisms as his stellar work behind the plate and in the batter's box. Berra, famous and beloved for turning phrases, died Tuesday at the age of 90.
The Yogi Berra Museum reported early Wednesday morning that the three-time American League Most Valuable Player and ten-time champion with Yankees had died the night before. "It is with heavy hearts that we share the news that Yogi Berra passed away Tuesday night at the age of 90," the museum tweeted.
Berra left a mark on baseball and the world at large with off-the-wall sayings that were a combination of funny, befuddling and clever. While it was often difficult to trace back the exact phrasing of the comments made by Berra, the long list of sayings attributed to him speaks to "a character — goofy and philosophical, flighty and down to earth — that came to define the man," the New York Times wrote.
Berra has become so ubiquitous in the canon of quotations that no other person is listed as often in Bartlett's Familiar Quotations, according to the Yogi Berra museum. Below is a list of 15 memorable quotes and 'Yogisms' attributed to the catcher:
1. "So I'm ugly. I never saw anyone hit with his face."
2. "We made too many wrong mistakes."
3. "You can observe a lot just by watching."
4. "If you can't imitate him, don't copy him."
5. "When you come to a fork in the road, take it."
6. "It ain't over 'til it's over."
7. "I didn't really say everything I said."
8. "The future ain't what it used to be."
9. "Pair up in threes."
10. "If the world were perfect, it wouldn't be."
11. "It's deja vu all over again."
12. "I usually take a two hour nap from one to four."
13. "In baseball, you don't know nothing."
14. "90 percent of this game is half mental."
15. "It gets late early out here."
© Copyright IBTimes 2022. All rights reserved.
FOLLOW MORE IBT NEWS ON THE BELOW CHANNELS