7 Likely North Korean 'Ghost Ship' Corpses Discovered In Capsized Boat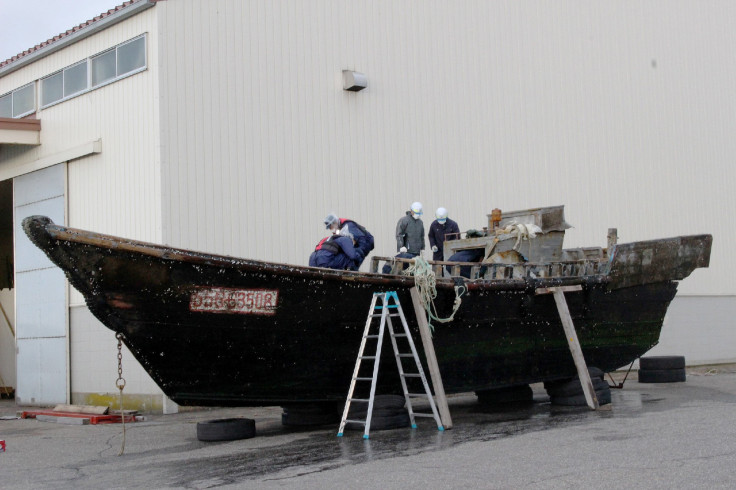 Japanese authorities discovered seven badly decomposed corpses Monday after a suspected North Korean "ghost ship" fishing vessel washed ashore on the country's west coast.
The ship was initially spotted last week, and police investigating the ship found one body. Poor weather impeded the investigation, and authorities had to stop — the seven additional bodies were discovered Monday on the ship which washed ashore in Kanazawa, Japan, according to the Australian Broadcasting Corporation (ABC).
"We went back on [Monday] and this time we found seven more bodies," Kanazawa police official Hiroshi Abe told ABC. "We are trying to find their identities and if we cannot find the owner of the ship, we will give it to the local government."
Found along with the bodies was a pin depicting previous North Korean leaders Kim Il Sung and Kim Jong Il and a cigarette pack with Korean lettering.
The initial body was discovered nearby the 52-foot long boat and an autopsy revealed him to be between 30 and 50 and to have died last September, according to Japanese Newspaper Mainichi. Police will conduct autopsies on the other bodies.
The latest discovery of a suspected North Korean fishing vessel followed a year of increased "ghost ships" and corpses washing ashore in Japan. Last year the Japanese Coast Guard said it investigated 104 cases of mystery ships thought to be North Korean discovered floating offshore or run aground. It is the largest number of cases since the authorities began tracking the investigations in 2013, and up from 66 in 2016. The number of ships that have been abandoned or lost at sea is not known because investigations can be triggered by a part of a boat or debris. Japanese authorities also found a record 35 bodies connected with the mystery vessels. The body count could be higher as not all corpses found can be identified.
The Japanese Coast Guard told Mainichi that the waters of the Sea of Japan are rough and hard to navigate. The "ghost ships" are often run down and ill-equipped.
North Korea has been hit with tough economic sanctions from the United Nations for their continued ballistic missile and nuclear weapons tests. The sanctions have made it difficult for the country to get oil and hard currency.
© Copyright IBTimes 2023. All rights reserved.