Aaron Hernandez Case Update: Mike Pouncey Testifies; Hernandez Discusses Prison Life In Letter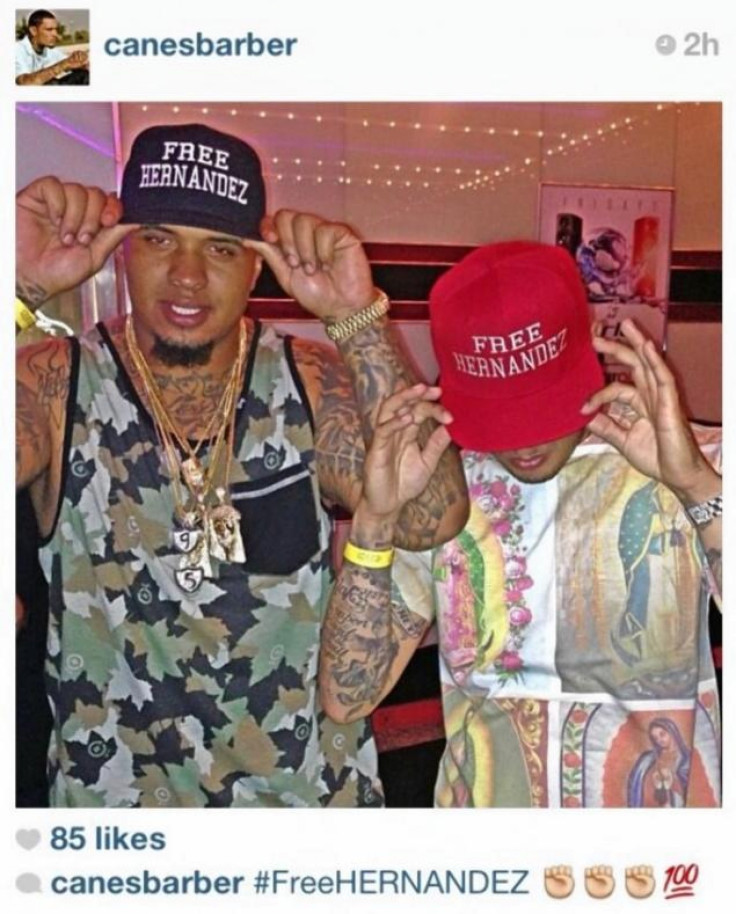 A new friend of Aaron Hernandez has testified in regards to the ex-football player's incarceration. This time it was a current NFL star.
Mike Pouncey was forced to miss practice on Wednesday as the Miami Dolphins prepared to host the New England Patriots, Hernandez's former team. The offensive lineman traveled to New England, according to the Palm Beach Post, to speak to a grand jury.
Pouncey was friends with Hernandez when the two played college football at Florida. In the summer, Pouncey and his brother, Maurkice, found themselves at the center of controversy when they were seen wearing hats that read "Free Hernandez." The center received a subpoena in late October when the Dolphins visited the Patriots. He was met by police at Gillette Stadium, following the team's 27-17 loss to their division rivals.
"It wasn't a distraction at all," Pouncey said this past week. "We're all professional football players. It's something that I had to go handle. I'm here with my football team, so I'm happy."
Investigators may not have been be looking for Pouncey to give them any details surrounding the death of Odin Lloyd, and he has not been linked in any way to the night of the murder. While it's unknown what contact, if any, the two men have had since Hernandez was sent to jail, the former tight end has been keeping in touch with some friends during his time in prison.
TMZ claims to have obtained letters that Hernandez has sent to friends in recent months. Hernandez proclaims his innocence in his writing.
"I'm just anxious to go to trial to see what's up and prove my innocence," writes Hernandez. "Regardless, I'll be good, but I know I'll be free because I'm truly innocent and will prove it!"
The gossip website also reports that Hernandez is helping fellow prisoners find pen pals. According to TMZ, there is evidence that Hernandez has encouraged other men that are locked up to write women who have sent him letters.
"AH is my cellmate and friend he had given me your address saying he has a good feeling about you and I becoming penpals," reads one letter.
"I'm currently in prison for beating up a cop. So tell me about yourself," added the prisoner.
Hernandez has been in prison for almost half of 2013. A few of his associates, including his fiancée, also await court dates.
© Copyright IBTimes 2023. All rights reserved.