Aaron Hernandez News: Jury Selection For Murder Trial Includes NFL And Gun Questions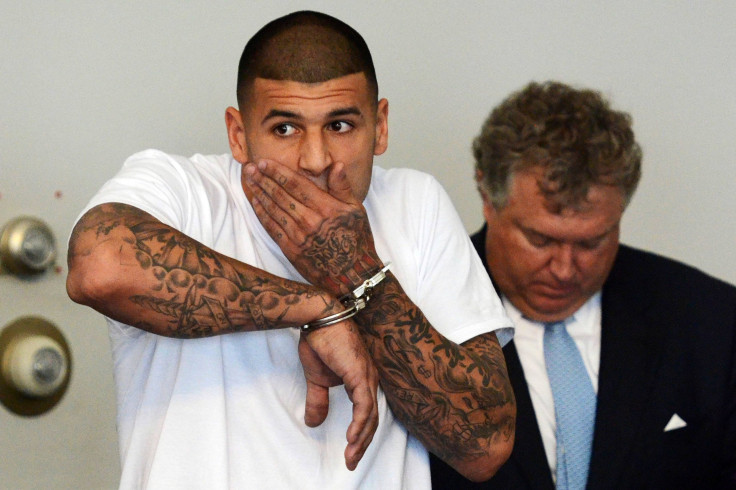 Over 1,000 people reported to the Fall River Justice Center on Friday, Monday and Tuesday, as part of jury selection for the Aaron Hernandez murder trial. The former New England Patriots star has been charged with first-degree murder for allegedly killing Odin Lloyd, a semi-pro football player.
Three groups of 125 potential jurors were brought to court on each day. Each person was asked to fill out a questionnaire, and Judge Susan Garsh said people who had known about the case wouldn't be eliminated from consideration.
The 15-page questionnaire contained several questions about the NFL and the Patriots. Jurors were asked to specify if they were a fan of the team, if they had ever attended one of the team's games and if the fact that Hernandez played in the NFL would affect the way they might view the case.
"Does the fact that Mr. Hernandez was a professional football player make you feel that he is more likely to be guilty of the charges in this case than an individual that did not play football professionally would be?" read one of the 51 questions.
Hernandez played three seasons with New England, playing in the 2012 Super Bowl. He signed a five-year contract worth potentially $40 million just 10 months before he was arrested.
Jurors were asked how familiar they were with the case and from where they might have gotten any knowledge about it. They were warned that the case will draw a lot of attention from the media, and told they could not read about the trial if they are chosen to be a part of the jury.
The questionnaire also contained questions about jurors and their own history with firearms. In addition to the murder charge, Hernandez faces five weapons-related charges.
The jury selection marks one more step towards the trial finally starting. Hernandez has been in jail for over a year and a half, since he was first arrested for Lloyd's death in June 2013.
According to prosecutors, the trial is expected to last six to 10 weeks. Jury selection is expected to last until about Jan. 20.
Even if Hernandez manages to be found not guilty, he could still spend the rest of his life behind bars. He's been indicted on two other murder charger, stemming from a Boston shooting in July 2012.
Two other men are also being charged with Lloyd's death. Carlos Ortiz and Ernest Wallace, two associates of Hernandez, also face murder charges for allegedly accompanying the former Patriots tight end on the night of Lloyd's death.
© Copyright IBTimes 2023. All rights reserved.