Alleged Killers Of Kim Jong Un's Half-Brother Plead Not Guilty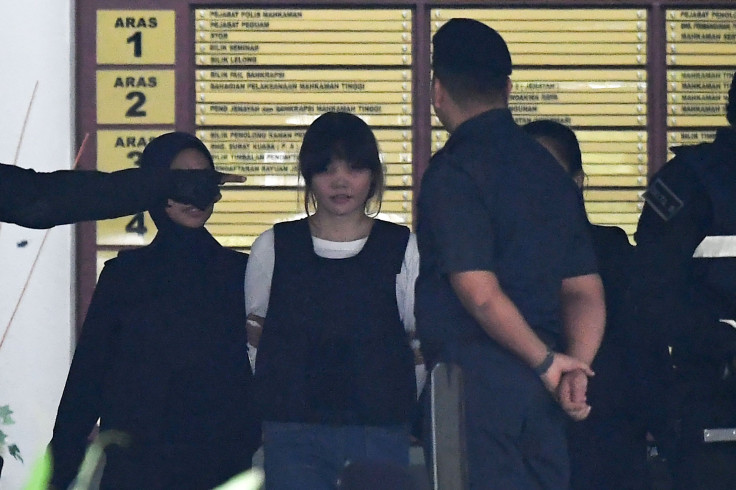 The two women accused of killing the estranged half-brother of North Korean leader Kim Jong Un pleaded not guilty in Malaysian Court. The women are accused of using a deadly banned nerve agent to carry out the killing.
Siti Aisyah, 25, of Indonesia and Doan Thi Huong, 28, of Vietnam were charged with the Feb. 13 killing of Kim Jong Nam by smearing VX in the man's face at the airport in Malaysia's capital, Kuala Lumpur. Murder in Malaysia carries a death sentence.
The women allegedly approached Kim Jong Nam, 45, in the airport and rubbed liquid VX in his face. The women claimed that they were tricked into spraying him, saying that they thought it was part of a prank for a game show. The prosecution said that the women's actions showed "intent to kill the victim."
Witnesses said that Kim Jong Nam was experiencing seizure symptoms and his eyes rolled backward into his head in court. North Korea is widely believed to have orchestrated the killing.
Police have also named four North Korean suspects in the case and have asked Interpol to help take them into custody. Experts believe the attack needed two people to smear Kim Jong Nam because each assailant had precursors to VX in their liquid and a chemical reaction on his face turned the liquids into the nerve agent. Having VX in precursor components makes it easier to transport, and prevents the assailants from being killed.
The Center for Disease Control and Prevention calls nerve agents the most toxic of all chemical warfare weapons. VX is banned by the United Nations and is tasteless and odorless.
Kim Jong Nam was the eldest son of North Korean leader Kim Jong Il. Kim Jong Nam was thought to be the heir apparent to be the leader of North Korea until he was caught trying to sneak into Japan to visit Disneyland Tokyo. The incident was seen as a major embarrassment for North Korea because Japan is considered an enemy.
Kim Jong Nam was exiled from North Korea in 2003 and claimed it was for advocating for change in the regime. Kim Jong Un is known for his violent execution methods, which have included anti-aircraft guns.
© Copyright IBTimes 2023. All rights reserved.