Antonio Brown Shares Text Messages With Bruce Arians, Tom Brady's Trainer After Leaving Game
Antonio Brown isn't holding back as he attempts to explain why he chose to leave the field during the Tampa Bay Buccaneers' Week 17 game against the New York Jets.
The wide receiver released a statement claiming the Bucs didn't let him recover from a serious ankle injury, and he shared alleged text messages with coach Bruce Arians and Tom Brady's personal trainer Alex Guerrero on social media.
Brown said he had an MRI Monday morning that showed his ankle had broken bone fragments, a ligament torn from the bone and cartilage loss. The injury was so painful that Brown told the Tampa Bay coaching staff he couldn't continue playing in Sunday's game, according to the receiver.
Arians threw Brown off the team when the veteran said he was unable to go back on the field, prompting the troubled receiver to take off his uniform and throw items into the stands before leaving the stadium.
"I took a seat on the sideline and my coach came up to me, very upset, and shouted, 'What's wrong with you? What's wrong with you?' I told him, 'It's my ankle,' " Brown said in a lengthy statement. "But he knew that. It was well-documented and we had discussed it.
"He then ordered me to get on the field. I said, 'Coach, I can't.' He didn't call for medical attention. Instead, he shouted at me, 'YOU'RE DONE!' while he ran his finger across his throat. Coach was telling me that if I didn't play hurt, then I was done with the Bucs."
The ankle injury forced Brown to miss several games before he received a three-game suspension for allegedly using a fake COVID-19 vaccine card. Brown returned in Week 16 and caught 10 passes for 101 yards.
The 33-year-old receiver didn't practice Thursday or Friday before his final game with the Bucs. Brown says his injury was discussed with Arians throughout Week 17.
On Thursday morning, Brown posted a text exchange between himself and a number he says belongs to Arians, seemingly trying to show that the coach understood the severity of his injury. Brown also dragged Brady and Guerrero into the situation, tagging the quarterback in an Instagram post and sharing a text that suggests that the trainer charged him $100,000 despite not working with him.
"I didn't quit. I was cut," Brown said. "I didn't walk away from my brothers. I was thrown out. Being fired on the sideline for having a painful injury was bad enough. Then came their 'spin.' Coach denied on national television that he knew about my ankle. That's 100% inaccurate.
"Not only did he know I missed several games with the injury, he and I exchanged texts days before the game where he clearly acknowledged my injury. He obviously knew I was on the injury list. And the GM acknowledged after the game in text messages to my camp that I did tell coach about my ankle pain on Sunday."
Tampa Bay has yet to officially release Brown, even though he's no longer with the team.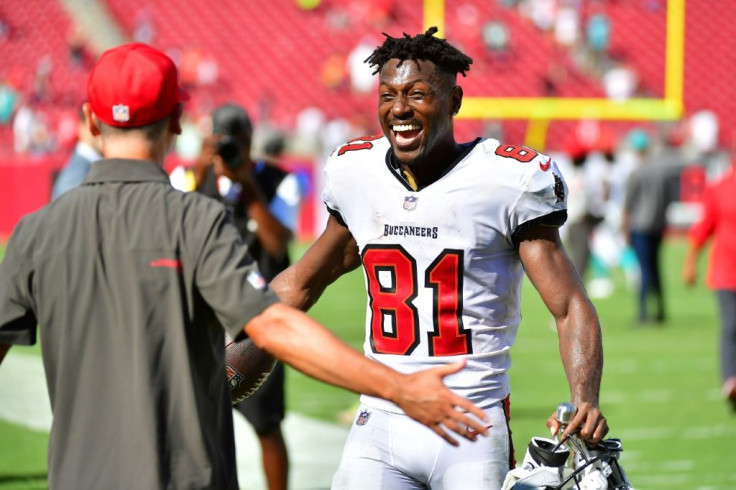 © Copyright IBTimes 2023. All rights reserved.