Are The Spurs Done For? Thunder 'Coming Of Age' As They Cruise Past Aging San Antonio Veterans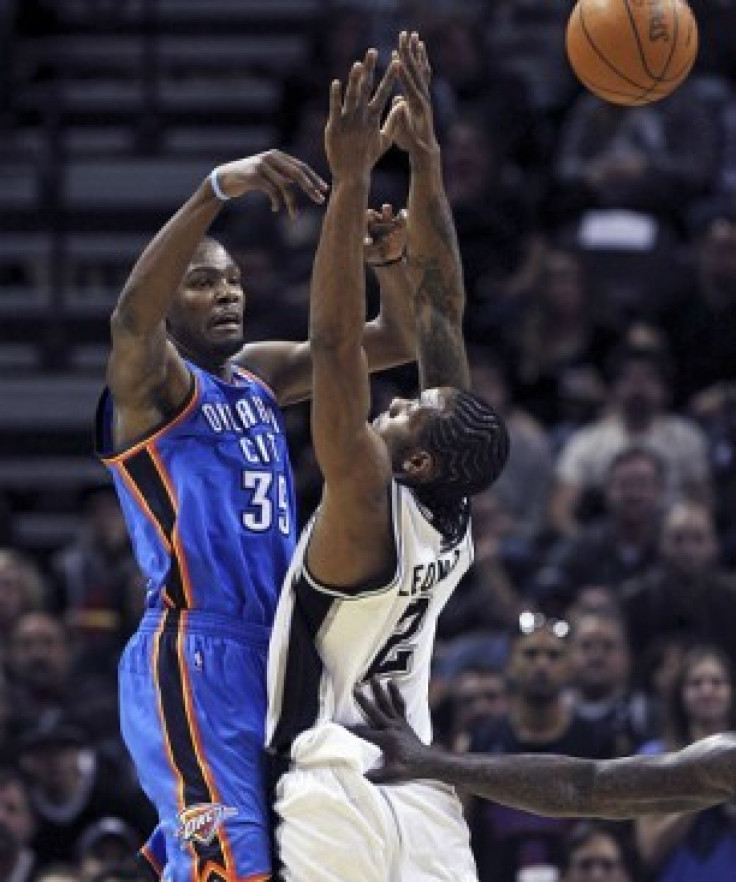 Are the Spurs done for? The Oklahoma City Thunder have cruised past the aging San Antonio team in games 3 through 5 of the Western Conference Finals, coming of age before our eyes in the words of one TNT broadcaster Monday night. The question that remains is: can the Spurs come back from the edge?
It's not the first time San Antonio has been against a wall in the era of Tim Duncan and company, trying to make their way to an NBA Finals win, and the veteran Spurs have taken home a championship banner before.
But this year may turn out differently, as the Spurs have lost three straight to Kevin Durant, Russell Westbrook, James Harden and the Oklahoma City Thunder, a team that may just be too young, talented and athletic to lose to the skilled but tired San Antonio squad.
Many people feel that way, and NBA Hall of Famer and TNT broadcaster Charles Barkley is one of them. After the Spurs lost at home to the Thunder Monday night by a score of 108-103, Chuck predicted that the Thunder have Game 6 wrapped up, and that there is no way San Antonio will make it to the NBA Finals.
And various members of the TNT broadcast team repeatedly stated Monday night that the Thunder were coming of age before their eyes, figuring out a way not only to snap the Spurs' 20-game winning streak with a huge win at home in Game 3, but to continue that momentum and beat them three times in a row for the first time all season.
The series has echoes of the Eastern Conference Finals currently underway between the Boston Celtics and Miami Heat. The Miami Heat are an athletic, incredibly talented squad with a young big three of LeBron James, Dwyane Wade and Chris Bosh (who has been out the whole series but may play in the next game), and they are up against an aging, veteran Boston team full of future Hall of Famers that has won a championship and is looking to win one more before saying goodbye to one another.
But the Thunder are cruising to a conference title in a way the Heat have not been able to. Under the leadership of Westbrook and Durant, the Thunder have amended their game plan to counteract the skills and strengths of the Spurs, and in doing so they have been able to three-peat against the hardest-to-beat team in the West.
The Western Conference Finals is not just one of the most exciting and hard-fought battles so far this postseason, it is also tunring out to be a changing of the guard, as one TNT announcer put Monday night, with the Thunder taking the torch as the kings of the West.
© Copyright IBTimes 2023. All rights reserved.