Arman Soldin, From Sarajevo To Reporting On Ukraine Front Lines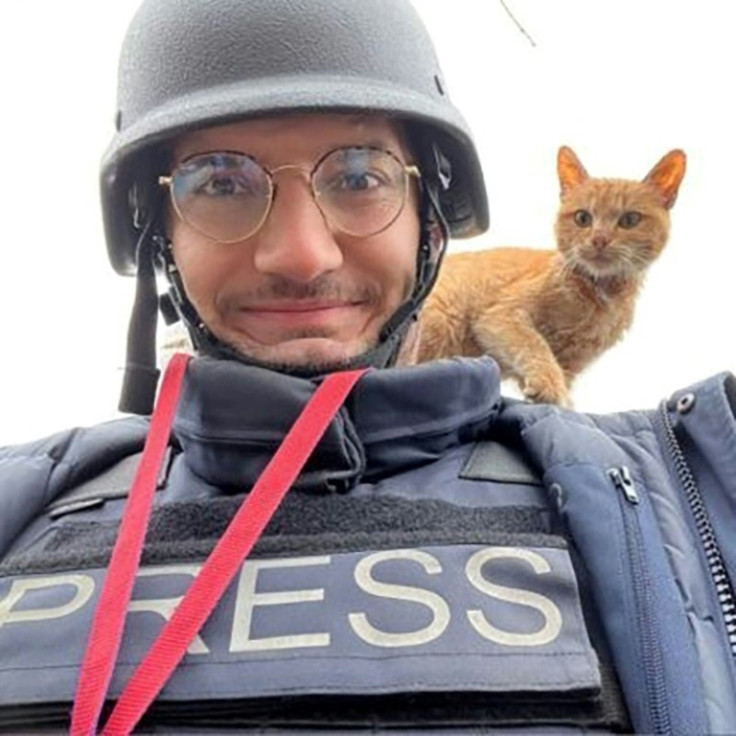 Anyone who wanted to get the measure of Arman Soldin needed only to look at his recent footage for AFP from the besieged Ukrainian city of Bakhmut.
With Russian forces gradually tightening their grip from the north, south and east, Bakhmut -- a symbol of the war launched by the Kremlin, and of Ukraine's resistance -- looked destined to fall.
Despite the dangers, Arman was compelled to bear witness, putting himself at risk and under fire to secure images of the fierce military battle and the destruction all around.
But he also knew to recount the lives of ordinary people caught up in the conflict, desperately trying to survive amid the chaos.
There were the Bakhmut residents crossing the icy river to get food, water and wood: in Chasiv Yar, where he was killed, he found a woman tending her garden.
Back in Kyiv, he found a tender moment between a conscripted father and his young son who had fled abroad, bonding over a strategy game online.
Earlier this month, he even rescued an injured hedgehog from a trench and nursed it back to health. He named it Lucky.
Arman's extraordinary footage made headlines around the world. But he was never done.
Even after a gruelling day in the field, he could be found tirelessly uploading his pictures on social media.
There he tried to explain to as many people as possible what he had seen in what he once described as "an old-style war, in the heart of Europe".
Given his back story, it was hardly surprising.
Arman Soldin was born in Sarajevo, and was one of the first Bosnians evacuated to France in early 1992. He was just 12 months old.
"Stories about refugees affect me," he told AFP in a blog interview late last year, conducted by candlelight during a power cut in Kyiv.
"I come from Bosnia, Sarajevo. I understand patriotism but I don't know much about ultra-nationalism," he said.
He was fluent in French, English and Italian but it was his Bosnian heritage that helped him on the ground in Ukraine.
"I stumble through with a bit of Bosnian," he smiled modestly. "It's another Slavic language so we understand each other a bit.
"A lot of women are called Oksana, like my mother."
Arman, a gifted youth footballer who played at Stade Rennais in Brittany in France but abandoned hopes of a professional career after an injury, joined AFP as a trainee in Rome in 2015.
He made such an impression that he was hired almost immediately.
His first staff posting as a video journalist found him in London that October, just in time to cover years of Brexit drama.
During the Covid-19 outbreak in 2020, he found himself back in Rome but travelled around, searching out stories even as everything shut down.
"He always found something," one colleague said.
When the war erupted in Ukraine in February 2022, Arman volunteered to become one of the agency's first special correspondents.
Ukraine seemed to be Arman's calling, and where he came of age as a journalist.
"One year almost day to day since I've come to Ukraine for the first time and that my life changed forever," he wrote in February.
"Very proud and moved of all the work, effort and tears my colleagues and I have put into this. And we're not done yet," he added.
Anyone who met Arman was swept up in his infectious enthusiasm, boundless energy and courage.
"Arman's brilliant work encapsulated everything that has made us so proud of AFP's journalism in Ukraine," said AFP global news director Phil Chetwynd.
"He was courageous, creative and tenacious. He was above all an excellent journalist who was totally committed to the story," he said.
"He was a real on-the-ground reporter, always ready to go, even in the most difficult places," added AFP's Europe director Christine Buhagiar.
"Throughout his time in Ukraine he brought back extraordinary images praised by our biggest clients... He was totally devoted to his craft," she said.
Much of Arman's footage was shot on an iPhone, but speed and mobility were not the only reasons for that. Arman also understood the effect a "big camera" could have.
"I only go up to people with my mobile," he said. "It's less scary for them."
Arman also remained eager to learn from more experienced colleagues, though to meet him you would never believe he was "the new boy", as he once said.
On March 21, he was with the AFP team in Kramatorsk, eastern Ukraine, celebrating his 32nd birthday.
"A decent bottle had been opened for the occasion and a colleague had got his guitar out," said his colleague Antoine Lambroschini.
"Arman had a delighted little smile on his face."
© Copyright AFP 2023. All rights reserved.