Arsenal vs. Barcelona 2016: VIDEO Highlights, Live Score Updates From Champions League Round Of 16 First Leg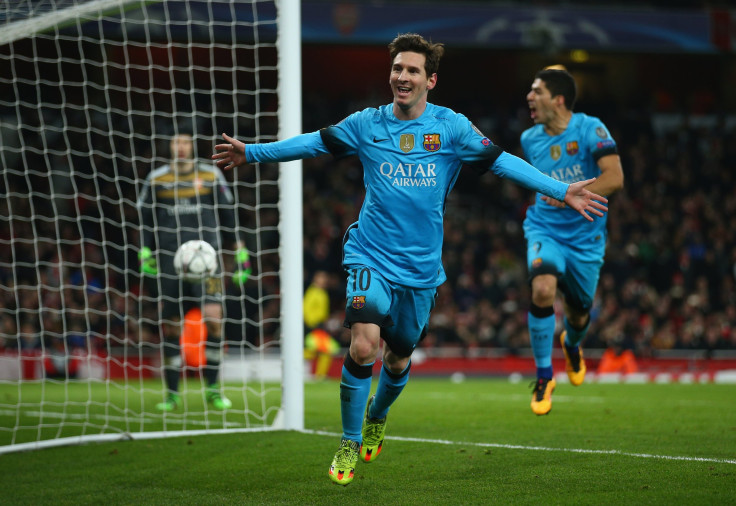 Recap: Arsenal were undone by two goals in the final 20 minutes from Lionel Messi as Barcelona took a firm and in all probability decisive grip on the Champions League Round of 16 tie. Having defended diligently and restricted Barcelona early on, Arsenal had just began to gain in confidence and push forward when Barcelona broke the tie open with a devastating counter attack. After contributions from Luis Suarez and Neymar, Messi beat Petr Cech for the first time in his career. And there was no coming back for Arsenal, with Mathieu Flamini giving away a penalty less than a minute after coming on to allow Messi to calmly convert.
As Arsenal seek to avoid a sixth straight exit in the round of 16, Arsenal have now lost the first leg at home for the fourth consecutive season. And, against a Barcelona team so devastating when given time and space, it is extremely difficult to see any way back for Arsene Wenger's side at the Camp Nou in three weeks' time.
For much of the encounter, Wenger had got the mature, disciplined performance he wanted from his side. A slow to start Barcelona side had been kept quiet until the dying seconds of the first half. But Arsenal crucially failed to take advantage of their openings at the other end, with Alex Oxlade-Chamberlain missing the pick of them in the first half.
But Arsenal's defensive effort had begun to tell in the second half, as Barcelona's pressure became ever more oppressive. If Suarez had been his usual clinical self they would have been in front earlier and the scoreline by the end more emphatic. As it was, Arsenal had just begun to hit back at Barcelona and commit men forward to getting a goal of their own, when the danger of leaving yourself open against this Barcelona team was laid bare.
At the crucial moment Arsenal were naïve once again, although it was a brilliant goal from players who are simply just a cut above what Arsenal have to offer that proved the home side's undoing. More frustrating will be the poor touch from Per Mertesacker and clumsy foul from Flamini that allowed Barcelona to surely put the tier beyond doubt.
Match highlights:

(Full HD) All Goals & Highlights Arsenal 0 - 2... by Football----Live
FULLTIME: Arsenal 0-2 Barcelona
After doing well to keep Barcelona at bay for 70 minutes, the gulf in quality between the sides bore itself out as Lionel Messi scored two goals to secure what is surely an unassailable lead from this Champions League Round of 16 first leg. After a slow start, Barcelona had increasingly begun to apply the pressure from late in the first half. And as Arsenal pushed forward searching for a goal of their own, Barcelona brilliantly struck on the break. A supreme counter-attacking goal, finished by Messi, broke Arsenal's resistance, before a clumsy challenge from substitute Mathieu Flamini allowed the Argentine to grab a surely decisive second from the penalty spot late on.
91 mins: Neymar so nearly put the result of this tie beyond any doubt. He had a completely free header at the back post and should probably have given Cech no chance to make a save. Instead he puts it at a height that allows the Arsenal goalkeeper to tip over the bar.
Here's a look at Flamini giving away the penalty and Messi converting it:
​

GOAL! Arsenal 0-2 Barcelona (Messi, 83)
There are no penalty tricks this time. Messi calmly sends Cech the wrong way and surely, even with more than 90 minutes of this tie remaining, puts Barcelona into the Champions League quarterfinals. It was a really sloppy goal for Arsenal to give away, too. Mertesacker's poor touch in the penalty box put them under pressure and as Flamini went to clear he didn't see Messi coming in and clattered the Barcelona star to leave the referee with no choice but to point to the spot.
83 mins: Penalty to Barcelona! And incredibly it's Flamini who has conceded it by bringing down Messi just seconds after coming on.
82 mins: Arsenal make their final change, and it's a straight swap with Mathieu Flamini replacing Coquelin. Wenger not willing to go for broke in the last few minutes ahead of the return leg at the Camp Nou.
80 mins: A chance at the other end for Arsenal. Danny Welbeck who replaced Giroud following the Arsenal goal, headed down well for Ramsey, but the midfielder couldn't get enough on his stabbed shot and Ter Stegen was able to get himself in the way. Arsenal surely need to find a goal in the last 10 minutes.
78 mins: It should be 2-0 to Barcelona. Metersacker did well to recover and block Neymar's shot, but Messi calmly found Suarez in space just a few yards out. The former Liverpool man looked certain to score, but his shot came back off the foot of the post.
Here's that brilliant Barcelona goal:
GOAL! Arsenal 0-1 Barcelona (Messi, 71)
A truly superb counter-attacking goal from Barcelona, and one that was always liable to occur with how open Arsenal have allowed this game to be in the second half. From defending deep inside their own half, Barcelona stormed forward devastatingly through their forward trio. An exchange between Neymar and Suarez started it allowing the Brazilian to surge forward into space down the left and leave poor Monreal defending in a two-on-one scenario. Showing supreme awareness, Neymar committed Monreal, before shifting it right for Messi to take a touch and finish past Cech.
69 mins: Arsenal have really come back into this second half impressively, but the final ball on a couple of occasions has just been lacking, most recently from Walcott.
68 mins: Former Barcelona man Sanchez shows once again that his far more than just phenomenally gifted player on the ball, chasing back well into his own half to strip Messi of the ball and end a threatening Barcelona attack before being fouled.
65 mins: A frantic scramble in the Barcelona box sees Sanchez have a shot blocked and then Ramsey slice an effort well wide. At the other end Messi had a low shot of his own fenied by an Arsenal defender before Suarez drilled low across the face of goal. Surely a goal is on the way.
60 mins: Arsenal finally mount an attack of their own and it leads to two openings. First Mascherano did well to stop Ozil's square pass from reaching Giroud, and then the French striker rose highest to a cross into the box and directed a near-perfect downward header toward goal, only for Ter Stegen to produce a superb one-handed save to keep the ball at bay. This match is really heating up now.
57 mins: Jordi Alba is a little fortunate to still be on the pitch. After going down theatrically as Giroud brushed his hand against the Barcelona man's face, Alba got up and stuck his head into the face of Giroud. A stricter referee might well have produced red for that.
56 mins: Barcelona get in behind the Arsenal defense again through an Iniesta pass, but Neymar makes the odd decision to try and head back for Suarez when he surely could have taken the ball on himself for a clear strike at goal. Still, Arsenal are looking jaded and are struggling to get the ball and to keep hold of it when they do finally win it back.
52 mins: Arsenal are unable to get out and ease the pressure on their backline right now. It's wave after wave of attacks from Barcelona and if this continues it will surely be only a matter of time before they breakthrough.
50 mins: Well, it appears Oxlade-Chamberlain was given a few minutes to see how his ankle reacted at the start of the second half, and it failed the test. He comes off to be replaced by Theo Walcott. A big question now over whether Walcott can replicate Oxalde-Chamberlain's diligent defensive work.
49 mins: Another big chance for Barcelona. Andres Iniesta picks out a typically supreme through ball, allowing Neymar to cut inside from the left of the penalty area, but Cech is equal to the task of blocking the Brazilian's low effort.
46 mins: No changes from either manager at the interval, which means Oxlade-Chamberlain has been deemed fit enough to continue after injuring his ankle in a heavy first-half collision.
Second Half Kickoff! Barcelona get the match back underway at the Emirates Stadium.
Here's arsenal best chance of the first half, squandered by Oxlade-Chamberlain:
Huge miss Alex Oxlaide-Chamberlein - Arsenal 0...by 109253pr
HALFTIME! Arsenal 0-0 Barcelona
A surprisingly goalless first half between two sides that have provided plenty of thrills in their recent encounters. There are reasons for both managers to be both happy and frustrated after the first 45 minutes. Arsenal have been disciplined without the ball and generally kept Barcelona's attacking trio quiet, while also threatening on the break. Yet the fact that they failed to take a good chance through Oxlade-Chamberlain could come back to haunt them. Meanwhile, Barcelona only really got going in the closing minutes of the half, and when they did they created chances. Suarez really should have put the visitors in front with a header before the break.
45+1 mins: An even bigger chance for Suarez. Alves does well to hook a cross back from the byline, but Suarez puts his header wide from close range. A huge let off for Arsenal right on the stroke of halftime.
45 mins: Barcelona are applying real pressure at the end of the first half and just had their clearest sight of goal, with Suarez seeing his shot blocked from a tight angle blocked by Cech.
43 mins: Oxlade-Chamberlain remains on the pitch after his nasty collision with Mascherano a few minutes ago, but he looks far from fully recovered. It's a situation Wenger will surely reevaluate at halftime.
41 mins: That's the best moment we've seen from Neymar so far. The Brazilian goes on a beautifully jinking run, but the attack is snuffed out by a block on Messi's 25-yard shot.
38 mins: Oxlade-Chamberlain and Mascherano have been thrown to the ground in agony after a heavy collision. Both are now up, though, and appear that they'll be able to continue.
36 mins: Barcelona won a free-kick in a dangerous position 20 yards from goal, but Messi's effort was low, tame and easily blocked by the Arsenal wall. A let off for Arsenal.
34 mins: Suarez has just tried to bundle his way through into the box, but the way he overran it is indicative of Barcelona's sluggish start. The bad news for Arsenal is that surely Barcelona will only get better in this tie.
32 mins: Messi, Neymar and Suarez have been kept very quiet so far. A header well over the bar from Messi moments ago is the closest they've come to a sight of goal.
29 mins: Arsenal fans and Wenger are furious at what they feel is a series of decisions that have gone against their side in the last few minutes. The latest decision to raise their frustration was a challenge on Coquelin by Messi that was, despite the protests, a clear foul.
27 mins: The tempo and intensity has just been cranked up a notch or two in the last couple of minutes. Arsenal are gaining in confidence and were aggrieved not to have been given an indirect free-kick in the box for what they viewed as a back pass. Meanwhile, Barcelona failed to capitalize when surging up field on the counter-attack. Wenger won't want his players to start throwing too many men forward and leave gaps at the back for Barcelona's attack to thrive in.
23 mins: The first big chance of the game falls the way of Arsenal. Hector Bellerin's initial shot was blocked into the path of Alex Oxlade-Chamberlain six yards out, but the midfielders shot was blocked low by Marc-Andre ter Stegen. While being dominated in the possession stakes, Arsenal have looked the more dangerous so far.
20 mins: Arsenal dropping every man back into their own half, which is undoubtedly part of a more cautious game plan from Wenger. However, over the last few minutes, Arsenal have become too passive, not engaging Barcelona enough when the visitors have the ball and not doing anything with it when they win it back.
17 mins: Barcelona are starting to dominate possession now, but there's very little threat comeing from the Catalans. Their best move so far just broke down with Petr Cech comfortably collecting a cross from Andres Iniesta.
14 mins: Luis Suarez is being subjected to boos from the Arsenal fans when he touches the ball, either because he regularly tore the Gunners to shreds in a Liverpool shirt or because Arsenal failed in their pursuit to sign him three years ago. Either way, it's unlikely to faze the Uruguayan.
11 mins: Barcelona haven't really got going yet. Luis Enrique's side are unusually labored in possession, particularly in comparison to the intensity on display from Arsenal.
8 mins: The first real opening of the game falls Arsenal's way. Ramsey created it with a clever flick to Ozil, who then cut the ball back into the path of the Arsenal midfielder, but it was just behind him and Ramsey couldn't get a clean show away. Promising signs early on, though, that Arsenal can get some joy against this Barcelona backline.
7 mins: Arsenal are certainly very eager in closing Barcelona down early. And in Nacho Monreal's case they were a little too early. The left-back gets the game's first yellow card for a poor challenge on Ivan Rakitic.
5 mins: It's clear Mesut Ozil has been given extra defensive responsibility, too. The former Real Madrid man appears to have been detailed to shadow Sergio Busquets and curtail the influence of a player who is so crucial to setting the passing rhythm for Barcelona.
4 mins: Already Neymar has given an indication of his threat, surging away down the left before being caught by a late challenge from Aaron Ramsey. The Arsenal midfielder is going to be crucial today, and will surely have to curtail his runs forward into the opposition box.
1 min: A promising early attack from Arsenal, trying to put the visitors under pressure in the opening exchanges. It ends with a couple of blocks in the Barcelona box.
KICKOFF! Arsenal get this Champions League Round of 16 first leg underway.
2:43 p.m. EST: The players are out at the Emirates, and, as you would expect, it's a fired-up atmosphere inside the stadium. The big question, though, is whether those fans will simply be a witness to another Messi, Suarez and Neymar master class, or if their side can tame the famed Barcelona trio.
2 p.m. EST: Arsene Wenger throws up no major surprises in his starting lineup, with his toughest decision likely to have been selecting Alex Oxlade-Chamberlain over Theo Walcott on the right flank. Francis Coquelin will partner Aaron Ramsey in midfield. There are no shocks in the Barcelona lineup, either, with Barcelona at full strength, spearheaded by Lionel Messi, Luis Suarez and Neymar.
Preview: In the first leg of one of the most eagerly anticipated Round-of-16 matchups, Barcelona aim to keep their hopes alive of becoming the first team to retain the Champions League title against an Arsenal side trying to prevent a sixth-consecutive exit in the knockout round.
The first leg at the Emirates Stadium on Tuesday will be particularly significant for Arsene Wenger's side, having lost the first leg at home at this stage in each of the last three seasons. And Wenger will also be well aware of the importance of trying to get an advantage to take back to the Camp Nou for the second leg in three weeks' time.
Arsenal met Barcelona in the Champions League knockout phase in both 2010 and 2011, when, despite recording a creditable 2-2 draw and a 2-1 victory in the home first leg, Barcelona swept them aside at the Camp Nou. Lionel Messi has been the main thorn in Arsenal's side, scoring six goals over those two matchups. And the five-time Ballon d'Or winner now has the company in attack of the equally prolific Luis Suárez and Neymar.
That trio helped fire Barcelona to the treble last season, and they are well placed to repeat that domination this campaign. Already in the final of the Copa del Rey, Barcelona moved eight points clear at the top of La Liga with a 2-1 win over Las Palmas on Saturday. And they go into the Champions League knockout phase as the favorites to retain the European Cup.
Arsenal, too, have their eye on multiple prizes. While the Champions League is the one major competition Wenger has yet to win in his near 20 years in charge of Arsenal, his side are also just two points off the top of the Premier League as they chase their first championship in 12 years. They are still in the FA Cup, too, although they will face a fifth-round replay after a disappointing goalless result with second-tier Hull City at home on Saturday.
A repeat scoreline looks unlikely on Tuesday in a fixture that has provided plenty of goals in recent meetings. Check back here from 2:45 p.m. EST for live score updates and video highlights of the heavyweight clash.
© Copyright IBTimes 2022. All rights reserved.
FOLLOW MORE IBT NEWS ON THE BELOW CHANNELS