Stocks Tank As Central Banks Hike Rates To Fight Inflation
Stock markets sank Thursday as more central banks hiked interest rates in efforts to tame runaway inflation, actions that raised fears they could spark recessions.
On Wall Street, the Dow closed below 30,000 for the first time in more than a year, losing 740 points.
One day after the US Federal Reserve's biggest interest-rate hike in nearly 30 years, the Bank of England raised borrowing costs to their highest level since the 2009 financial crisis.
The BoE jacked up its rate by a quarter point to 1.25 percent, its fifth straight increase, trailing the Fed's more aggressive 0.75-percentage-point increase.
Adding to the sense of urgency, the Swiss National Bank (SNB) surprised the markets as it unexpectedly hiked rates for the first time since 2007.
The European Central Bank plans to hike rates next month for the first time in a decade.
"While the move by the Fed was priced in, the SNB's hike was a shock that caught investors off guard. Harder and faster rate hikes from central banks mean that a recession will be hard to avoid," City Index analyst Fiona Cincotta told AFP.
European stock markets closed at their lowest level in three months, with London and Frankfurt shedding more than three percent and Paris falling by 2.4 percent.
Wall Street, which had rallied following the Fed's rate hike on Wednesday, fell sharply on Thursday.
"US economic data is showing a deceleration in activity, which is making Wall Street bring forward their recession calls," OANDA's Edward Moya said.
The tech-heavy Nasdaq sank by four percent, while the broad-based S&P 500 lost 3.3 percent and the Dow fell 2.4 percent.
Asian markets mostly closed lower.
Markets have been pummeled this year as investors fret over consumer prices, which have soared as Russia's invasion of Ukraine sent energy and food prices through the roof.
That has intensified fear that the world economy, which is still in recovery from the deadly Covid pandemic, could lurch back into a lengthy downturn.
While rate hikes are necessary to bring down inflation, investors worry that overly aggressive action by central banks could further hurt the global economic recovery and even spark recessions.
Oil prices, meanwhile, rose slightly after losses due to demand worries caused by new Covid containment measures in China and news of surging US production.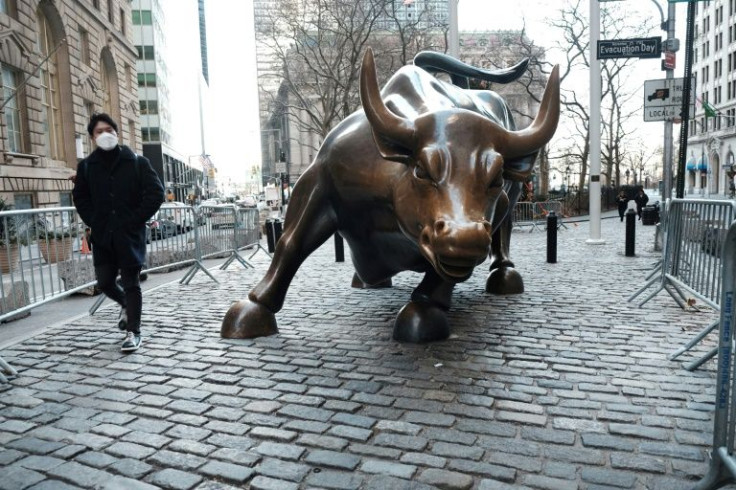 New York - Dow: DOWN 2.4 percent at 29,927.07 (close)
New York - S&P 500: DOWN 3.3 percent at 3,666.77 (close)
New York - Nasdaq: DOWN 4.1 percent at 10,646.1 (close)
London - FTSE 100: DOWN 3.1 percent at 7,044.98 (close)
Frankfurt - DAX: DOWN 3.3 percent at 13,038.49 (close)
Paris - CAC 40: DOWN 2.4 percent at 5,886.24 (close)
EURO STOXX 50: DOWN 3.0 percent at 3,427.91 (close)
Tokyo - Nikkei 225: UP 0.4 percent at 26,431.20 (close)
Hong Kong - Hang Seng Index: DOWN 2.2 percent at 20,845.53 (close)
Shanghai - Composite: DOWN 0.6 percent at 3,285.38 (close)
Euro/dollar: UP at $1.055 from $1.0444 late Wednesday
Pound/dollar: UP at $1.235 from $1.2180
Euro/pound: DOWN at 85.40 pence from 85.75 pence
Brent North Sea crude: UP 0.7 percent at $119.28 per barrel
West Texas Intermediate: UP 1.6 percent at $117.08
© Copyright AFP 2023. All rights reserved.