Australian Military Pilots Targeted by Lasers In South China Sea
Australia military pilots were targeted by lasers aimed at them from fishing trawlers in the South China Sea during routine opearations. Australian forces have noticed an increase in the use of lasers across the region, the country's defense department said in a statement.
Euan Graham, an academic from the La Trobe University, who was on board the HMAS Canberrawrote of the incident. Graham said the Canberra, a helicopter landing ship, was followed by a Chinese warship at a distance during its deployment.
"Some helicopter pilots had lasers pointed at them from passing fishing vessels," Graham said. "They were temporarily grounded for precautionary medical reason." He said similar incidents had happened in the western Pacific.
Grahamm said the HMAS Canberra was not in Chinese territorial waters when the incidents were reported. He said the People's Liberation Army Navy and the Royal Australian Navy had cordial interactions.
Experts point out that high-powered laser systems are strictly prohibited but are increasingly being used to down and disable drones. Photonics expert and BEA Systems executive scientist, Mark Bray explained that lasers are used to dazzle a pilot and even to damage the pilot's eyesight. "Dazzle will cause the pilot to lose concentration."
According to Jane's Defence Weekly, the use of lasers dates back to the Cold War. "The use of lasers to temporarily blind pilots has been increasing over the years and dates back to the cold war when US Navy pilots were periodically attacked by lasers emanating from Soviet naval vessels and spy trawlers."
Don Rothwell, a maritime law expert at the Australian National University, described the use of lasers in a 'pseudo-military context' as a new development. He explained that lasers can potentially blind the pilots and hinder them from properly navigating the aircraft.
The lasers were aimed from fishing trawlers, which have been recruited by the Chinese navy to act as a militia force in the South China sea.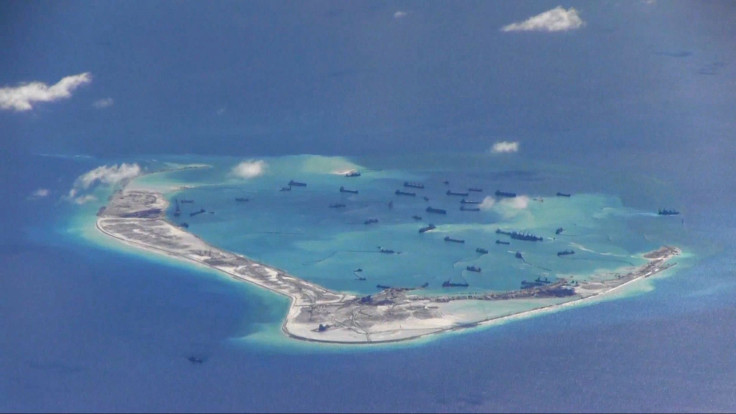 Rothwell said these were no ordinary fishing vessels, but China's maritime 'militia fishing boats'. He explained that their purpose was 'only to disrupt'. "We have seen the deployment of the Chinese militia to swarm or enclose areas that are subject of Filipino occupation as part of the Philippines territorial claim in the South China Sea."
The U.S. military had encountered similar incidents at the American airbase in Djibouti, in East Africa. In 2016, China built its military base, first in overseas, a few miles away from the American airbase, and had installed lasers there . Dana White, a Pentagon spokeswoman alleged in 2018 that two US military pilots, while landing their C-130 transport airplane at Camp Lemonnier, suffered minor eye damage from lasers hitting the cockpit.
© Copyright IBTimes 2023. All rights reserved.
FOLLOW MORE IBT NEWS ON THE BELOW CHANNELS