Bachmann HPV Vaccine: Professors Offer $10,000 for Proof of Mental Retardation Claim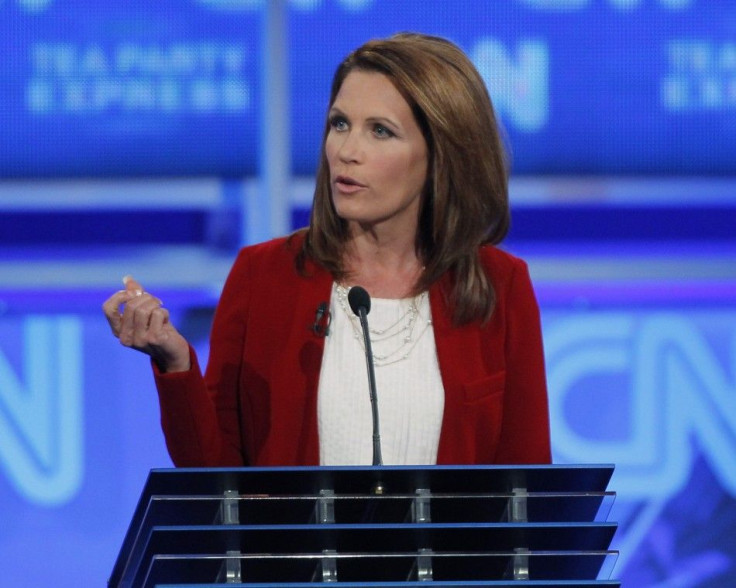 Two bioethics professors are offering a $10,000 reward to anyone who shows them medical records proving U.S. Rep. Michele Bachmann's claim that the HPV vaccine made a girl mentally retarded.
Bachmann made her controversial remarks in a televised interview after Monday's Republican presidential candidates' debate. There's a woman who came up crying to me tonight after the debate, she said. She said her daughter was given that vaccine. She told me her daughter suffered mental retardation as a result of that vaccine.
Steven Miles, a bioethics professor at the University of Minnesota, said he would give $1,000 if a reputable doctor reviewed the girl's medical records and concluded that the vaccine had caused mental retardation.
Art Caplan, the director of the bioethics center at the University of Pennsylvania, upped Miles's offer, saying that if three reputable doctors examined the girl's medical records and agreed that the vaccine had caused mental retardation, he would donate $10,000 to a charity of Bachmann's choice. But if Bachmann accepted the challenge and was unable to find three doctors who agreed with the allegation, she would have to donate $10,000 to a charity of Caplan's choice.
It's ethically obscene, Caplan told Bloomberg News on Thursday. The stakes are too high to try to get political advantage by putting young women's lives at risk.
Bachmann Now Distancing Herself From Original Comments
Neither Bachmann nor her spokeswoman, Alice Stewart, has responded to the professors' challenge, and it seems highly unlikely that she would accept it. She has spent the past three days trying to distance herself from Monday's remark, telling Fox News Host Sean Hannity that she had no idea if there was actually a link between the HPV vaccine and mental retardation, so she doesn't seem confident herself that it's true.
I am not a doctor. I am not a scientist. I am not a physician, she told Hannity. All I was doing was reporting what a woman told me last night at the debate.
But even if she wasn't technically vouching for the accuracy of the woman's claim, by repeating it, Bachmann implied that she believed it -- and that could have serious consequences. It is already a challenge for doctors to convince some parents that vaccines are safe, and every unsubstantiated allegation of serious side effects reduces the chances that people will receive those vaccines, which can be life-saving. The HPV vaccine, for example, protects against a sexually transmitted virus that can lead to cervical cancer.
These types of messages in this climate have the capacity to do enormous public health harm, Miles told the Minneapolis Star-Tribune. The woman, assuming she exists, put this claim into the public domain, and it's an extremely serious claim and it deserves to be analyzed.
The HPV vaccine, marketed as Gardasil, has been used for several years, and there is no evidence that it has ever caused mental retardation. Temporary side effects include pain or swelling at the injection site, fever, headache or fainting, according to the Centers for Disease Control, and in very rare cases, the vaccine can cause a severe allergic reaction -- but not mental problems.
The CDC's online description of Gardasil also notes that Guillain-Barre Syndrome -- a neurological disorder that causes muscle weakness -- has been reported in rare cases in people who have received the vaccine. But the syndrome can also occur in unvaccinated individuals, and based on the data reviewed by the CDC and the Food and Drug Administration, there is no evidence that Gardasil has increased the rate of GBS above that expected in the population.
© Copyright IBTimes 2023. All rights reserved.