Barcelona Rumors: Messi's Favorite 'Successor' Expected To Play In September – Report
KEY POINTS
Ansu Fati has returned to Barcelona to continue his recovery program, a report said
Barca is reportedly aiming to have Fati back by September
Lionel Messi wants the teenager to gradually succeed like him
A Barcelona rising star, who has been an ideal candidate to follow in the footsteps of Lionel Messi, could rejoin the team this season.
Ansu Fati's remarkable run with Barcelona last season was halted by a devastating knee injury in November 2020. Despite missing almost the entirety of the previous campaign, the striker is believed to be closing in on his return.
In recent weeks, Fati has been reportedly working on his full recovery, having been allowed by Barcelona doctors to join the pre-season training that started on July 12. As things stand, the prolific forward is likely to be "back in first team action in September," Sport reported.
Fati is said to have returned to Barcelona from Madrid to continue his "recovery program." He might be present in Barca's Saturday friendly against Girona, but there is no concrete indication that he will play, the report said.
Barcelona's plan is to keep Fati's recovery progressing until Wednesday, when the team flies to Germany for training camp. The 18-year-old will then return to Madrid for his "double sessions under the orders of a personal trainer" with a target date of return to Barcelona for first team training "next month."
Should everything go well in "three weeks' time," Barca could start "the countdown" for Fati's availability to play in the team's matches this upcoming season.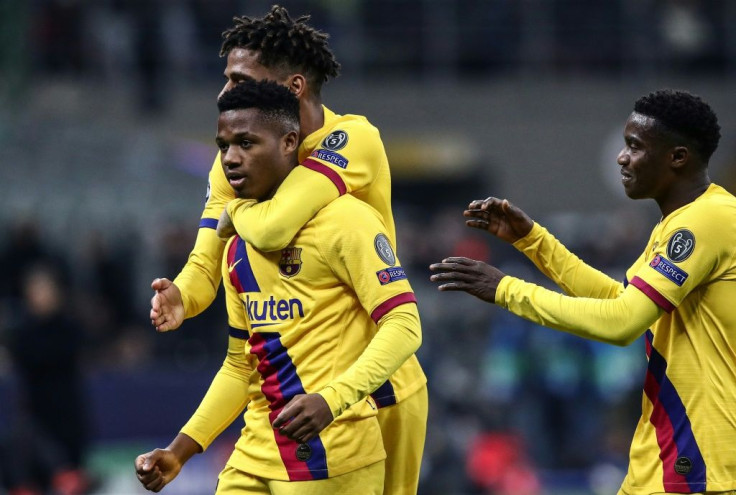 Barcelona boss Ronald Koeman earlier sympathized with Fati's injury but hinted that the teenager will indeed rejoin his squad for the 2021-22 season.
"Five or six months is a long time," Koeman said of Fati in May. "The most important thing is that he's going to recover, he's going to get well and that he'll be with us."
"It's too bad that it'll only be for next season," he continued. "It's important that we're missing a player like him, but the most important thing is that he recovers well and returns to playing."
Fati is considered one of the best young talents in Barcelona today. However, it was during his maiden season with the senior team when he became the favorite to succeed Messi – a privilege the six-time Ballon d'Or winner himself gave him.
"I really like him and I try to help and support him," Messi said of Fati in 2019. "I'd like them [Barcelona] to bring him on gradually, like they did with me when I started, taking things nice and easy and without putting pressure on him."
© Copyright IBTimes 2023. All rights reserved.