Baylor Women's Basketball Coach Kim Mulkey Suspended For One Game By NCAA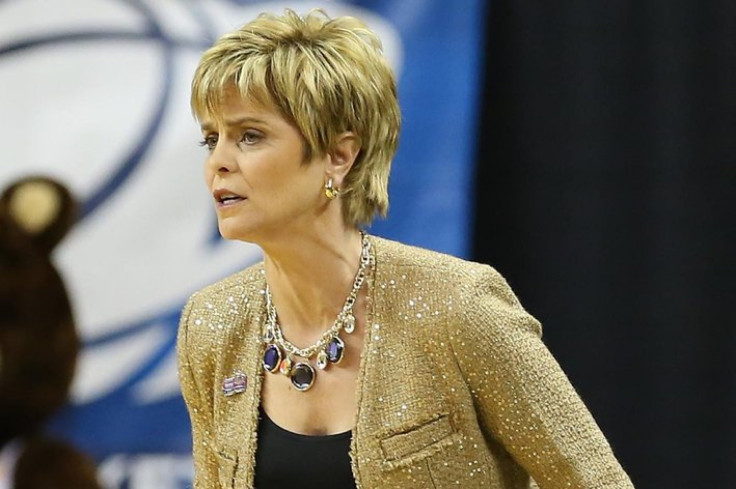 Baylor women's basketball head coach Kim Mulkey has been suspended from her team's next NCAA tournament game for her comments following a loss to Louisville this spring.
According to USA Today, the controversy started when Mulkey disagreed with an offensive foul call against her team with 40 seconds left in the game. She reportedly tore off her blazer and charged toward the referees to protest the call, but was not issued a technical foul. The call preserved the lead for Louisville and led to an 82-81 upset of Mulkey's top-ranked Baylor squad.
After the game, Mulkey's outspoken personality was on full display. "I'll be glad to answer any referee question you want to ask me, because I don't mind getting fined, so ask me. Now is the time to ask me, okay?" Mulkey told reporters.
Mulkey took issue with the referees, saying they let things get too physical. "I thought that all three of them, if they go past this round of officiating, it will be sad for the game. … I thought the two critical calls at the end of the game were really bad," Mulkey said.
As the Associated Press points out, this isn't the first time Mulkey has landed in hot water with the NCAA. She was publicly reprimanded in 2011 for questioning the decision to place Baylor and Texas A&M -- a team Baylor had faced three times during the season -- in the same bracket for the NCAA tournament.
The NCAA said the seriousness of the penalty was due to Mulkey's pattern of attracting controversy. "The NCAA Division I Women's Basketball Committee noted this is the latest misconduct act by Mulkey during the past several championships and believes a more stringent penalty is appropriate to prevent these actions from continuing," the NCAA said in a press release.
After spending 15 years as an assistant coach at Louisiana Tech under Leon Barmore, Kim Mulkey landed at Baylor in 2000, where she immediately became known for her brash, outspoken style. Mulkey led Baylor to national titles in 2005 and 2012.
"It causes some people discomfort, but to me it's one of the more attractive parts of her personality," Baylor athletic director Ian McCaw told USA Today. "She is going to speak her mind, and not everyone is going to agree with what she says. But you always know exactly where she stands."
© Copyright IBTimes 2023. All rights reserved.