Best NFL Quarterbacks 2017: Ranking All 32 Starting QBs For The Season
Picking the best and worst quarterback of the 2017 NFL season isn't very difficult, but filling in the rest of the list can be tricky. Players like Aaron Rodgers and Deshaun Watson suffered injuries that cost them most of the season, while a few of last season's Pro Bowl quarterbacks had down years.
Below is a ranking of all the starting quarterbacks in the 2017 season. Only players that will end the year with the most starts for each team are eligible to make the list. All stats reflect the quarterbacks' numbers through Week 16.
1) Tom Brady (4,387 Yards, 30 TD, 8 INT, 104.2 Rating)
At 40 years old, nothing has changed for the five-time champion. Brady is still the NFL's best quarterback and the New England Patriots are still the Super Bowl favorites. He's first in passing yards, second in passer rating and third in both touchdowns and completion percentage. Unless Todd Gurley unexpectedly steals the award, Brady will be the NFL MVP for the third time, and he's shown no signs of slowing down.
2) Carson Wentz (3,296 Yards, 33 TD, 7 INT, 101.9 Rating)
Before he suffered a torn ACL that ended his season, Wentz led the Philadelphia Eagles to the best record in football. He still leads the NFL in touchdown passes after missing two games, and you can be sure that the quarterback will be among the MVP favorites to start the 2018 season.
3) Drew Brees (4,089 Yards, 22 TD, 8 INT, 103.6 Rating)
The numbers Brady has put up at 40 years old have overshadowed just how remarkable Brees has been. In his 17th season, Brees has a passer rating in triple digits for a third straight year. He's on the verge of throwing single-digit interceptions for the first time since 2004, and the New Orleans Saints are back in the Super Bowl hunt now that they've surrounded their quarterback with an elite running game and a respectable defense.
4) Russell Wilson (3,762 Yards, 32 TD, 11 INT, 94.7 Rating)
It was just a few weeks ago that Wilson's name was being mentioned in the MVP conversation. That quickly ended with sub-par performances in Week 14 and Week 15, though the quarterback still had a better season than most. He's second to only Wentz in touchdowns, despite getting little help from the Seattle Seahawks' offensive line or running game. Wilson still leads the league in jaw-dropping plays, seemingly turning nothing into something a few times each game.
5) Jared Goff (3,804 Yards, 28 TD, 7 INT, 100.5 Rating)
As good as Wentz was, no quarterback made a bigger leap in 2017 than Goff. After looking like he didn't belong in the league as a rookie, Goff has shown everyone just why he was the No.1 overall pick in the 2016 draft. Los Angeles Rams head coach Sean McVay and running back Todd Gurley have certainly made things easier for Goff, but there's no taking away what he's been able to accomplish this season.
6) Alex Smith (4,042 Yards, 26 TD, 5 INT, 104.7 Rating)
It's easy to forget how good Smith was in the first half of the season. He was the clear MVP choice through five games when the Kansas City Chiefs were undefeated, and he still leads the league in passer rating and touchdown-to-interception ratio. Even with his struggles in November, Smith has forced Kansas City to keep Patrick Mahomes on the bench when many thought he'd be the team's regular starter by now.
7) Case Keenum (3,358 Yards, 21 TD, 7 INT, 98.1 Rating)
There was no bigger surprise in the 2017 season than Keenum. The career backup hasn't just been serviceable since taking over for the injured Sam Bradford. He's been one of the best quarterbacks in football and arguably a top-five MVP candidate. Maybe Keenum won't be able to replicate this success as a full-time starter in 2018, but he's certainly earned himself plenty of money by helping turn the Minnesota Vikings into the NFC Super Bowl favorites.
8) Philip Rivers (4,218 Yards, 25 TD, 10 INT, 93.2 Rating)
Rivers has quietly had one of his best seasons as a pro. He's been much less mistake-prone than in previous years, helping to bring the Los Angeles Chargers back into the playoff race after a 0-4 start. Rivers would be a legitimate MVP candidate if it weren't for two awful performances against the Chiefs in which he threw one touchdown pass and six interceptions.
9) Matthew Stafford (4,213 Yards, 26 TD, 10 INT, 97.1 Rating)
Stafford has shown why the Detroit Lions made him the NFL's highest-paid quarterback. Sure, he's not in the class of the elite signal callers, but he does more than enough to make a team a winner. It's no small feat to put up those numbers with virtually no running game for yet another season. Stafford ranks in the top 10 in just about every major statistical category.
10) Kirk Cousins (3,935 Yards, 27 TD, 10 INT, 98.5 Rating)
It's hard to believe that the Washington Redskins might actually not re-sign Cousins in the offseason. All he's done is perform like a top-10 quarterback for three straight years. Washington had a disappointing season that was marred by injuries, but Cousins has done his part to keep the team near .500.
11) Ben Roethlisberger (4,251 Yards, 28 TD, 14 INT, 93.4 Rating)
It might be hard for any competent quarterback not to have decent numbers with the Pittsburgh Steelers, considering they boast an elite offensive line, as well as the NFL's best wide receiver and running back. Roethlisberger, of course, gets plenty of credit for leading the team to another first-round bye. His numbers are hurt by one game against Jacksonville when he was picked off five times.
12) Matt Ryan (3,778 Yards, 19 TD, 12 INT, 91.4 Rating)
The 2016 MVP had little chance to replicate the numbers he put up last year, though posting worse than a 2:1 touchdown-to-interception ratio probably couldn't have been expected. Ryan's stats are somewhat deceiving, considering several of his interceptions have come off tipped passes. The Atlanta Falcons somehow managed to win both of his three-interception games.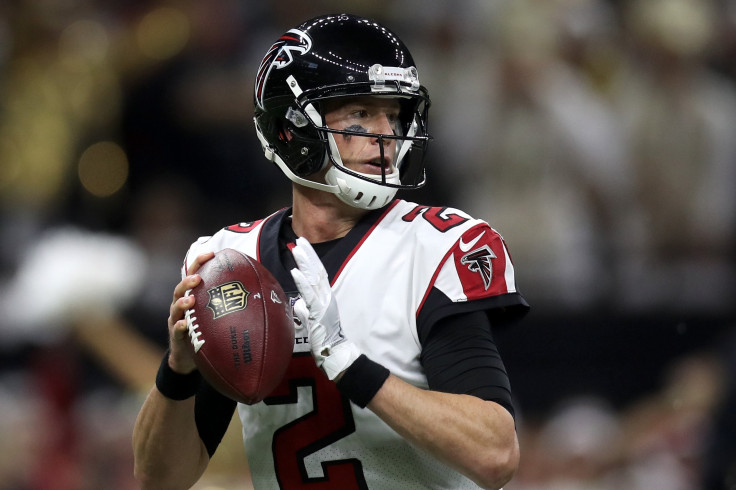 13) Cam Newton (3,122 Yards, 21 TD, 13 INT, 84.3 Rating)
Newton has had another up-and-down year. Five times he's posted a passer rating of better than 120.0, and on eight occasions his passer rating was no better than 71.0. It seems clear that he'll never return to his 2015 MVP form, though he's good enough to win a title with this Carolina Panthers' defense. Newton has 695 rushing yards and six scores on the ground through 16 weeks.
14) Tyrod Taylor (2,595 Yards, 13 TD, 4 INT, 88.1 Rating)
The decision to bench Taylor against the Chargers on Nov. 19 was silly from the start, and it only lasted a couple of quarters because of Nathan Peterman's five first-half interceptions. Taylor threw fewer interceptions than anyone that even reached the 1,500-yard mark, adding close to 400 yards and four scores on the ground. Taylor's limitations did hurt the Buffalo Bills at times as he reached the 225-yard mark just three times.
15) Blake Bortles (3,529 Yards, 21 TD, 11 INT, 88.2 Rating)
Talk that the Jacksonville Jaguars need a new quarterback has stopped, at least for now, with Bortles coming alive in the second half of the season. He totaled 11 touchdown passes and just three interceptions from Weeks 7-15, leading Jacksonville to an AFC South title. It wouldn't be surprising to see Bortles commit a few big turnovers that ultimately cost the Jaguars a playoff game, but he's played well enough to make Jacksonville and their elite defense a real Super Bowl threat.
16) Dak Prescott (3,145 Yards, 21 TD, 13 INT, 86.7 Rating)
Prescott came back to earth after having one of the best rookie seasons in NFL history. If there was any question before Ezekiel Elliott's suspension, it became clear that the running back, not Prescott, is the Dallas Cowboys' most important player. The quarterback threw five touchdown passes and seven interceptions in six games without Elliott.
17) Derek Carr (3,253 Yards, 21 TD, 12 INT, 86.0 Rating)
This certainly isn't the year that Carr and the Oakland Raiders had in mind. He was an MVP candidate for most of last year and expected to make Oakland a legitimate Super Bowl candidate. Maybe the back injury he suffered earlier this season affected him, but Carr hasn't exactly performed like he's worth the lucrative contract he signed in the summer.
18) Josh McCown (2,926 Yards, 18 TD, 9 INT, 94.5 Rating)
McCown gets a lot of credit for helping the New York Jets overachieve in 2017. The team looked like they might not win a single game after an uninspiring preseason, and McCown went 5-7 as a starter before suffering a season-ending injury. He posted a triple-digit passer rating in half the team's games, though his numbers might be somewhat deceiving. The Jets were held to 20 points or fewer in eight of McCown's 13 starts.
19) Jimmy Garoppolo (1,268 Yards, 5 TD, 3 INT, 98.9 Rating)
Garoppolo can't be much higher on the list because he's only going to end the season with five starts, but he probably would've cracked the top 10 had he been the San Francisco 49ers' No.1 quarterback since Week 1. His individual numbers don't tell the whole story of just how good he's been. Without many weapons, he's taken a one-win team and won four straight games, defeating a couple of teams in the playoff picture.
20) Joe Flacco (2,938 Yards, 16 TD, 12 INT, 81.4 Rating)
Flacco certainly isn't "elite," and he hasn't even been average since winning a Super Bowl five years ago. The Baltimore Ravens have a winning record because of a defense that creates turnovers, though the quarterback has played much better in the second half of the season, throwing 12 touchdown passes and four interceptions since Week 7.
21) Andy Dalton (3,098 Yards, 22 TD, 12 INT, 86.3 Rating)
After seven seasons with the Cincinnati Bengals, Dalton is what he is. He's the very definition of mediocre, posting a passer rating between 80-89 for the fifth time since he was drafted in 2011. A couple of brutal performances by Dalton and the offense put the Cincinnati Bengals in a hole that they were unable to dig themselves out of, forcing them to miss the playoffs for a second straight year.
22) Jameis Winston (3,141 Yards, 18 TD, 8 INT, 96.5)
As good of a season as it was for the 2016 draft class, that's how bad it was for the signal callers taken in 2015. Missing a quarter of the season with a shoulder injury, Winston failed to take the next step in 2017 and join the upper echelon of NFL quarterbacks. His numbers look decent after padding his stats down the stretch during a few losses, but Winston and his propensity to make poor throws contributed to the Tampa Bay Buccaneers being one of the year's most disappointing teams.
23) Eli Manning (3,336 Yards, 18 TD, 12 INT, 82.0 Rating)
Where does one begin when talking about Manning's 2017 campaign? Not only did his string of consecutive games started come to an end when he was inexplicably benched for Geno Davis, but Manning had little chance to succeed playing with a bad offensive line and a receiving corps that was already decimated with injuries by Week 6. That's not to say Manning doesn't deserve any blame for the New York Giants winning just two games. His days of being a winning quarterback are probably over.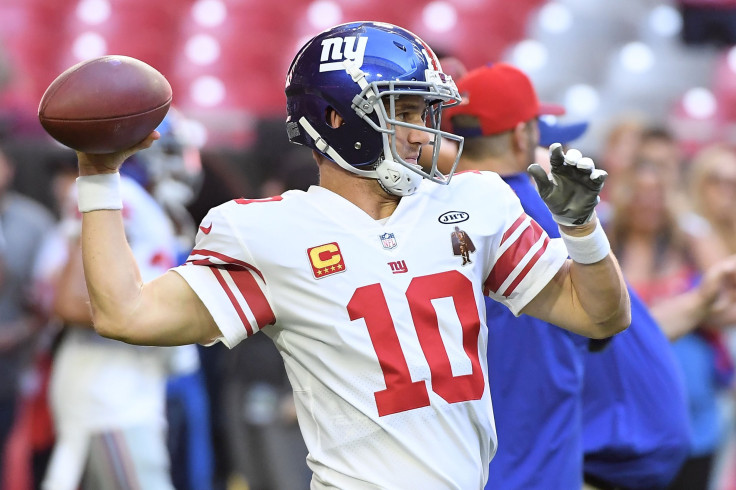 24) Carson Palmer (1,978 Yards, 9 TD, 7 INT, 84.4 Rating)
Palmer only got seven starts before his season was ended because of a broken arm. Before suffering the injury, Palmer looked every bit like a quarterback that was headed toward the end of his career as a quality starter. He posted just one triple-digit passer rating, throwing an interception in five games.
25) Jay Cutler (2,660 Yards, 19 TD, 14 INT, 80.9 Rating)
When it was determined that Ryan Tannehill would miss the entire season, the Miami Dolphins lured Cutler out of retirement with a one-year, $10 million contract. The move didn't come close to saving Miami's playoff hopes as they still had one of the league's worst offenses. Cutler is 29th in yards per attempt and 25th in yards per game.
26) Jacoby Brissett (2,984 Yards, 12 TD, 7 INT, 81.5 Rating)
Brissett wasn't even on the Indianapolis Colts at the start of September, but he's been responsible for all but 18 of the team's pass attempts. He had some good games and proved that he's a solid backup, at the very least, after serving as the No.3 quarterback in New England. Brissett did add 242 rushing yards and four rushing touchdowns, though he's the quarterback of the 30th ranked scoring offense.
27) Marcus Mariota (3,098 Yards, 12 TD, 15 INT, 78.6 Rating)
No quarterback had a more disappointing year than Mariota. After posting an impressive 45:19 touchdown-to-interception ratio in his first two years, Mariota became one of the most mistake-prone signal callers in the league. Mike Mularkey's offense didn't help matters, and Mariota's struggles prevented the Tennessee Titans from strolling into the postseason like they probably should have.
28) Mitchell Trubisky (2,015 Yards, 7 TD, 7 INT, 78.5 Rating)
The Chicago Bears won't really know what they have in Trubisky until he's no longer playing under John Fox. The team relied extensively on the running game and didn't allow their first-round pick to make a ton of big plays, attempting 25 or fewer passes in six starts since taking over for Mike Glennon. He's 28th in completion percentage and one of six quarterbacks on this list that didn't throw more touchdowns than interceptions.
29) Trevor Siemian (2,285 Yards, 12 TD, 14 INT, 73.3 Rating)
Sieman was playing so poorly in the middle of the season that he was benched for Brock Osweiler, who was probably the league's worst starter in 2016. It was all downhill after leading the Denver Broncos to a 2-0 record with six touchdown passes and two picks. Six touchdowns and 12 interceptions later, Denver won't sniff the playoffs, despite ranking near the top of the league in total defense.
30) Brett Hundley (1,664 Yards, 8 TD, 10 INT, 71.5 Rating)
Watching Hundley under center for half the year had to increase NFL fans' appreciation of Aaron Rodgers. While he was able to lead the Green Bay Packers to three victories against three of the NFL's worst teams, Hundley had five games with worse than a 50.0 passer rating. He's dead last with 166 passing yards per game and didn't even reach the 90-yard mark in two games.
31) Tom Savage (1,412 Yards, 5 TD, 6 INT, 71.4 Rating)
The Houston Texans' season fell apart when Deshaun Watson tore his ACL, in part because Savage was so bad as his replacement. Savage somehow began the year as Houston's starter, but he only made it through two quarters before being benched. In seven games with Savage as the starter, Houston went 1-6 and scored more than 16 points just once. He's second-to-last in both yards per game and passer rating.
32) DeShone Kizer (2,580 Yards, 9 TD, 21 INT, 57.9 Rating)
It should be no surprise that the NFL's only winless team has the NFL's worst starting quarterback. After passing on the chance to draft Carson Wentz in 2016, the Cleveland Browns used a second-round pick in 2017 to take Kizer, who's been an absolute disaster. He comfortably leads the league in interceptions while ranking dead last in completion percentage and passer rating.
FOR FREE to continue reading
✔️ Unlock the full content of International Business Times UK for free
offer available for a limited time only
✔️ Easily manage your Newsletters subscriptions and save your favourite articles
✔️ No payment method required
Already have an account?
Log in
© Copyright IBTimes 2023. All rights reserved.