Boehner Demands Consultation On Syria Action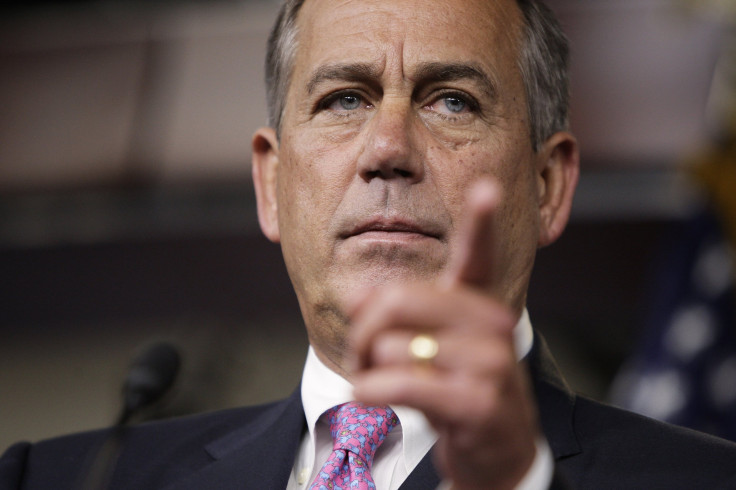 House Speaker John Boehner, R-Ohio, told the White House Monday afternoon that Congress must be consulted before any military action against Syria, his spokesman Brendan Buck said.
"This afternoon, the speaker had preliminary communication with the White House about the situation in Syria and any potential U.S. response," Buck said in a statement reported by the Washington Post and other media. "The speaker made clear that before any action is taken there must be meaningful consultation with members of Congress, as well as clearly defined objectives and a broader strategy to achieve stability."
Earlier Monday, Boehner's office called on the White House to consult with Congress about a possible U.S. retaliation for Syria's apparent use of chemical weapons against its own people.
The speaker did not speak directly with the president, but with other administration officials his aides declined to identify.
An ally of the Obama administration, Sen. Tim Kaine, D-Va., said those who use chemical weapons "must be held accountable," but that the White House must consult with Congress before acting, CNN reported. "Absent an imminent threat to ... national security, the U.S. should not be engaged in military action without congressional approval," he said.
Congress is not in session again until Sept. 9, but Secretary of State John Kerry said Monday that the administration continues to consult with lawmakers on potential military action. Lawmakers in both parties have said in recent days that they expect to be consulted, but some say that a brief strike in response to chemical weapons use would not require prior notification, according to the Post.
Meanwhile, a Reuters/Ipsos poll released over the weekend finds that Americans strongly oppose U.S. intervention in Syria's civil war even if reports that Syria's government used deadly chemicals to attack civilians are confirmed.
About 60 percent of Americans surveyed said the United States should not intervene in Syria's civil war, while just 9 percent thought President Barack Obama should act.
More Americans would back intervention if it is established that chemical weapons have been used, but even that support has dipped in recent days -- just as Syria's civil war has escalated and the images of hundreds of civilians allegedly killed by chemicals emerged.
The Reuters/Ipsos poll, taken August 19-23, found that 25 percent of Americans would support U.S. intervention if Syrian President Bashar al-Assad's forces used chemicals to attack civilians, while 46 percent would oppose it. That represented a decline in backing for U.S. action since Aug. 13, when Reuters/Ipsos tracking polls found that 30.2 percent of Americans supported intervention in Syria if chemicals had been used, while 41.6 percent did not.
© Copyright IBTimes 2023. All rights reserved.