Boxing News: Gennady 'GGG' Golovkin Deserves Fight With Miguel Cotto, Canelo Alvarez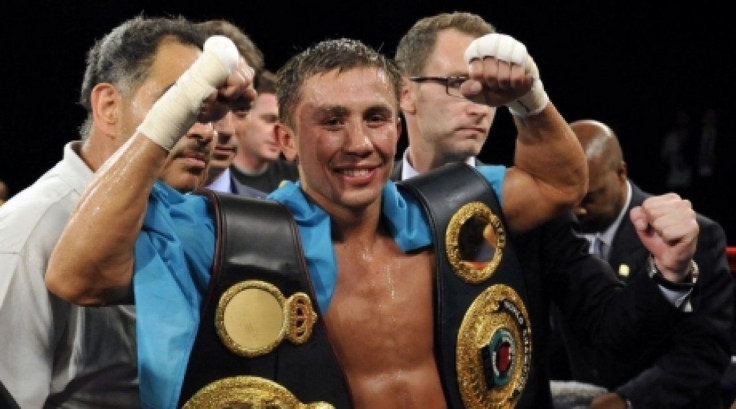 Gennady "GGG" Golovkin continues to put on some of boxing's most exciting fights, and there's not much else he can do to prove that he's among the top pound-for-pound fighters in the sport. But he's still looking for his first big-money bout, and the middleweight champ appears to be the odd man out in the quest to make the boxing's next big pay-per-view.
Even though Miguel Cotto also holds a title at middleweight, the champ is using his recent knock out of Daniel Geale to secure a match with Canelo Alvarez instead of GGG. Golovkin has done more than enough in the ring to earn his shot at either boxer, but he'll have to wait until next year for the opportunity to fight a high-profile boxer.
WBC president Mauricio Sulaiman has stated that Cotto must put his WBC middleweight belt up against Golovkin's WBA and IBF middleweight titles. But even he has said that Cotto should be able to face Alvarez first.
Why can't Golovkin get his shot at the best fighters in his weight class?
"He's a very nice guy. I like the guy," trainer Freddie Roach said of Golovkin at a press conference last week. "But the thing is that when Manny Pacquiao walked by and didn't know who he was - I was surprised because most fighters know other fighters and Manny Pacquiao had no idea who he was. If Manny Pacquiao doesn't know who one of the best fighters pound-for-pound in the world is, there's a lot of people who don't know (him). And maybe that's why he needs a little more exposure in America, I think. You have your choice of fighting two guys and so forth - are you going to fight the guy who is going to make you more money? That's the guy you're usually going to go with. It's risk and reward."
No matter if Cotto or Alvarez loses their likely upcoming fight, both prize fighters will make a lot of money from the pay-per-view. Cotto and Alvarez might have an equal chance of being beaten by Golovkin, but the payday won't be nearly the same.
His exciting in-ring style and undefeated record have increased his popularity, but Golovkin's road towards expanding his fan base won't be easy. He doesn't have the advantage of being Latino like Cotto and Alvarez, who are supported by rabid Puerto Rican and Mexican fans in the United States.
Golovkin's fan base isn't the same size as that of Cotto or Alvarez, but the difference might not be as pronounced as some think. All three fighters have been in the main event of HBO Boxing within the last month, each generating strong ratings.
Alvarez has proven to be the best draw, and his fight with James Kirkland on May 9 averaged 2.146 million viewers in front of more than 31,000 fans at Minute Maid Park in Houston. But Cotto's win over Geale on Saturday didn't outperform Golovkin's knock out of Willie Monroe Jr. on May 16 by much. Cotto-Geale drew an average of 1.589 million viewers on Saturday, and Golovkin-Kirkland averaged 1.338 million viewers.
No matter what kind of fan base Golovkin has, his work in the ring has been good enough that he deserves a shot against either Cotto or Alvarez. He's had little trouble with any challenge that's been sent his way, going 33-0 with 20 consecutive knockouts. Golovkin even knocked out Geale in three rounds on July 26, 2014, something Cotto needed four rounds to do.
It had been looking like Golovkin's next fight could be against Carl Froch, but GGG promoter Tom Loeffler said that there hadn't been recent communication between the two sides.
© Copyright IBTimes 2022. All rights reserved.
FOLLOW MORE IBT NEWS ON THE BELOW CHANNELS