Brazil: Fourth Journalist Murdered So Far This Year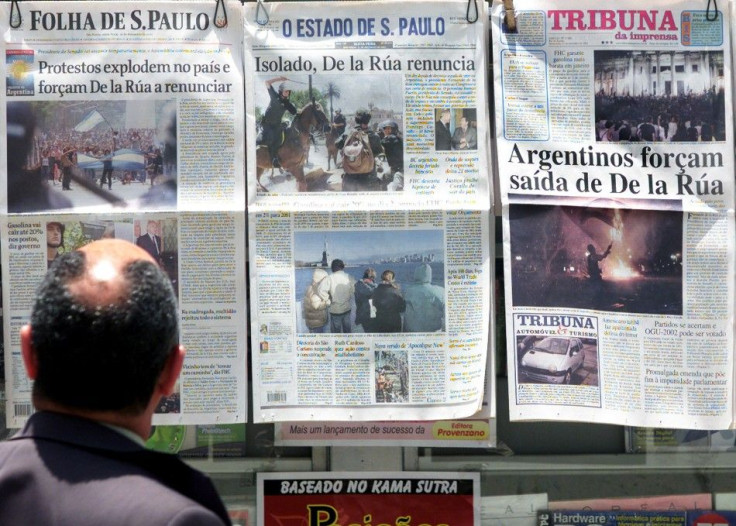 It is becoming increasingly dangerous to be a journalist in Brazil
On Monday night, Décio Sá, aged 42, was murdered by a gunman who entered the restaurant where he was eating dinner and shot him from behind six times at close range -- two shots to the chest region and four to the head.
He died instantly. Witnesses said that the gunman entered the restaurant, went first to the bathroom to verify that he recognized his target, then dispatched six bullets before escaping by motorcycle with an accomplice.
A police task force is further investigating the murder.
Sá wrote for the O Estado do Maranhao newspaper in Brazil and also kept his own political blog called Blog do Decio. He was known for writing articles on political corruption and commissioned killers -- which is what many of his co-workers at O Estado do Maranhao believe to be the main reason behind his murder.
Silvia Moscoso, the newspaper's state affairs editor told the Associated Press: For sure he was killed because of his work as a reporter. Over his at least 17 years at the newspaper he made a long list of enemies, many of whom I imagine would love to see him dead.
But he denounced so many people and so much corruption that it is impossible to say who was behind his murder, she added.
However, Moscoso also said while she never heard Sá mention any death threats, he seemed to have a sense that his life was in danger.
Councilman Fabio Camara was planning to meet Sá at the restaurant on the night of his murder to discuss some political issues. But by the time he arrived, Sá had already been killed. According to O Estado do Maranhao, Camara noted upon arriving at the scene of the crime that, Before dying, he [Sá] told me that he was disguised with a cap, to avoid being recognized. It was something terrible.
Many political journalists in Brazil are taking a huge risk. The country has become one of the most dangerous in the world for reporters.
Brazil's National Newspaper Association published a statement following Sá's murder: He was the fourth journalist to be murdered in Brazil in 2012, highlighting the pernicious effect of the impunity that surrounds attempts made against professionals who work to better inform citizens.
© Copyright IBTimes 2023. All rights reserved.